Augusta National Hardest Hole
Augusta National: Hardest Hole and holes on the course at the Masters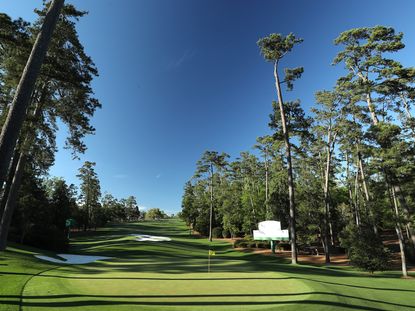 Going by historical records, the par-4th 10th has played the hardest. But, the 11th is a brute, too, and the par-3 4th isn't exactly easy. A closer look at the hardest holes at Augusta National
Augusta National Hardest Hole (s)
Augusta National is hard, you don't need Ken on the Course to tell you that, we've all seen it over the years at the Masters (opens in new tab). However, 'hard' at Augusta isn't your normal kind of hard; everything is on a different kind of level - quite literally where the greens are concerned. The historical stats tell us the par-4 10th is the hardest, currently playing to 4.31. Why so?
Related: US Masters Leaderboard (opens in new tab)
Par-4 10th - Camellia, 495 yards
Ignore the pretty name, players run into a brute at Augusta as soon as they make the turn. Playing steeply downhill, it features a bunker well short of the green close to 60 yards long. The play from the tee is to drive the ball to the left centre to create the best angle into a green that pitches right to left. Traditionally, it's the hardest hole. It's where Rory McIlroy's Masters bid in 2011 began to unravel and conjures memories of the Ulsterman in amongst Augusta's cabins. It led to further tree trouble and a triple bogey. They'll be more of those here...
Historical (cumulative) average - 4.31
Par-4 11th - White Dogwood, 505 yards
A look at the records shows the par-4 11th runs the 10th pretty close in terms of difficulty. Having just battled one long one, it's straight into the start of Amen Corner at 11, where the wind often plays a factor just for good measure.
The tee shot is downhill and left to right with a pond guarding a green to the left and a bunker devilishly placed to the right centre. Players often bail out to the right with the pond left, but that's very much bogey country.
Not many players will have fond memories of this hole, it's a case of take a par and skip to the 12th. Larry Mize does, however - this, of course, is where he miraculously chipped in to defeat Greg Norman in a playoff at the 1987 Masters.
Historical (cumulative) average - 4.29
Expand US Masters Favourites 2019
Golf Monthly picks 2019's Masters favourites with a…
Expand US Masters Prize Money 2019 – Winner Gets $2 Million For The First Time
US Masters Prize Money 2019 – Winner Gets $2 Million For The First Time
The winner this year will pocket the biggest…
Expand Best Masters Stats 2018
Check out some of the best stats from…
Par-3 4th - Flowering Crab Apple, 240 yards
Its length demands a long iron or hybrid, but it's often made harder by the swirling winds, which can play tricks. Two bunkers protect the green, front right and front left, and the putting surface slopes from the back to the front. It's not an easy target, but players who can hit a high ball and land it softly may enjoy some success. In the main, however, a three here is most acceptable.
Historical (cumulative) average - 3.29
Michael has been with Golf Monthly since 2008. As a multimedia journalist, he has also worked for The Football Association, where he created content to support the men's European Championships, The FA Cup, London 2012, and FA Women's Super League. As content editor at Foremost Golf, Michael worked closely with golf's biggest equipment manufacturers, and has developed an in-depth knowledge of this side of the industry. He's now a regular contributor, covering instruction, equipment and feature content. Michael has interviewed many of the game's biggest stars, including six world number ones, and has attended and reported on many Major Championships and Ryder Cups. He's a member of Formby Golf Club.