Open Championship 2013 blog: Lee Westwood's time
Golf Monthly editor-at-large Bill Elliott gives his latest Open Championship blog installment from Muirfield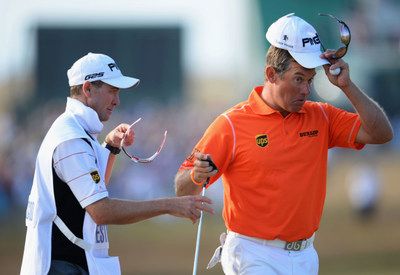 (Image credit: Getty Images)
ONE of the most brutal golf courses in one of the most beautiful setting embroidered into the old game's history is the stage tomorrow for what surely will be one of the truly great shoot-outs for an Open Championship.
And, glory be, it could be our own, our very own, southern Florida's Lee Westwood who finally, at last, thank goodness, oh what a relief, pass the port skipper, wins a major. Not just a major, THE major, The Open Flipping Championship.
Will the former Worksop Wonder be nervous after sleeping on a two shot lead? You bet your sweet life he will. Does this mean he is unlikely to win? Not at all. Nervous is good, it lifts man, helps him caress proper focus.
Only problem is, of course, is that your man Tiger Woods is in the way. Not just of Westwood but casting a large shadow across the ambitions of Hunter Mahan and Adam Scott, rejuvenated Henrik Stenson, mysterious Angel Cabrera and, let's throw him into the middle of the mix, Phil Mickelson. This is some posse but then this is some Open. This Muirfield course is now officially the best set-up examination paper in the history of the game's oldest major. It is, however, a brute of place in the most beautiful of settings. Trying to play golf here this weekend is like finding a razor-blade behind the prettiest of smiles.
And with the wind turning stronger and colder as the day wears on, even the most accomplished of these gladiators is set to suffer as though suddenly they were trying to play the old game in the Marquis de Sade's workshop.
In other words it will be terrific fun for everyone watching, maybe not so much for those playing. Actually forget this last thought. It will be fun for the majority of them. This is what they train for, this is what they crave, to be in the heart of the action.
Let's be partisan here - I hope Lee wins because he is not just a terrific golfer, he is also a good lad and an immensely rich bloke who manages to keep a firm grip on life's harsher realities. I always enjoy bumping into him but, you know what, I'll enjoy it even more if he is also carrying the old jug next time we meet. We'll see. Fingers crossed.
Bill has been part of the Golf Monthly woodwork for many years. A very respected Golf Journalist he has attended over 40 Open Championships. Bill was the Observer's golf correspondent. He spent 26 years as a sports writer for Express Newspapers and is a former Magazine Sportswriter of the Year. After 40 years on 'Fleet Street' starting with the Daily Express and finishing on The Observer and Guardian in 2010. Now semi-retired but still Editor at Large of Golf Monthly Magazine and regular broadcaster for BBC and Sky. Author of several golf-related books and a former chairman of the Association of Golf Writers. Experienced after dinner speaker.