The 2010 Open Championship review
Golf Monthly editor at large, Bill Elliott, reviews the 2010 Open Championship at St Andrews won by South Africa's Louis Oosthuizen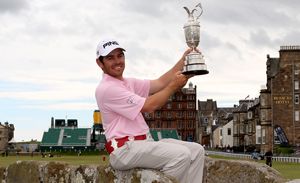 Golf Monthly Newsletter
Golf tips and expert instruction, golf club reviews and the latest golf equipment.
Thank you for signing up to Golf Monthly. You will receive a verification email shortly.
There was a problem. Please refresh the page and try again.
In the end it was a bigger challenge to safely purchase a pint in St Andrews than it was for Louis Oosthuizen to win the 2010 Open Championship. Extraordinary. Really, quite extraordinary. The pint thing came about on Friday night when for 15 minutes I patiently waited my turn at a seriously crowded bar in a St Andrews pub, my impatience tempered by the fact I was cowering a bit as two scuffles broke out on either side of me. Swiftly I took cover behind a very nice American lady. "You here for the golf?" she asked as we both ducked. "No," I replied. "I'm here for a drink."
Elsewhere in the old town that evening, Lodewicus Theodorus Oosthuizen was enduring his own fight, this time with himself as he contemplated sliding into the third round with a bucket of shots between him and the rest of this glittering field.
He probably needed a pint even more than me, but instead he cuddled his daughter Jana and at last fell off to sleep, calmly contemplating the thought that there are much more important things in life than a game of golf, even when an Open is factored into this thought.
Meanwhile, back at the pub - the idiots ushered away by a landlord the size of a small house - we got down to the serious stuff and a discussion on who was going to win this championship now the cut had been made. Consensus was easy to achieve: whatever else happened over the next couple of days it was clear that Mr Oosthuizen was not going to win.
"He'll fold tomorrow like a papier-mâché tank caught in a rainstorm," said one colleague and a man who just loves papier-mâché analogies.
"The thing is," said another. "We can ignore Oosthuizen's big lead at this point because he is going to come back to the field. So I can't see anyone but Lee Westwood, or Tiger Woods, winning this now. Depends a bit on the weather I suppose."
Depends a bit on the weather? The whole shebang depended on the weather at this Open. When it rained, when it blew, when it rained and blew and the timing of when you, the player, drove off the 1st tee was at the core of everything. You needed, as ever, nerve and talent to win or do well but, more than ever, you needed a lucky tee time.
Luck of the draw
Oosthuizen - "call me Louis, it's easier all round" - did not get lucky at first of course, teeing off on Thursday afternoon after the morning group had enjoyed the calmest of conditions. But on Friday he was home and hosed before the gale hit and players like Rory McIlroy imploded, faces white with the disappointment of it all.
As that Friday afternoon wore on it was clear that this Open was being defined. Thanks to a slice of good fortune, but mostly due to a simply wonderful golf game, Oosthuizen found himself half a mile ahead of everyone else in the field. Whether by design or accident he had managed Tiger Woods' old win-win strategy - blitz it over the first two rounds then watch as the saps try to play catch-up while you puff on a metaphorical cigar and grin at the daftness of it all.
The difference was that few outside Louis' close circle expected the South African to hang on to anything over the weekend. He had, after all, missed the cut in seven out of the last eight Majors he had played and that meant all the Majors he had played to this point. His best finish was 73rd at the USPGA Championship in 2008. A genuine Open contender? Don't make me laugh.
For a start we think that the only genuine contenders for Majors are the men who (a) are extremely high up the rankings; (b) the blokes who talk about their relentless preparation for these things and (c) those players who wear really nice, smart clothes.
Louis falls into none of these categories. His form is inconsistent, he is so modest and self-deprecating that if you gave him a trumpet, or even a vuvuzela, he would not know how to produce a toot and he dresses like he has yet to discover the advantages of a decent ironing board. He is quiet, gentle and really rather hugely impressive. He even failed to explode when his caddie turned up late for his practice session prior to Friday's early tee-off leaving Oosthuizen and coach Pete Cowen rather perplexed. By 5.40am Louis was on the range and ready, but his caddie, and therefore his clubs, weren't. Half an hour later, Soweto-born Zack Rasego hurtled into view a bit dishevelled and very embarrassed.
Cowen stepped back to allow Oosthuizen a proper target upon which to vent his rage. "Instead," said the coach with wonder in his eyes. "He just said 'okay, hand me my wedge and let's get warmed up here'. I cannot think of too many other players who would have reacted so calmly." Cowen, by the way, also coaches Lee Westwood and Henrik Stenson, and so achieved a remarkable 1-2-3 at this Open.
When Louis retained his lead over a long and rather ragged Saturday we were left with two thoughts: the first was that this guy just might not go away now and the second thought was bafflement at The R&A's refusal to properly contemplate a two-tee start when a round is delayed, as this third one was.
Instead, they mistakenly read something about purity and core values into a one-tee start and so missed the bigger point about The Open as a matter of public entertainment. That they also then set pin positions over the weekend that made it easier to defend a lead than to try to claw back Oosthuizen's advantage is also beyond this critic's comprehension. There are times in life when it pays to be a bit daring, and this was just such an opportunity.
Confusing also to see Paul Casey's approach to his final round alongside the man who was set to be champion. If Casey was to move forward on this Sunday then he obviously needed to play really well and to hole some putts, but he also needed to somehow unsettle the South African. To do this he did not need to try to trip him up or elbow him into the Swilken Burn, but what he also did not need to do was to laugh and joke with his rival. Casey may have been trying to calm his own inner-self, but what is beyond reasonable doubt is that he helped to calm his opponent. His attitude may have resonated with those who see golf as a metaphor for the finer things in life, but to those of us who like our high-octane sport to come with some sort of an edge it was an approach out of kilter with the situation. You may disagree but, naturally, you would be wrong to do so.
When, for example, Retief Goosen was in with a chance of victory at a US Open a few years ago, a grinning Ernie Els joshed with him as the pair made their way to the 1st tee. Goosen stopped, looked at his pal and said: "Ernie, not today please, not today." This most equable of competitors was spot on that day and Casey almost certainly would do well to reflect on that fact. Mind you, whatever approach Casey took with him into this Sunday, it probably wouldn't have worked. There was never any suggestion that Oosthuizen was about to choke even a little although if the screw had been turned more then things might have been different.
Casey, Westwood, Stenson and the rest needed something special and they needed this special stuff to happen early, certainly over the front nine. No one managed it and though they and McIlroy deserve praise for finishing high up the leaderboard there was more drama off the course than there was on it, when Ian Poulter had an understandable ruck with a steward who was suffering a misplaced sense of self-importance.
So, ladies and gentleman, the Champion Golfer of the year is Louis Oosthuizen. Deservedly, if surprisingly, so. It is never a totally disappointing Open when it is staged at St Andrews, but this one ended about as dull as it can get. A rather forlorn, almost pathetic, Woods never really figured while Westwood never quite got properly into contention. He needs, to this observer's eye, to turn a tad more aggressive with his putts.
McIlroy promised much, delivered a stunning opening 63 and could have won had he knuckled down more in that wind-torn second round when he wrecked his stellar scoring sequence at the Old Course with an 80 from which he already has learned much - mostly not to panic early. None of these stars thought they were playing against Louis Oosthuizen when this Open began, and by the end it was much the same for not one of them was close enough to play for anything other than a high, finishing position.
"I'm pretty sure it was me and Darren [Clarke] who nicknamed Louis 'Shrek,'" admitted Westwood as he prepared to call his ISM (Chubby Chandler's management company) stablemate 'sir' in future. This is a typical piece of Westwood/Clarke jokiness and it should be noted that they only hand out these insults if they actually like you.
They came up with 'Shrek' mostly because Oosthuizen has a rather prominent gap between his two upper front teeth. Sound familiar? It should. Not just something Louis shares with a cartoon character, but also with the greatest Open champion of modern times, Tom Watson.
The big clue was there all along, it seems.
Bill has been part of the Golf Monthly woodwork for many years. A very respected Golf Journalist he has attended over 40 Open Championships. Bill was the Observer's golf correspondent. He spent 26 years as a sports writer for Express Newspapers and is a former Magazine Sportswriter of the Year. After 40 years on 'Fleet Street' starting with the Daily Express and finishing on The Observer and Guardian in 2010. Now semi-retired but still Editor at Large of Golf Monthly Magazine and regular broadcaster for BBC and Sky. Author of several golf-related books and a former chairman of the Association of Golf Writers. Experienced after dinner speaker.