Titleist Scotty Cameron Futura 5.5M Revealed
Take a closer look at the new Titleist Scotty Cameron Futura 5.5M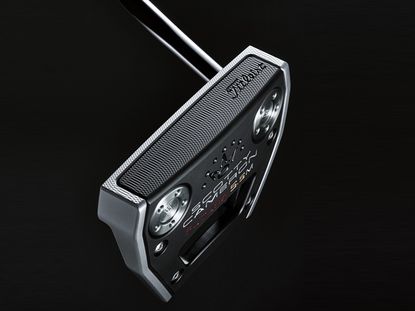 Scotty Cameron has added a new model to his popular range of putters – the Titleist Scotty Cameron Futura 5.5M – which will combine a compact mallet head with a neck configuration that suits arcing putting strokes
Scotty Cameron has added a new model to his popular range of putters – the Titleist Scotty Cameron Futura 5.5M. The new model is a compact mallet with a new neck configuration that will compliment players with arcing putting strokes.
Inspired by a request from PGA Tour star Justin Thomas, Cameron created the Titleist Scotty Cameron Futura 5.5M with a stainless steel half-neck spud off the topline that accepts a single bend shaft. This combination gives the player a full shaft of offset and a clean view of the topline. It also increases the toe flow for players who like an arcing feel in their stroke, but who want more forgiveness.
The compact mallet is about 10% smaller than the similarly-shaped Titleist Scotty Cameron Futura 7M, which allows for built-in toe flow. A shorter single bend shaft configuration also aids additional toe hang, promoting an arced path and flowing putting stroke.
As with the other Futura putters, multi-material technology sees a wrap-around face-sole construction milled from lightweight aluminium and integrated with precision-milled stainless steel. This moves weight back and to the perimeter, allowing for larger putter heads with enhanced resistance to twisting during the stroke.
Heel-and-toe sole weighting that increases stability and a mid-milled face with vibration dampening technology for soft feel also feature, as does the Silver Mist finish and Black Matador Mid-size grip.
Of his latest design, Cameron told GM: "The idea for the Titleist Scotty Cameron Futura 5.5M began when Justin Thomas came to my studio looking for a new option. He wanted a smaller mallet that he could align easily, but one that also promoted the arced putting stroke he preferred. We welded a flare neck to a Futura X5 Tour putter and sent him on his way. He went on to win three events, reporting back that some of his buddies wanted a putter like his. The wheels started turning from there.
"In addition to Justin's visit, I'd also received requests for a smaller version of the Futura 7M. So, in thinking about this new entry in the world of mallet putters, I was able to blend my MOI and toe flow thoughts into this new model."
Titleist Scotty Cameron Futura 5.5M - Details
The new Titleist Scotty Cameron 5.5M putter will be available from September 22nd and will cost £335.
Jake O'Reilly specilaises in equipment coverage, and joined the Golf Monthly team in 2013. Before this he graduated from the University of Huddersfield with a Sports Journalism and Media degree, and worked at a number of British golf magazines. Follow Jake on Twitter
@jake0reilly