Top 10 celebrity golfers
Our selection of the top celebrity golfers including Sean Connery, Samuel L Jackson, Sugar Ray Leonard, Barack Obama and Justin Timberlake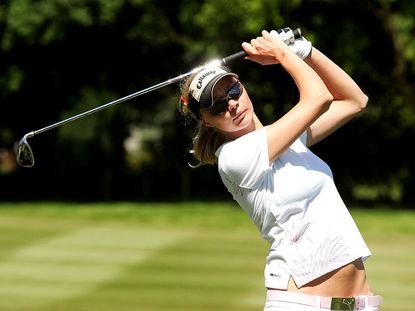 (Image credit: Getty Images)
Golf Monthly's selection of the top celebrity golfers
Alice Cooper The rock star has an addictive personality. Once it was alcohol that was his focus, now it is golf. He claims he is the only man whose wife throws him out of the house to play golf; also that he is one of the few fathers to shout at their children to turn their music up.
On tour he likes to fit in a game between concerts and when in London he heads for Sunningdale golf club. His love of the game is such that he has written a book about it, Golf Monster: My 12 Steps to Becoming a Golf Addict.
Sean Connery Despite growing up in Scotland, the James Bond actor had no interest in golf until he had to be convincing as a golfer in a scene in Goldfinger, filmed at Stoke Park. "I took lessons near Pinewood film studios and was immediately hooked," he recollects.
He sees "golf as a metaphor for living, for in golf you are basically on your own, competing against yourself and always trying to do better. If you cheat, you will be the loser, because you are cheating yourself."
Samuel L Jackson The actor has it written into his contracts that he is given time off during filming to play golf at least twice a week. When not working, he aims to play golf every day.
"Golf's the perfect game," he explains, "as you're absolutely responsible for everything that happens."
Michael Jordan You should be able to get a game somewhere with the basketball star — he is said to be a member of at least a dozen golf cubs. Moreover he could also lend you a set of sticks — he is said to own 40 sets of clubs. He has had a 3,500sq ft putting green built at his home.
Jodie Kidd Her father bought the sporty future supermodel a golf lesson as a Christmas present when she was 11. She was not impressed — she had wanted an underwater Walkman instead. But she "just whacked one ball and it felt quite nice. I became obsessed."
Sugar Ray Leonard The former boxer who won world titles in five different weight divisions reckons that "Marvin Hagler wasn't scary. But a downhill three-footer — now that's scary."
He says: "I wish I'd found this sport years ago. Golf has made me more balanced. Other places, my mind races. On the course, my mind is calm, focused, ordered, like it was in the ring. Golf gives me peace."
Bill Murray The future film star used to caddy to pay his way through college. He was hired for six days shooting on Caddyshack when he improvised all his lines. He has been a regular in pro ams, written Cinderella Story: My Life in Golf and launched a line of golf clothing.
Barack Obama The US president will have time on his hands in future, so can play more golf. Mind you, he has not exactly stinted on his golf in the past few years: It has been calculated that Barack Obama has played more rounds of golf during his presidency than Tiger Woods has.
Justin Timberlake He got into golf when he was taken by his father to play at Big Creek golf course near Memphis. Years later, when the course was under threat of being turned into a housing development, he and his father bought the course.
The singer sees similarities between his day job and his favourite sport: "The golf swing is very, very rhythmic. There's a certain tempo to it, just like in music. It just made sense to me."
Donald Trump US presidents have long favoured golf as their relaxation, notably Ike Eisenhower, with even occasional golfers such as Ronald Reagan taking a golf break at Augusta to unwind during his term of office — although in his case his relaxation was hindered by a gunman taking hostages in the pro shop.
But none has approached golf as business as Donald Trump has, Trump has bought and built courses around the world, notably Turnberry. But don't suggest a three ball with another of our celebrity golfers, Samuel L Jackson, after Jackson publicly accused Trump of cheating when they played together.
Get the Golf Monthly Newsletter
Tips on how to play better, latest equipment reviews, interviews with the biggest names and more.
Contributing Writer Golf courses and travel are Roderick's particular interests and he was contributing editor for the first few years of the Golf Monthly Travel Supplement. He writes travel articles and general features for the magazine, travel supplement and website. He also compiles the magazine's crossword. He is a member of Trevose Golf & Country Club and has played golf in around two dozen countries. Cricket is his other main sporting love. He is the author of five books, four of which are still in print: The Novel Life of PG Wodehouse; The Don: Beyond Boundaries; Wally Hammond: Gentleman & Player and England's Greatest Post-War All Rounder.