Stoke Park reopens Colt course
This follows a winter refurbishment and redesign of the bunkering.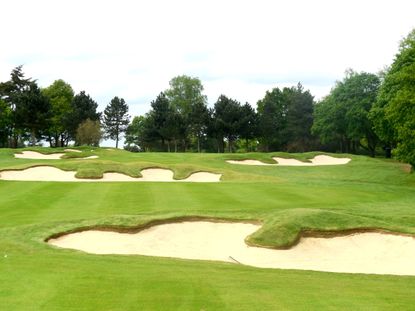 (Image credit: Picasa)
Golf Monthly Newsletter
Golf tips and expert instruction, golf club reviews and the latest golf equipment.
Thank you for signing up to . You will receive a verification email shortly.
There was a problem. Please refresh the page and try again.
This Buckinghamshire club has officially reopened its' nine-hole Colt course after closing it during the winter to refurbish and redesign the bunkering
Stoke Park has officially reopened its Colt course after a winter refurbishment and redesign of the bunkering.
The result has given a different look to the course, with more prominent bunkering, although in fact there are 23 fewer bunkers overall on this nine, and 20% less area of sand.
This move was prompted by several concerns, one of which was to make the course fairer, and to provide more of a strategic challenge. (opens in new tab)
Part of this fairness aspect has been to push the fairway bunkers nearest the tee on 6 and 8 further down the fairway, so as to be more challenging to the lower handicapper golfer than the high one.
The 8th hole has had a huge redesign, to toughen up the test on what was considered a fairly benign hole - 'a knock it down and chip it on hole' as one member described it to me as. But now a plethora of bunkering up by the green has transformed this hole.
It's a more strategic (opens in new tab) course now," explains club captain John Sweeney. "You really have to think about how you're going to play each and every hole."
An important aspect to the renovations was to improve maintenance. The bunkers have been relined to prevent stones working their way up into then.
Another practical consideration has been to prevent the greenside bunkers from flooding due to run off water from the greens. To the end, the bunkers have been built up in front, so that the rainwater runs round them rather than into them.
As a result, many of the greens now lurk behind mounds, which makes confidence on approach shots an issue for the first-time visitor.
The fairway bunkers (opens in new tab) have also built-up faces to make these more penal to the wayward drive.
Stoke Park has three nine-hole courses, with its hole named 1 to 27. The Colt course provides holes 1 to 9. The plan is to rework the bunkering on holes 10-18 next winter, and on 19-27 the following winter.