President Eisenhower and Augusta National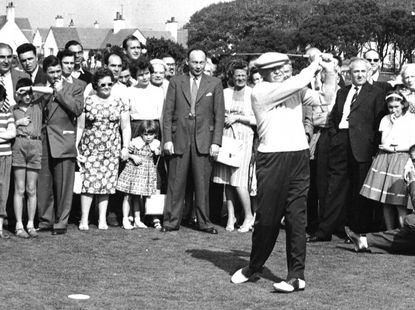 (Image credit: Getty Images)
The story of Ike Eisenhower and Augusta National starts in 1948, five years before he became US President
In April 1948 Eisenhower, who had been Supreme Commander of the Allied Forces in World War II, and his wife Mamie, came for a fortnight's holiday to Augusta National. This was at the invitation of Cliff Roberts, who founded and ran the club.
Roberts wrote later that this "visit had brought about a deep feeling of kinship between the Eisenhowers and the Augusta National." Six months later Eisenhower became a member of Augusta National.
Dwight 'Ike' Eisenhower had only played his first round of golf aged 35 and had a handicap at its lowest of 14. Yet he was an avid golfer.
In 1953 Eisenhower became US President. During his eight-year presidency he played 800 rounds of golf, and installed a putting green at the White House.
So that he could continue holidaying at Augusta National, the members built a house especially designed for the needs of a US President and his security. This house is now known as Eisenhower's Cabin (opens in new tab).
Another sitting president, Ronald Reagan, was later to use it, an occasion which led to hostages being taken in the pro sho (opens in new tab)p by a gunman.
The interaction between Eisenhower and Augusta National is also celebrated in the popular name of a tree that stood on the 17th fairway.
Eisenhower was a congenital slicer, and often hit this tree with his drive. So at a meeting of Augusta National governors in 1956 the US President proposed it be cut down.
Rather than defy him, Clifford Roberts, Augusta chairman, adjourned the meeting to prevent a decision being made which he knew would have gone against the president.
But since that day the tree became known as Eisenhower's Tree (opens in new tab).
But another suggestion of Eisenhower's had been accepted. At his instigation, a fishing lake was created in 1949 and stocked with bass and bream.
It is known as Ike's Pond and is now an integral part of the par-3 course.
Contributing Writer Golf courses and travel are Roderick's particular interests and he was contributing editor for the first few years of the Golf Monthly Travel Supplement. He writes travel articles and general features for the magazine, travel supplement and website. He also compiles the magazine's crossword. He is a member of Trevose Golf & Country Club and has played golf in around two dozen countries. Cricket is his other main sporting love. He is the author of five books, four of which are still in print: The Novel Life of PG Wodehouse; The Don: Beyond Boundaries; Wally Hammond: Gentleman & Player and England's Greatest Post-War All Rounder.