When a gunman took hostages at Augusta National
This was during a round by President Reagan in 1983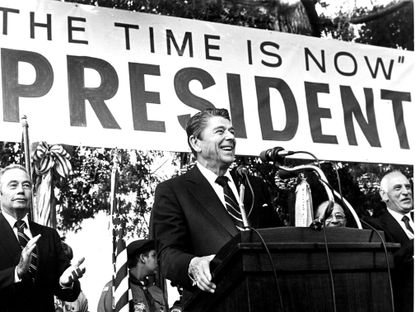 (Image credit: Getty Images)
This was during a round by President Reagan in 1983
When a gunman took hostages at Augusta National is one of the lesser publicised aspects of the club's history, It happened when President Ronald Reagan came to stay and play in October 1983.
Ronald Reagan had been invited to the club by one of its members, George Schultz, who was Secretary of State in Reagan's government. Also invited was Donald Regan, the White House chief of staff. The fourball was completed by Senator Nicholas Brady, later to join Reagan's cabinet as Secretary of the Treasury.
Reagan was an infrequent golfer, especially after he became President. But he was said to possess a decent swing, although his best rounds were in the low 90s.
While Reagan was out on the course, a local resident, 45-year old Charles Harris, rammed open an unmanned locked entrance gate to the club in his Dodge truck and drove up to the clubhouse.
Here he took a chauffeur hostage at gunpoint and marched him into the pro shop, demanding to speak to the President, and in all took five hostages at Augusta National.
Among those in the pro shop was an assistant to Reagan who asked to be allowed to leave to arrange this. The others in the shop were taken hostage. The chauffeur was allowed to leave.
President Reagan was playing Augusta's 16th hole (opens in new tab) when he heard of Harris' request and he decided to telephone the pro shop
Inside the pro shop the telephone rang, and Harris answered. It was the wife of a members asking for her clubs to be got ready. "Ma'am, we ain't playing no f -- ing golf here today," Harris replied and put down the phone.
The phone rang again. It was answered by one of the hostages, a Reagan aide. He had been supposed to be playing golf with national security adviser Bud McFarlane, but McFarlane had been called back to the Eisenhower Cabin (opens in new tab) as the US was planning to invade Grenada.
This time it was the President on an early mobile phone from the 16th green. It was a poor line and Harris could not hear Reagan say: ''This is the President of the United States. This is Ronald Reagan. I understand you want to talk to me.''
In his fury Harris pulled the phone out of the wall.
No-one at that time knew why Harris wanted to speak to the President, but later it emerged that Harris had been undergoing a difficult period, during which his wife had left him, his father had died and he had lost his job. He wanted to talk to the president about this.
Reagan and Schultz were driven from the club in their golfing attire while the hostage stand off continued. But after two hours, by which time all the hostages had either escaped on been released, Harris was apprehended.
Reagan returned to the club and stayed a night in the cabin named after President Eisenhower, as planned, and played golf the next day.
Harris was charged with kidnapping an Augusta National Golf Club chauffeur, false imprisonment of a golf club pro shop employee and a special assistant to the president and criminal damage to property in the second degree for damaging the gate.
He pleaded guilty and was sentenced him to 10 years in prison and a further 10 years probation. He served three years in prison.
Contributing Writer Golf courses and travel are Roderick's particular interests and he was contributing editor for the first few years of the Golf Monthly Travel Supplement. He writes travel articles and general features for the magazine, travel supplement and website. He also compiles the magazine's crossword. He is a member of Trevose Golf & Country Club and has played golf in around two dozen countries. Cricket is his other main sporting love. He is the author of five books, four of which are still in print: The Novel Life of PG Wodehouse; The Don: Beyond Boundaries; Wally Hammond: Gentleman & Player and England's Greatest Post-War All Rounder.