Bryson DeChambeau: Sky's The Limit
Paul Mahoney meets Bryson DeChambeau, the 'golfing scientist'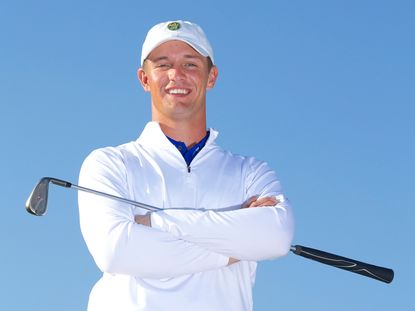 Get the Golf Monthly Newsletter
Thank you for signing up to Golf Monthly. You will receive a verification email shortly.
There was a problem. Please refresh the page and try again.
US Amateur Champion Bryson DeChambeau believes his unique approach to the game can help him thrive in the professional ranks. Paul Mahoney meets the man who describes himself as a 'golfing scientist'
Jack Nicklaus, Phil Mickelson, Tiger Woods, Ryan Moore, Bryson DeChambeau. That's quite a royal line of succession that DeChambeau has joined (okay, pretend Moore's name is not there) as the only players to win the National Collegiate Athletic Association title and the US Amateur championship in the same year. The 22-year-old from Modesto, California is being touted as the Next Big Thing.
DeChambeau is confident enough to embrace his billing. That's not to say he isn't awestruck by the names he is following. "It has made me sit back and go 'Wow, that is incredible.' I never would have thought I would have ever done anything like that," DeChambeau says sitting at a picnic table in the shade of an umbrella behind the practice range at the Omega Dubai Desert Classic in February.
The American has been giving the world a preview of his prodigious talent. He finished runner-up in the Australian Masters, led at the HSBC Abu Dhabi Golf Championship after the first round and finished 18th in Dubai. But it is at Augusta National that he will be thrust into the brightest spotlight. Expect him to dazzle. As is the tradition, the reigning US Amateur champion will play the first two rounds in the company of the reigning Masters champion. That just happens to be Jordan Spieth. It will be DeChambeau's final tournament before joining the professional ranks. It will give him the opportunity to measure his game against the Masters and US Open champion. It's already inspiring him. "Oh, absolutely," he says. "To see him performing so well and No.1 in the world, that's just unbelievable. I certainly didn't imagine that for anybody when I was growing up. I thought Tiger would always be No.1. I look forward to playing some more golf with Jordan and hopefully competing with the best for quite a while. Jordan is only 22, too, so I feel like I'm behind the eight ball. He inspires me to work hard each day. As do Rory, Rickie, Jason and all those guys. They are great ambassadors. They love growing the game, being part of the crowd, talking to the people. The game needs that interaction. It's pushing forth the game."
There is no doubt DeChambeau has the pedigree to join the new generation of 20-somethings taking ownership of the game. But there is more to this young man than merely signing impressive scorecards. He believes he can change the game. "You look at trends in humanity and people like following the norm," DeChambeau says when asked if he is a trailblazer. "You've got people like Albert Einstein and George Washington – they just stood out and capitalised on their differences and showed the world a little different side." Not shy on confidence, is he?
"Look, I'm not saying I am anywhere near those guys because they were in a league of their own," DeChambeau says. "They were inspirational people. But what I can say is that those people were leaders and were able to lead a nation, lead a field in science, lead in their own way. And I hope I can do some of the same thing for golf. I believe there is an easier way to play," he says.
DeChambeau figured out conventional clubs were not for him. The legend has been growing of his homemade irons, all with the same length, lie and bounce angle. Each iron is 37½ inches long, whether it is a 3-iron or a wedge. He wields them with the same upright swing, wrapping his palms around chunky grips. "It's four degrees of loft difference between them and it works pretty well," he says. "It helps me keep my same posture, same set-up, same everything." The idea came from a book called The Golfing Machine, by Homer Kelly, a Seattle aircraft mechanic, published in 1969. DeChambeau's coach, Mike Schy, came across it and was intrigued by Kelly's theory of 'geometric oriental linear force' and the impact it could have on a golf ball. DeChambeau is a physicist. It fired his imagination.
"We tinkered a lot until we found something that worked. We struck gold I think," he says. "I hope it will help better the game of golf. I really believe it can. Not only for myself but also for others. If we can capture, say, one per cent of the market, that's pretty inspirational and it could move the needle. I'd say I'm a pioneer rather than a rebel. I would love to be called that down the road if it catches on. Shoot, it may not. But it works for me and I know I'll be somewhat successful doing it. It could change golf."
When DeChambeau leaves behind his amateur status, the queue from prospective sponsors will wind around the block. He is charming, approachable and polite. He has his own unique idea of how to play but is respectful and knowledgeable about golf's etiquette and history. Although he calls himself a 'golfing scientist' he is also a shot-maker, an innovator, an artist – and that makes him fun to watch. He is already becoming a fan favourite, and the camera loves him. He's 6ft 1in, handsome, and armed with an exploding flash-bulb smile. He is intense but has a sense of humour. His enthusiasm bursts out of him. He's eccentric, too, and a perfectionist. He soaks his golf balls in water and Epsom salts (it's a science thing) to determine which are slightly flawed (about four in every dozen). Just a reminder: he's 22.
"Last year at this time, I was kind of a nobody, you know, and, to be honest, I still think of myself as that," DeChambeau says. "I try to be as humble as possible, and it's difficult at some points in time, but I'm learning how to go through that process. It's a lot of fun, too." He is fast becoming a somebody. "It's a platform where you can speak your mind for the world to hear. It's a little different. But I'm embracing it. I'm liking it. It's something I look forward to doing for a long time."
DeChambeau has a seemingly unshakable belief that he is going to claim a seat among the game's elite. And he's in a hurry. He is giving up his place in the US Open and Open Championship in order to give himself enough time to secure his playing rights on the PGA Tour and attempt to qualify for the Ryder Cup in September. You read that correctly. "I hope I can make it. It's not out of reason," he says. "Let's say I do something fun and crazy and win a couple of times. There's definitely potential for me to qualify." DeChambeau was the only American undefeated in their losing Walker Cup team last year.
He doesn't appear to be the kind who freezes on the main stage. He loves being different and revels in being the centre of attention. His trademark flat cap paying homage to his hero Ben Hogan is already making him stand out from the crowd. He's planning to don plus-fours soon, too, in another show of respect to fellow Southern Methodist University student, Payne Stewart.
"I'm definitely going to continue wearing the Hogan caps. It's cool. I love paying homage to the game," he says. "It's just a look. It's something that will get people involved. I hope it provides a platform where I can be aligned to others and show them that there is not just one way and I can provide great insight into the game. But on a personal level, not on a fictitious superstar level. I don't ever want to be revered like that," he adds. "I hope people can benefit from watching me play and I hope I can be a breath of fresh air."
DeChambeau played Augusta National for the first time in December with his coach, and will have racked up several more rounds to get the 'wow' factor out of his system before Masters week. "I knew it was going to be an incredible experience, but something I didn't think I was going to be able to do at this early age," he says. "Growing up watching it on TV, the most famous shot for me was 2005 when Tiger chipped in from the back of the green on 16. I went over and tried to replicate it, and just looking at it, going wow, this is where it was, that was pretty cool."
Such has been the impact DeChambeau has made that three-time Masters Champion Mickelson has offered him a place in his infamous Tuesday money game at Augusta National. How's that for a seal of approval? "Phil Mickelson was nice enough to actually give me a little spot in the Tuesday game," DeChambeau says. "He said, 'You and me are going to be a team.' He was super nice to me and gave me some helpful insight." Too soon for a Green Jacket? "I can't focus on that," he says. "If I did, it would deter me from playing well and practising my hardest." But he has his sights set on winning Majors and being World No.1. "Of course, that's a given," DeChambeau adds. These are lofty ambitions for a man who is yet to turn pro, but the confidence he exudes makes you believe anything is possible.
Get the Golf Monthly Newsletter
Tips on how to play better, latest equipment reviews, interviews with the biggest names and more.
David joined Golf Monthly in 2015 as a content editor for the magazine and regularly contributes to the website. He has worked in magazine publishing and editing since 2003. He is a keen golfer and up until recently was a member of Blackmoor Golf Club in Hampshire. He has covered various big events and tournaments for GM, the highlight of which was witnessing Tiger Woods win his 15th Major at Augusta in 2019. Email: david.taylor@futurenet.com