Trump International Golf Links Scotland Pictures
Trump International Golf Links Scotland Course Pictures - The 'wow' factor in at Trump International among towering dunes never lets up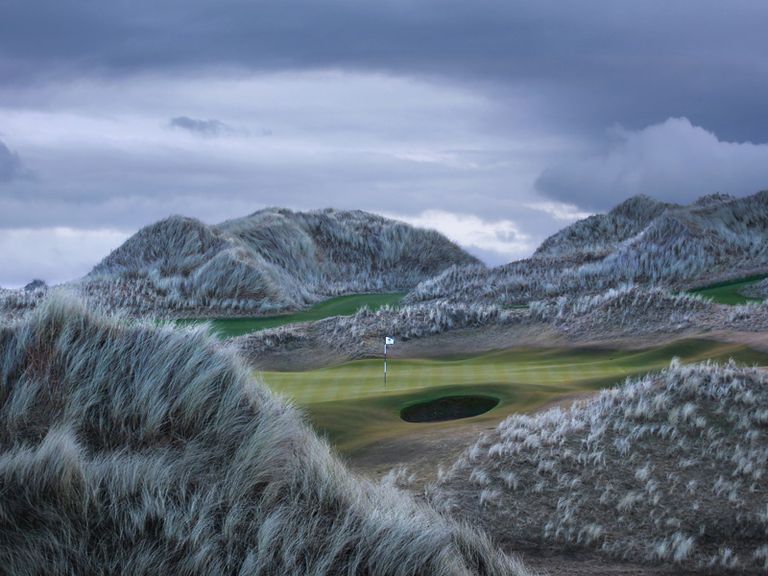 Trump International Golf Links Scotland Pictures - The 'wow' factor in at Trump International among the towering dunes never lets up right from the start to finish
Trump International Golf Links Scotland Pictures
If you're looking for sheer golfing exhilaration from 1st tee to 18th green, Trump International Golf Links delivers in abundance thanks to the spectacular dunescape on which Martin Hawtree has painted this modern masterpiece.
Trump International Golf Links Scotland Course Review
The drama kicks in from the world go, but with so many magnificent holes, it's hard to label any the real signature.
All 17 golf courses Donald Trump owns
The par-3 3rd would be a strong candidate for many, with its green set close to the sandy shoreline.
Trump International Golf Links Ireland Course Review
The 10th would feature strongly, too, with its final approach played to an amphitheatre green set in dunes so tall they almost appear to close in on you.
Trump International Golf Links Scotland Pictures
Trump International Golf Links Scotland Pictures
Trump International Golf Links Scotland Pictures
Trump International Golf Links Scotland Pictures
Trump International Golf Links Scotland Pictures
Trump International Golf Links Scotland Pictures. The 13th hole
Trump International Golf Links Scotland Pictures
Trump International Golf Links Scotland Pictures
Trump International Golf Links Scotland Pictures
Trump International Golf Links Scotland Pictures. The 14th hole
Trump International Golf Links Scotland Pictures
Trump International Golf Links Scotland Pictures
Trump International Golf Links Scotland Pictures
Trump International Golf Links Scotland Pictures
Trump International Golf Links Scotland Pictures
Trump International Golf Links Scotland Pictures. The 3rd green
Trump International Golf Links Scotland Pictures
Trump International Golf Links Scotland Pictures. Looking back down the par-4 12th
Trump International Golf Links Scotland Pictures
Trump International Golf Links Scotland Pictures