Best Golf Courses In Cheshire
As well as world-famous names, the best golf courses in Cheshire include plenty that deserve to be far better known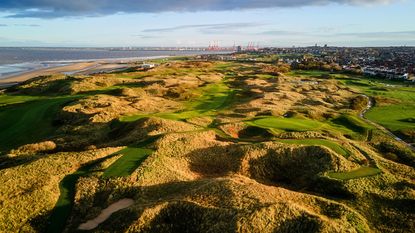 (Image credit: Wallasey Golf Club)
The north-west of England is renowned for its cracking links, but perhaps partly because of this, not so much for its many inland gems. Cheshire sits next to Lancashire, another golf-rich county, and stretches out to the coast on The Wirral. It is currently home to one shy of 100 affiliated golf clubs, and there is huge strength at the top with next year's Open Championship venue, Royal Liverpool, as well as four more courses in the Golf Monthly Next 100. Starting with the famous five, we also look at some of the fabulous but less well-known courses in the county.
Royal Liverpool
Location Wirral
Founded 1869
Architect Robert Chambers & George Morris, Harry Colt, Martin Ebert
GF Very limited availability, check with club
Par 72, 6,870 yards
Contact Royal Liverpool Golf Club (opens in new tab)
Host of next year's Open Championship and one of the leading courses in the Golf Monthly Top 100, Royal Liverpool is home to one of the best links courses in the UK. This supreme test is set to host The Open for a thirteenth time with the most recent two champions being Tiger Woods and Rory McIlroy. In preparation, the club has engaged Martin Ebert for some changes, the most substantial of which has been the creation of a new par-3 15th hole (played as the 17th in The Open). This championship heavyweight is not heavily bunkered, but its subtleties and the almost ever-present sea breeze (and stronger) can test the world's best at the same time as being very playable for club golfers. Hoylake is one of the best links courses in the UK and a must-play for all students of classic links golf.
Read full Royal Liverpool Golf Club course review
Delamere Forest
Location Delamere
Founded 1910
Architect Herbert Fowler, Tom Mackenzie
GF Round £90 Mon-Fri
Par 72, 6,588 yards
Contact Delamere Forest Golf Club (opens in new tab)
Don't be misled by its name, for the course here is actually a wonderful heathland layout that was originally designed by Herbert Fowler, renowned for The Berkshire and Walton Heath among others. A long-term restoration program overseen by Tom Mackenzie concluded three or four years ago and brought this excellent course back to its roots. It is blessed with a fine, sandy subsoil making it fully playable all-year, and is perfectly balanced with a pair of par 5s and short holes on each nine. This is heathland golf at its very best.
Read full Delamere Forest Golf Club course review
Prestbury
Location Prestbury
Founded 1920
Architect Harry Colt, Mackenzie & Ebert
GF Round £40-£100, check with club for details
Par 71, 6,419 yards
Contact Prestbury Golf Club (opens in new tab)
A few miles to the south of Manchester, Prestbury is home to a very attractive, tree-lined course. It is a relatively recent addition to Golf Monthly's Next 100 Courses in the UK&I, and offers an engaging and constantly changing round. The club celebrated its centenary a couple of years ago, and the Harry Colt design is up there among the best golf courses in England. A comprehensive upgrade by architect Tom Mackenzie is due to be unveiled for the playing season, 2023.
Read full Prestbury Golf Club course review
Sandiway
Location Northwich
Founded 1920
Architect Ted Ray, Harry Colt, FW Hawtree
GF Round £80 Mon-Fri
Par 70, 6,437 yards
Contact Sandiway Golf Club (opens in new tab)
This gently-undulating and extremely enjoyable course is packed with variety. It was originally laid out through forestry by Ted Ray with subsequent modifications in 1926 by the great Harry Colt. Free-draining, it runs through beech on the higher ground as well as oak and fir, and every hole is a new and fresh challenge. The stiffest test comes from the long par 4s, especially on the back nine where there are lovely views over neighbouring Petty Pool. This is an extremely appealing inland alternative and very rightly in the Golf Monthly Next 100 of the UK&I.
Read full Sandiway Golf Club course review
Wallasey
Location Wallasey
Founded 1891
Architect Old Tom Morris
GF Round £140 Mon, Tue and Thu, £165 Fri to Sun
Par 72, 6,554 yards
Contact Wallasey Golf Club (opens in new tab)
This excellent course plays for the most part through impressive dunes, really taking off from the third with its gentle climb to a two-tiered green. Indeed, raised greens are a feature here and make correct club selection vital. The 11th, Saddleback, is a thrilling par 4 along a ridge, and the 12th is a wonderful short hole from an elevated tee. Wallasey is future-proofing via an array of sympathetic improvements to its very fine course. An ambitious program of work has included new paths with natural grass, new tee complexes, bunkers redesigned to blend into the natural topography, as well as substantial tree clearance and the reinstatement of natural dune grasses helping to open up views of the Snowdonia mountain range, Liverpool bay and the Irish Sea.
Caldy
Location Wirral
Founded 1907
Architect James Braid
GF Round £95 Mon-Fri, £110 Weekend
Par 72, 6,740 yards
Contact Caldy Golf Club (opens in new tab)
Situated just two or three miles from Hoylake down the west coast of The Wirral, Caldy is a very fine links that flies somewhat under the radar. James Braid expanded the original nine holes designed by Jack, nephew of Old Tom Morris, which opened for play in 1931. Its greatest challenge is a number of lengthy par 4s, but these are balanced by four short holes, the longest of which is under 200 yards from the very back. Ten holes run on the clubhouse side of the disused railway line, with the third to the tenth over a bridge on the other side and offering a very enjoyable contrast.
Carden Park
Location Chester
Founded 1990s
Architect Jack Nicklaus and Alan Higgins
GF Check with club for details
Nicklaus Course Par 72, 6,302 yards
Cheshire Course Par 72, 6,653 yards
Contact Carden Park Golf Club (opens in new tab)
Carden Park is a complete golf destination, a little to the south of Chester and not far from the Welsh Border. Alongside the very well equipped and spacious hotel, it is home to two, relatively young but now fully-grown courses of surprisingly different character. Nicklaus designs are always memorable, and the one here features several of the family's hallmarks including bold and expansive bunkering, double fairways at the 7th and 15th, and of course plenty of water. The Cheshire Course is sited on the eastern side of the estate and is perhaps a little more tree-lined and subtle in its charms. It's just as challenging, just as long, and builds to a terrific climax as you play the lovely short 17th before taking in the far-reaching views over towards Wales on the elevated, final tee. Opinion seems to be evenly split as to which is the better.
Heswall
Location Wirral
Founded 1902
Architect Jack Morris, Harry Vardon, Frank Pennink, Donald Steel, Mackenzie & Ebert
GF Round £95 Mon-Fri, £110 Weekend
Par 71, 6,473 yards
Contact Heswall Golf Club (opens in new tab)
A little further down coastline from Caldy, Heswall also runs both sides of the disused railway line, now enjoyed as The Wirral Circular Trail. The original design has changed a great deal over the years, most recently just fifteen years ago with the creation of three new holes on the land closest to the estuary as well as some subtle changes to existing holes. The result is a very attractive course with testing greens and some fabulous views out over the Dee Estuary and across to Wales.
The Mere
Location Knutsford
Founded 1934
Architect James Braid
GF Round £95
Par 71, 6,566 yards
Contact The Mere Golf Club (opens in new tab)
The Mere Resort and Spa is a luxurious hotel which, unlike so many golf hotels, is much younger than its well-established course. Golf here dates back to 1935 when architect James Braid played in an exhibition match which featured the reigning Open champion, Henry Cotton. A few minor modifications have been made over the years, but it remains essentially as Braid intended with holes lined by majestic trees, heavy bunkering, beautiful flora and some lovely views over the adjacent lake that borders the opening and closing holes. Streams, ponds, gullies and some thick vegetation have been incorporated into the par-71 layout, which has hosted Open qualifying a number of times.
Mottram Hall
Location Alderley Edge
Founded 1991
Architect Dave Thomas
GF Contact club for details
Par 72, 6,676 yards
Contact Mottram Hall Golf Club (opens in new tab)
Mottram Hall is situated midway between Prestbury and Wilmslow and its course hosted the 2013 European Seniors' PGA Championship. Dave Thomas designed the par-72 parkland layout, and while the front nine is on more open ground with the constant backdrop of the 18th-century hall, while the more exciting and memorable back nine closes in among the stately trees and calls for straighter hitting.
Portal
Location Portal
Founded 1990
Architect Donald Steel
GF Check with club for details
Premier Par 71, 6,517 yards
Championship Par 73, 6,497 yards
Contact Portal Golf Club (opens in new tab)
Portal is home to not one but three courses; the Championship, the Premier and the 9-hole Arderne. The Premier is actually a mile up the road from the other two, which themselves sit either side of the MacDonald Portal Hotel, Golf and Spa. It began life as Oaklands Golf Club and opened for play in 1990 before being taken under the wing of the other two five years later. The Championship is now given star billing and was designed by Donald Steel. It features plenty of water including waterfalls and is very pretty, while the Arderne is a perfect practice or beginners course with holes ranging from under 100 yards to the testing par-4 5th at 371 yards. This is an excellent resort for golfing groups with something for everyone.
Reddish Vale
Location Stockport
Founded 1912
Architect Alister MacKenzie
GF Round £40 Mon-Fri, £45 Weekend
Par 69, 6,092 yards
Contact Reddish Vale Golf Club (opens in new tab)
Just five miles from Manchester city centre, Reddish Vale was designed by Alister MacKenzie, then captain at Alwoodley. This was some 20 years before he went on to design Augusta National. The course is bisected by the River Tame and opens with a fairly compact loop of five holes that returns to the clubhouse. A tough par 3 then leads you down by the river, following which it's a non-stop voyage of discovery through holes packed with character. Late on, the 16th shares its fairway with the 17th, a strong par 4 played to a beautifully-sited green between the river and hillside. In 2022, it was featured as one of Golf Monthly's 100 Hidden Gem golf courses of the UK&I.
Read full Reddish Vale Golf Club course review
Stockport
Location Stockport
Founded 1905
Architect Harry Colt
GF Round £85
Par 71, 6,373 yards
Contact Stockport Golf Club (opens in new tab)
Stockport is one of the very finest inland courses in the region. A regular host of Open Qualifying, the par of 71 provides a stiff test on this lovely, very gently undulating course. It was designed by Sandy Herd and revised by Harry Colt. There simply isn't a weak hole anywhere, and the trio of two-shotters from the 13th are all strategic, testing and original. It is also a welcoming club and makes for a terrific day out for a game with friends or golfing groups of any size.
Read full Stockport Golf Club course review
Wilmslow
Location Alderley Edge
Founded 1889
Architect James Braid
GF Round £95 Mon-Thu, £100 Fri, £110 Sun
Par 72, 6,433 yards
Contact Wilmslow Golf Club (opens in new tab)
This is one of the oldest clubs in the county, and over the years its delightful course has benefited from the attentions of a number of leading architects. Most notable among them is the prolific James Braid who made some modifications in the late 1920s, a decade after the relocation to the current site near Alderley Edge. This leafy, parkland design is kept in great shape and has much to recommend it. Features such as the opening drive above and between the 9th and 18th greens, the double green at the 3rd and 6th, and the need to position your tee shot correctly on the many doglegs, will live long in the memory. A real gem.
Wychwood Park
Location Crewe
Founded 2002
Architect Martin Hawtree
GF Round £60 all week
Par 72, 6,784 yards
Contact Wychwood Park Golf Club
Wychwood Park opened 20 years ago and is home to a fine modern course which from the very back tees stretches well over 7,000 yards. It was designed by one of the leading contemporary architects, Martin Hawtree, and is an expansive, parkland layout with water a strategic and visual distraction, and plenty of different and distinctive holes. The 7th has a split fairway and each of the short holes is a thrill. While there is no doubt that this is a tough course, its visual features and originality will more than compensate if your game is not behaving.
You could make a good number of very happy golfing trips exploring the incredibly diverse array of golf offerings in Cheshire and never run out of new and interesting courses to try. Much like the best golf courses in Lancashire, it has incredible strength in depth. From championship links to peaceful and scenic backwaters with everything in between, it is an extremely strong county for golf.
Rob Smith has been playing golf for more than 40 years and been a contributing editor for Golf Monthly for over ten years, specialising in course reviews and travel. He has now played more than 1,170 different courses in almost 50 countries. Despite lockdowns and travel restrictions in 2021, he still managed to play 80 different courses during the year, 43 of them for the first time. This included 21 in 13 days on a trip to East Lothian in October. One of Rob's primary roles is helping to prepare the Top 100 and Next 100 Courses of the UK&I, of which he has played all but nine. During the 2021-22 review period, Rob has played 34 of the Golf Monthly Top 200. He is a member of Tandridge Golf Club in Surrey where his handicap hovers around 16. You can contact him at r.smith896@btinternet.com.