FanDuel Promo Code: $1000 No Sweat First Bet on the Honda Classic
With the latest FanDuel promo code, you can claim a $1000 No Sweat First Bet on this week's Honda Classic. Sign-up now to win bigger on the PGA Tour this weekend.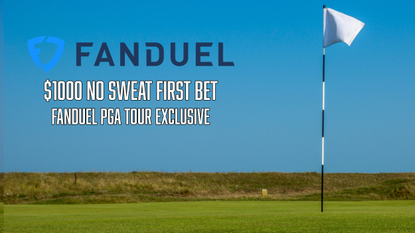 (Image credit: OddsChecker)
The latest FanDuel promo code provides new users with the opportunity to wager $1000 sweat-free, on the Honda Classic. That's right... you can bet four figures on your favorite outright, top 10, first-round leader, or any other bet of your choice at this week's Honda Classic, knowing the stakes of your first bet are protected up to $1000!
CLICK HERE to claim this epic FanDuel promo code, and you will be ready to place that wager, up to $1000 on this week's PGA Tour event.
With two strong favorites in Sungjae Im and Shane Lowry in the field this week now may well be the time to up your stakes, as you look for a big winner on the PGA Tour. Both players are well above most of the field in terms of consistency and quality, but can they get it done over four days? With the FanDuel promo code, you can put those doubts to one side, as if they struggle on Sunday, your stakes would be returned in the event of a loss!
How To Claim the $1000 Honda Classic FanDuel Promo Code
Here are the simple steps you need to follow, in order to claim a $1000 No Sweat First Bet for this week's Honda Classic.
Step One: CLICK HERE or on the "Claim $1000 Now" button below, to claim your FanDuel promo code
Step Two: Complete your FanDuel Sportsbook registration
Step Three: Deposit up to $1000 into your new FanDuel Sportsbook account
Step Four: Bet up to $1000 on your favorite Honda Classic selection
That's it... Now all that is left to do is follow your bet this weekend, knowing that you will either win big or get your stakes back as a bonus bet. The $1000 bonus is just the maximum, so it doesn't matter if you are betting $10 or $1000 this first bet protection is for you!
Bet up to $1000 Sweat-Free on This Week's Honda Classic
With the FanDuel promo code, there is no limit to what you can wager on, so you have the freedom to choose the best market for you, at the Honda Classic.

For example, you may know that any outright wager on the PGA Tour is volatile, and even with first-bet protection, you may want to wager on something like a top 10 or a top 20, in order to boost your chances of winning, with this No Sweat First Bet.
The beauty of being able to wager up to $1000 on your favorite bet, is that you can still win big, even if you take a more modest approach. For example, Shane Lowry is +1500 to win this week, but he has yet to win a regular PGA Tour event, and last year failed to get the job done here on Sunday. Instead, you may think on class alone, and last week's performance at Riviera, that he is a lock for a top 10, and would rather go down that avenue this week.

Lowry's odds to finish inside the top 10 this week are +200, which means if you placed a $1000 wager on him to finish inside that number, you could win $3000. Even a $100 wager would score a $300 win, and given your first bet is protected with the FanDuel promo code, you should feel a lot more confident in placing a wager like this.

We want you to be sensible, even with the first bet protection, so only bet what you can afford to lose, as this FanDuel promo code covers you on a $10 bet or a $1000 bet, the choice is yours.
So whether you are maximizing your value with a $1000 bet, or placing a $100 wager on this week's Honda Classic, make sure you are covered with the No Sweat FanDuel promo code.
FanDuel Sportsbook Odds: Favorites for the 2023 Honda Classic
Here are the current favorites for the 2023 Honda Classic, via FanDuel Sportsbook.
Sungjae Im +850
Shane Lowry +1500
Matt Kuchar +2400
Chris Kirk +2400
Billy Horschel +2400
Min Woo Lee +2500
Aaron Wise +2500
Denny McCarthy +2800
The odds suggest that after Sungjae Im and Shane Lowry, FanDuel Sportsbook think this event is wide open, and with such a tough course, it may be wise to take a couple from the top, knowing that Im or Lowry could easily miss the cut at PGA National.

Claim the $1000 No Sweat First Bet now via the FanDuel promo code above, to cover your stakes at this volatile event.
In addition to hosting the Lost Fore Words golf podcast, Tom Jacobs has been writing betting articles on golf for the past decade. Tom also co-hosts the DP World Tour Picks & Bets show on the Mayo Media Network, and has his finger on the pulse on all the major Tours. A long-suffering Nottingham Forest fan, Tom also enjoys watching Soccer on the weekends!