2023 Arnold Palmer Invitational Picks: Our Staff's Favorite Bets
With the Arnold Palmer Invitational just a day away from getting started, we asked our team of golf handicappers for their favorite pick. Let's take a look at their favorite Arnold Palmer Invitational bets for this week.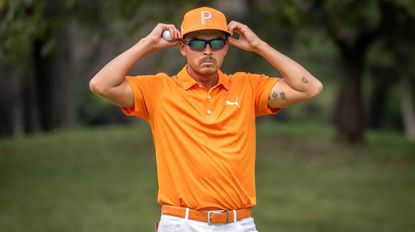 (Image credit: Getty Images)
Last week's Honda Classic had a field filled with unfamiliar names. Some of the biggest names on the PGA Tour return to action this week as the 2023 Arnold Palmer Invitational is set to get underway tomorrow! The defending champion Scottie Scheffler looks to repeat as the winner at Bay Hill. Jon Rahm and Rory McIlroy are the two most apparent challengers for him this week. We will see the best in the world test themselves on this major-style layout before next week's PLAYERS Championship at TPC Sawgrass.
But who should we be backing to perform this week at Bay Hill? Luckily for us, our team of golf handicappers and experts is here to give us their Arnold Palmer Invitational best bet for the weekend.
Geoff Fienberg, Brian Kirschner, Bradley Todd, Sam Eaton, Andy Lack, and Tom Jacobs look at the Arnold Palmer Invitational and break down their best bet in whichever market they decide. It could be an outright winner, it could be a top-20 finish, or it could even be a top-countryman play.
So, let's take a look at our experts' favorite Arnold Palmer Invitational bets.
Looking for the best betting offers for this week's Arnold Palmer Invitational? Then sign-up using the offers below for your chance to secure guaranteed money on your favorite PGA Tour golfers. Alternatively, claim one of our HUGE first bet offers, which will allow you to increase your stakes stress-free and allow you to win bigger on this event!
Arnold Palmer Invitational Staff Picks
Sam Eaton
Going for five in a row since the Best Bets column went live on Golf Monthly! I was split between the Tom Hoge Top 30 and Gary Woodland Top 30 this week but settled on Woodland. Woodland is a better player in windier conditions, which is expected to be the case on Friday.
Aside from his putter, Woodland's game is in good shape. He's gained 3.3 shots in approach over the last five competitions (including 9.7 at Genesis), 4.2 shots T26, and 2 shots OTT. His putter though has been -5 shots gained in two of the last three events. The good news is that Woodland gained 6.3 shots with the putter the last time he played this event. If his game remains consistent and his putter acts like it did last year, he's got a great chance of winning, let alone the top 30.
Tom Jacobs
Rickie Fowler has now finished five of his eight starts this season and in each of his last three starts. Top 20 at Riviera was a strong result for Fowler, who has never finished better than that at that golf course, and his Top 10 at Phoenix was another sign in a strong field that his swing changes are bedding in.
He returns to Bay Hill, where he has finished 3rd in the past and was also 5th going into the final round on just his second start.
More recently, Fowler has been 12th (2017), 14th (2018), and 18th (2020) at this golf course. He can easily replicate those results, given his form. Ninth or better in SG Approach in each of his past four starts and trending SG Tee of Green numbers, Fowler is striking it well and is rash to contend again in Florida.
Swipe to scroll horizontally
Rickie Fowler Top 20 Odds Comparison

| Sportsbook | Odds | Payout ($100 Wager) |
| --- | --- | --- |
| FanDuel | +220 | $320 |
| DraftKings | +190 | $290 |
| BetMGM | +170 | $270 |
| Caesars | +210 | $310 |
You can see the importance of ensuring you are finding the best odds regarding Rickie Fowler finishing inside the top 20. You can win as much as $320 and as little as $270 when betting $100 on him to finish inside the number this week.
Brian Kirschner
Alright, we will play it safer in this column instead of trying to hit a +5000 First Round Leader bet. I am going with a golfer, Rickie Fowler, on a career resurgence, to the top 40 this week. it is really hard to deny Rickie's recent form and stellar approach numbers.
Over the past three rounds, Fowler has gained, on average, five strokes on approach, leading him to three straight top-20 finishes. It is hard to overlook how well Rickie has been hitting the ball. Rickie has also been a model of consistency at the Arnold Palmer Invitational.
Rickie has played the API 13 times and has only missed one cut in 2014. Through the ups and downs in his career, Fowler has always had an affinity for this course on the PGA Tour rotation.
Rickie almost won in the fall swing in Japan, is motivated to get into the top 50 in the world, and loves this course. I love the plus money and look forward to seeing Rickie atop the leaderboard come Sunday afternoon.
Bradley Todd
I'm all in on Tommy this week! Outright, top English player, and top 20. Just by looking at his results and past interviews, you can tell he's a massive fan of Bay Hill. He's played in this event six times before missing the cut only once. He's finished inside the top 10 three times.
Tommy missed the cut at the Phoenix Open but bounced back with a solid 20th-place finish at Riviera. He was steady tee to green, only losing strokes slightly off the tee. I think that performance sets him up nicely going into one of his favorite events on the PGA Tour calendar. The weather looks like it will play its part this week, which will only play into Tommy's hands. He's a fantastic wind player who regularly appears in tough scoring conditions. I struggle to see him finishing outside the top 20.
Geoff Fienberg
Fleetwood comes to Bay Hill in decent form, and that's good enough for me to expect Tommy to build on his quality Florida track record, as 7 of his 21 career top tens include 3 of those at Bay Hill. He almost won the event in '19. That's a common theme for Tommy in America, as he's often been so close to his maiden PGA win.
Tough conditions are ideal for Fleetwood backers, and many of those close calls have come at some of the tougher course condition locations on tour. International players have made it a habit of clogging up the Bay Hill leaderboard, and I expect to see Tommy right in the mix once again
Swipe to scroll horizontally
Tommy Fleetwood Top 20 Odds Comparison

| Sportsbook | Odds | Payout ($100 Wager) |
| --- | --- | --- |
| FanDuel | +240 | $340 |
| DraftKings | +220 | $320 |
| BetMGM | +200 | $300 |
| Caesars | +220 | $320 |
As you can see from the table above, it is incredibly important to compare odds each week on the PGA Tour. Do not leave money on the table, as a $100 wager could return as much as $340 and as little as $300 when betting on a Tommy Fleetwood Top 20 this week.
Andy Lack
I have been surprised to see Cameron Young begin to slide quickly in the betting markets, despite nearly winning two majors last year and emerging as the best player in the world without a PGA Tour victory. If I were designing a golf course specifically for Cameron Young's skill set, it would look a lot like Bay Hill, as the 26-year-old remains one of the most dominant drivers of the ball in the world and an excellent long iron player well.
I love that he is now traveling to a course that will put less pressure on his putter, and I expect him to build upon his 13th-place finish last year at the iconic Dick Wilson venue.
Tom Viera is a Conent Associate with OddsChecker and an experienced sport betting and fantasy analyst. He brings a vast knowledge of all things sports gambling to Golf Monthly's stable of content creators.