Phil Mickelson Has Say On Rules Infringement
Hear what Mickelson had to say after his rules infringement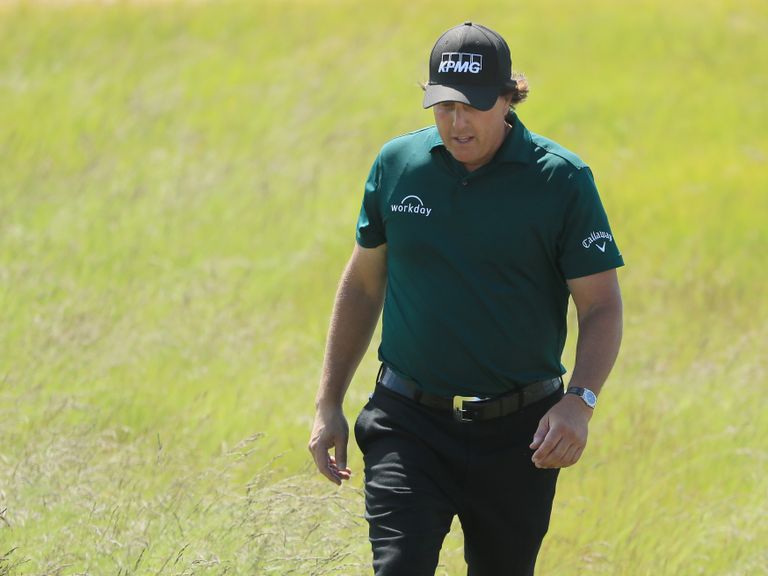 (Image credit: Andrew Redington)
Hear what Lefty had to say after his rules controversy on the 13th hole
Phil Mickelson Has Say On Rules Infringement
Phil Mickelson had a mad moment on the 13th green during the 3rd round of the US Open and his explanation was startling.
Lefty raced his ball past the hole and it was on its way down off the green before he ran after it and hit it in motion.
Related: Zach Johnson - They've lost the golf course
He was given a two stroke penalty for hitting a moving ball to take his score on the hole to a 10.
Mickelson explained to the media after the round that he knew the two stroke penalty rule and hit the moving ball to gain an advantage, as the ball would have ended up behind a bunker.
"Look, I don't mean disrespect to anybody. I know it's a two shot penalty," he told FOX's Curtis Strange.
"At that time, I just didn't feel like going back and forth.
"It's my understanding of the rules. I've had multiple times where I've wanted to do that, I just finally did.
"It was meant to take advantage of the rules as best as you can."
The five-time major champion ended up with a 10 on the hole.
Expand Zach Johnson: They've Lost The Golf Course
Zach Johnson: They've Lost The Golf Course
The course has been heavily criticised
Expand US Open Leaderboard 2019
Find out who is leading the US Open…
Expand Scott Gregory Shows Class In US Open Last Place Finish
Scott Gregory Shows Class In US Open Last Place Finish
The Englishman invited 25 soldiers and their families…
Expand US Open TV Coverage 2019
Here we take a look at how and…
For all the latest US Open news, check the Golf Monthly website and follow our social media channels