WATCH: Phil Mickelson Hits Moving Ball At US Open
Lefty had a truly bizarre moment during round 3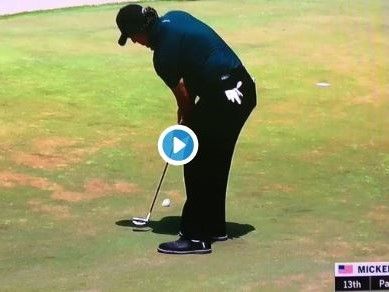 Lefty had a truly bizarre moment during round 3 of the US Open
WATCH: Phil Mickelson Hits Moving Ball At US Open
Phil Mickelson had a truly bizarre moment at the US Open during round three, hitting a moving ball on the 13th green after it was rolling off down a hill.
Related: US Open leaderboard
Watch the video below:
His score for the hole initially went down as an 8, although has since been changed to a 10.
Related: Inside Tiger Woods' yacht
Mickelson was given a two stroke penalty for breaching Rule 14-5 for hitting a moving ball.
He took four to get to the green and made four putts, plus the two additional strokes.
Expand Where Is The US Open In 2019?
Pebble Beach hosts the US Open for the…
Expand Scottish Open Tent Flies Off In Storm Hector Winds
Scottish Open Tent Flies Off In Storm Hector Winds
The VIP tent at Gullane flew off and…
Expand US Open Leaderboard 2019
Find out who is leading the US Open…
Expand Inside Tiger Woods' Yacht
Take a look inside the stunning $20m superyacht…
Mickelson was made aware of his rule breach during play.
That dropped him to +16 for the tournament and +10 for the round.
Related: Dustin Johnson What's in the bag?
Mickelson turned 48 today but won't be celebrating with a US Open victory tomorrow.
For all the latest US Open news, check the Golf Monthly website and follow our social channels