The USPGA Championship lowlights
Golf blog from Paul Mahoney at the USPGA Championship, Hazeltine National Golf Club, where there are a few lowlights to report.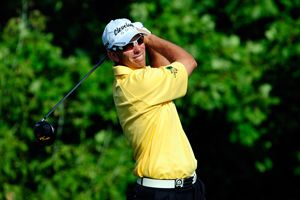 Give a hand to those plucky club pros. Bless 'em. The PGA Championship is their favourite Major. They get a chance to tee it up in the same tournament as Tiger and Phil and Paddy (as they call Harrington here) to see how they measure up. And to pretend they coulda been contenders. News flash: they don't measure up and they couldn't ever have been contenders.
There are 17 of them at Hazeltine. For them, it's two days of glory then it's back to the day job stacking polo shirts and trying to teach hackers how to cure their slice. Dead last at 156th, from New Hartford, New York, is 41-year-old Kevin Roman. He came, he saw, he conked out with a +15 87. Heck he's not even the head honcho. He's assistant pro at the beautifully named Cherokee Town and Country in Atlanta, Georgia. He got to the 91st PGA Championship via a two-hole play-off after finishing tied 16th at the PGA Professional National Championship. It took poor Roman until his 16th hole (the 7th) to bag his only birdie to light up a day blighted by seven bogies, three doubles and one triple. Still he'll get to tell his grandchildren the story of the day he played two rounds at the USPGA with, ahem, Louis Ooosthuizen from South Africa (even par 70) and Matt Kuchar (five over 77) from Augusta, Georgia.
This is not Roman's first campaign among the tour pro ranks. He played in the 1993 US Open and missed the cut and has had four stabs at the BC Open and missed all four cuts. Begging the question, what has the Roman ever done for us? Top club pro after the first round is 31-year-old Grant Sturgeon from Cave City, Kentucky. Sounds like he had a tough upbringing with the Flintstones as neighbours. Sturgeon bogeyed the 1st then ran out 17 pars for a one over par 73. He's tied 44th and can dine out for the rest of his life telling tales of how he matched the scores of Open champion Stewart Cink, US Ryder Cup captain Corey Pavin, as well as Anthony Kim, Henrik Stenson and Jim Furyk.
News just in: And it's good news for Roman. He won't finish last, after all. John Daly just posted a 78 and withdrew with a bad back. "Ah, listen up, kids, lemme tell you about the day I whipped JD..."
Where next?
- Enter Golf Monthly competitions - USPGA Championship news - USPGA history and records - Golf blog from Hazeltine - USPGA pictures from Hazeltine
Betting experts, writers and video producers. Couple of guys in our early 20's looking to bring the sport that we love into a new era.'