Golf in Turkey - Antalya Golf Club
Antalya Golf Club, at the heart of one of the sport's most bountiful regions, really does have it all. Rob Smith investigates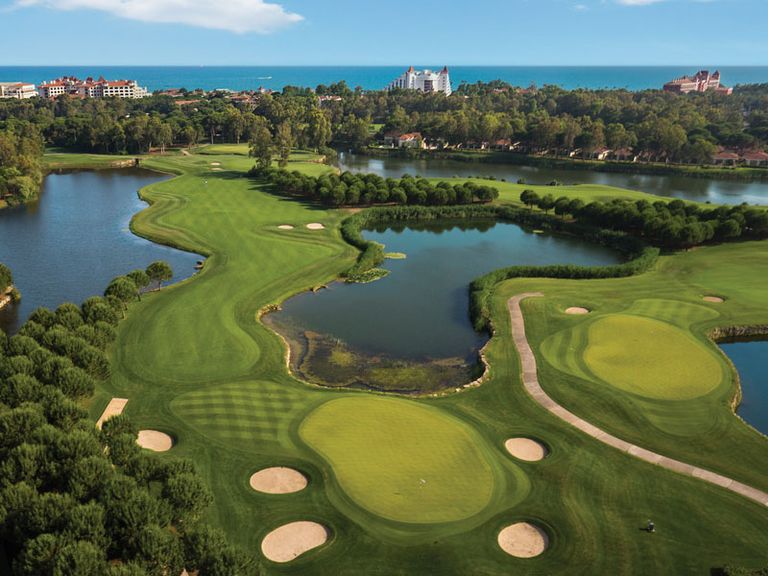 Antalya Golf Club, at the heart of one of the sport's most bountiful regions, really does have it all. Rob Smith investigates
Golf in Turkey - Antalya Golf Club
Technically in Asia but often thought of as European, Antalya is close enough for a short break but far enough away to feel like a different world.
My only previous visit to Belek in southern Turkey was in 2000 when there was just a handful of courses and golf was very much in its infancy.
Since then, this beautiful region between the shimmering Mediterranean and the Taurus Mountains has evolved into one of golf's most intensive hotspots.
There are now around 20 fine courses, and two of the very best are at Antalya Golf Club.
The Pasha Each of the two lovely and easy-walking courses has been carved out of mature forests and is a collaboration between European Golf Design and former tour pro, David Jones.
The shorter and more forgiving is The Pasha, though it's no pushover.
It is also very pretty with several water hazards and plenty of risk and reward, particularly later on.
I was lucky enough to play with Michael Jones, son of the designer, who is now director of golf.
There are several standout holes, among them the 4th, a dogleg right protected by a tall, ancient pine.
This is followed by a lovely little par 3 over a pond, but the real drama kicks in at the drivable par-4 11th, again played over water.
The 13th and 15th are also very exciting, playing to a double green with the same lake in play down the right on 13 and the left on 15.
The 17th is another attractive par 3 with a shallow green where distance control is vital. I really enjoyed The Pasha, where the balance between challenge and visual appeal is just perfect for entertaining, but still testing, holiday golf.
PGA Sultan The tougher and longer PGA Sultan course has hosted several prestigious championships including the 2012 Turkish Airlines World Golf Final, a forerunner to today's Rolex Series event.
Tiger Woods described the layout as "a real shotmaker's course", and this it most certainly is.
Many holes are tree-lined and water is in play regularly.
As you would expect, it is similar to its sibling, but everything seems just a bit more difficult and on a grander scale.
I could easily play the opening three holes over and over: a par 4 where you mustn't drive right; a delightful short hole to a pine-encircled green; and a very tough long hole with a stream that crosses the fairway before becoming a lake down the left side.
There is drama all the way, with perhaps the most remarkable hole of the 36 being the PGA Sultan's long 16th, appropriately named Temptation.
You have to stay left of a lake all the way, before then carrying a stream that crosses diagonally short of the green.
Off-course delights The clubhouse and pro shop have the friendliest staff, and there is a very relaxed atmosphere backed up by an ideal golfers' menu. Enjoying a beer and banter on the spacious terrace is an experience I thoroughly enjoyed and would happily recommend to any golfer.
Perfectly located between the golf club and the beach are two wonderful five-star hotels – the Kempinski Hotel, The Dome, and the Sirene Belek Hotel.
I was lucky enough to stay in the former which is stylish, spacious, sophisticated and ideally suited to couples and small groups.
You can dine al fresco at the Palm Pavilion or in one of several very classy restaurants such as Cilantro, which serves delicious Italian cuisine.
Perhaps better for those seeking a bit more action, the Sirene is livelier, and packed with sports and entertainment facilities including live music, a night club, a spa and tennis courts. Each hotel offers an array of watersports and has its own pier jutting out into the ocean, with sunbeds, a bar and plenty of space to stretch out.
The all-inclusive packages at both offer exceptional value for money.
In an area packed with outstanding and varied golf, Antalya Golf Club and its two adjacent hotels can stand very proud indeed.
Related: Check out what else Turkey has to offer golfers
Expand Golf in Turkey
Defying the recession, Turkey is building more and…
Expand Gloria Old Course, Belek, Turkey: a review
Gloria Old Course, Belek, Turkey: a review
Gloria Old is a tight pine-tree lined course…
Expand Gloria New Course, Belek, Turkey: a review
Gloria New Course, Belek, Turkey: a review
Gloria New is not as tight as Gloria…
For more golf course reviews, check the Golf Monthly website and follow our social media channels