Gloria New Course, Belek, Turkey: a review
Gloria New is not as tight as Gloria Old, although it does makes much use of water.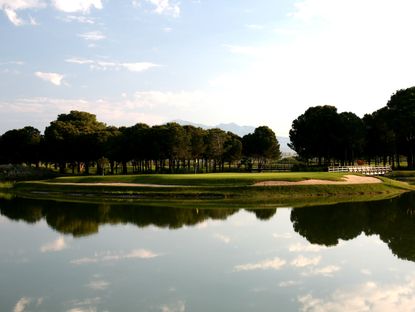 (Image credit: Picasa)
Gloria New is not as tight as Gloria Old, although it does make abundant and dramatic use of water.
Gloria New was the second 18-hole course at Gloria. The first – yep you guessed it – is now called Gloria Old. Gloria Old opened in 1996 and Gloria New in 2005.
The two courses have different characteristics. The prime one, perhaps, is that Gloria New is easier than Gloria Old.
Both the courses have staged professional and top amateur tournaments. In these, Gloria New has played three shots a round easier than Gloria Old.
Gloria New tends to host these tournaments now as the 1st and 10th holes run in parallel, which makes a two-tee start easier logistically here than on Gloria Old.
Gloria New is not as tight as Gloria Old, although it does makes much use of water. Water comes into play on half the holes, most of them late on in the round. (The first seven holes have no water on them).
The most dramatic water hole is the 17th, which is played to a wide, shallow island green.
The most attractive water holes are the 12th and 15th, both par 3s. These holes run in parallel, in opposite directions are much the same design.
Both these holes are played over a lake festooned with reeds. But there is a lot of dry land on the far side of the lake before the green, so the hazard is more a decorative feature than a stiff challenge, making these par 3s relatively easy to play (opens in new tab).
The 3rd is another attractive par 3, made so by the decorative boulders which run across the fairway.
Pine trees flank the fairways. This is a course which does not delay those who has miss-hit. You either lose a ball in water or find it under the pine trees, so not much time is spent looking for lost balls (opens in new tab).
Gloria Old and Gloria New are priced the same and equally popular overall.
However the two main nationalities whose golfers come to Belek - the Germans and Brits - differ in the choice of courses at Gloria. The Brits prefer Gloria Old; the Germans Gloria New.
That Gloria Old (opens in new tab) is the harder is, according to David Clare, director of golf at Gloria Golf Resort, the attraction for Brits.
Gloria has a third course, the nine-hole Verde, a 3,245-yard par 35. This can be played either on its own, for either a 9 or 18-hole round, or you can book to continue on to the front nine of the Old or New, both of which are par 37, to give a par-72 round.
Gloria Verde also features pine trees and water hazards, and has 28 bunkers.
Contributing Writer Golf courses and travel are Roderick's particular interests and he was contributing editor for the first few years of the Golf Monthly Travel Supplement. He writes travel articles and general features for the magazine, travel supplement and website. He also compiles the magazine's crossword. He is a member of Trevose Golf & Country Club and has played golf in around two dozen countries. Cricket is his other main sporting love. He is the author of five books, four of which are still in print: The Novel Life of PG Wodehouse; The Don: Beyond Boundaries; Wally Hammond: Gentleman & Player and England's Greatest Post-War All Rounder.