How To Play Par-3s... Strategy Tips To Lower Your Scores
PGA pro Paul Foston shares his top tips for how to improve your par-3 scoring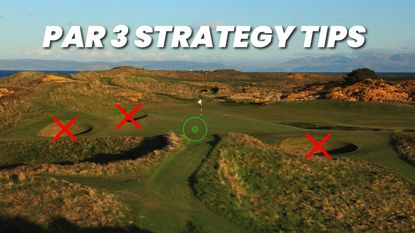 (Image credit: Getty Images)
Often, how you play the par-3s in any given round can be the difference between a good and bad score, so it's worth paying them some extra attention. In the article below, I discuss the common faults I see and the simple fixes that will help lower your scores.
First of all, most golfers should have a good idea of how far each club in their bag goes. The problem when it comes to par-3s is that can often cause players to think only about the yardage of the hole, neglecting the other factors that are going to influence the shot. This is when it helps to know how to calculate distance in the wind, for example, as well as how to play the low punch shot if you've got a strong breeze into your face.
Video: Rick Shiels' ultimate range session
If you don't, you'll struggle to get the ball pin high consistently and likely find your 'misses' make it hard to get up-and-down and save par. For example, take a hole that measures 136 yards to the pin but there's a deep bunker guarding the front of the green and a slope on the left that leads into a stream.
Firing at this flag is a risk you don't need to take unless you're feeling extremely confident or are up against it in a match. In most instances, I would club up, aim for the middle-right section of the green and be happy with a 25-footer. It's obviously easier said than done but even if you tend to pull iron shots, the margin for error you've given yourself means you've still got a chance of finding the putting surface.
In contrast, if there's a pin right at the back of a par-3 green and long is the worst place to miss it, take a club you can hit with absolute confidence knowing it has no chance of going too far. For example, if it's playing 170 yards to the back edge, I might hit my 7-iron, which goes 165 yards at most. This will allow me to fully commit to the shot at hand.
Always think about where the worst place is to leave your tee shot and plan accordingly. If you use a strokesaver when you play, mark this location with a red cross that stands out.
One final point – don't tee the ball up too high. I see a lot of amateurs doing this but it will only cause you to strike the ball too high on the face and lose distance. Teeing it down will encourage you to compress your iron shots for crisper and more consistent strikes.
Location: Paul Foston Golf Academy
Paul has worked with a number of Tour professionals over the years, and is proud to have successfully coached over 40,000 students. In 2005, he set out to design his own academy with a 'world class' coaching infrastructure of technical advancement and a tailor made short game layout to practice every real life challenge experienced on course.
Greatest success story:
Fulfilling the dreams of five international players - Paul Way, Mark Roe, Craig Parry, Jamie Spence and Peter Mitchell, taking them to European Tour victories and one to Ryder Cup success.
Teaching philosophy:
Golf is one of the most challenging sports to accomplish. To play well consistently requires you to invest time in lessons, practice and play in equal measure; this will give a solid foundation and enable you to develop skills across the whole spectrum of the game. Identifying an individual's learning style is key to coaching and effective communication. My imaginative mind and use of analogy is a creative, easily understandable method to convey instruction and simplify technique.
Significant teaching influences:
I have amassed a great body of knowledge by researching the world's best players and their unique ability to play golf at the highest level. I have also kept pace with technology and golf equipment advancements. These findings have given me a deep understanding of swing dynamics and techniques which have been incorporated into my classic coaching style.