The Masters Pictures: Round Three
Some of the best Masters pictures from day three of the 2016 tournament.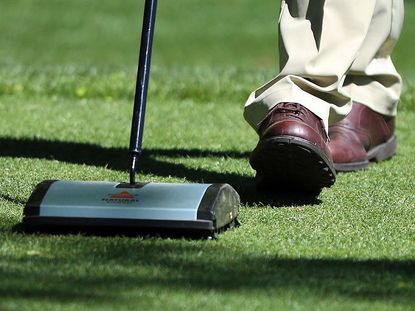 (Image credit: Getty Images)
We round up some of the best Masters pictures from day three of the 2016 tournament.
Jordan Spieth and Rory McIlroy had contrasting fortunes in their head-to-head (opens in new tab) battle. On Seve's 59th birthday, Spieth clattered his ball off the tee to all parts, but was a demon on the greens. But McIlroy could not buy a putt.
Bernard Langer showed that the old ones still have some of the best tunes. (opens in new tab) Hideki Matsuyama has been consistency personified and the press wanted to hear all about it - especially the Japanese press.
Meanwhile away from the cameras, unseen workers made sure it all looked absolutely spic and span for the cameras as the carpet sweepers came out.
On a day which has left Jordan Spieth favourite (opens in new tab) to be putting on the green jacket come the close of play on the Sunday, we round up some of the best Masters pictures from day three of the 2016 tournament.
Yes, that is my ball
Jordan Spieth's ball takes the scenic route to the hole
Back on track
Jordan Spieth returns his ball to the grassed bit on the 3rd hole
Signalling four
Jordan Spieth appears to be signalling a boundary four in cricket rather than shouting fore! Or maybe he's just telling the caption writers what hole he is playing?
Attention to detail
The second tee box is swept during the third round
Second Green
Rory McIlroy and Jordan Spieth do battle on the 2nd green. Of the 14 times they have played together before in tournaments, McIlroy had carded the lower score eight times, and Spieth four times. But yesterday was Spieth's day.
One that got away
Rory McIlroy reacts to another disappointing putting effort. He struggled on the greens and returned his first birdie-free Major round since The Open in 2010.
Berger has something to chew on
Hmm that doesn't sound right. Daniel Berger chews over a particularly tasty putting poser.
Rod Stewart lines up another putt
Or maybe it's Bernard Langer.
Bernard Langer does his post-round interviews...
Or maybe he has got Rod Stewart to stand in for him
..and Hideki Matsuyama does his
The Japanese golfer cared a second successive even par round to lie tied 3rd with Bernard Langer
Contributing Writer Golf courses and travel are Roderick's particular interests and he was contributing editor for the first few years of the Golf Monthly Travel Supplement. He writes travel articles and general features for the magazine, travel supplement and website. He also compiles the magazine's crossword. He is a member of Trevose Golf & Country Club and has played golf in around two dozen countries. Cricket is his other main sporting love. He is the author of five books, four of which are still in print: The Novel Life of PG Wodehouse; The Don: Beyond Boundaries; Wally Hammond: Gentleman & Player and England's Greatest Post-War All Rounder.