Where to Watch the Masters, US or UK?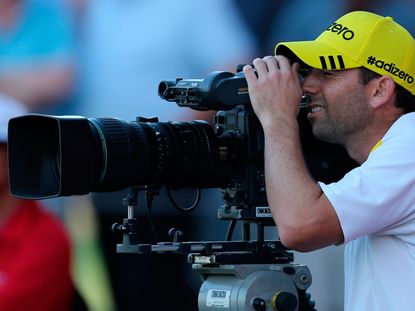 An Americans perspecitive of watching the first Major of the year on one side of the pond versus the other.
Where to Watch the Masters, US or UK?
Let me start by saying this. I am an American living in the UK.
When in the States, I live in Iowa, nowhere near Augusta, Georgia. In fact, for me to drive to the Masters tournament I would have to cover 936 miles and it would take nearly 14 hours of non-stop driving.
I've never been to the Masters, though I have watched in on TV every year since I was old enough to see.
Now, living in England, I find I am experiencing the best sporting event of the year in a completely new way.
The following list is exactly why it's better to watch from the British time zone, rather than where the tournament is actually played.
1. The first two days
Put yourself in the shoes of an average American. It's a Thursday in early April at 2PM. Where are you? Probably the office, trying to watch the Masters while trying to not get caught by your boss.
Maybe you work from the road so the best you can do is check the leaderboard every time you're sitting at a traffic light.
Then, before you can even slip your shoes off and get through the door at home, coverage is signing off for the day, making you most unhappy.
This is the experience for many Americans the first two days of the Masters tournament.
Across the pond, viewers have time to get home from work, grab a beer and kick back on the couch before coverage even begins at six or seven in the evening.
Then, the night is filled with the sounds roaring crowds, sweet strokes of the golf club, and Tiger calling himself names after wayward driving adventures into the woods.
That my friends, is perfection.
2. The weekend
If you're like me and married, your wife or significant other wants to "do things with you," on the weekends. In the case of mine, it's not even anything in particular, just anything that's together.
Except watching golf.
So, on a Saturday afternoon in Iowa in early April, we would go outside in the rain and muck for a few hours during the day and maybe go out for a date that night.
Meanwhile, the Masters drama is in the third round and I'm missing it.
Now, while in England, I'm looking forward to Saturday and Sunday. I can get my "honey-do" list done and still have time to take the lady out before coverage starts to ramp up at 7PM BST.
I realise these two on the list sound remarkably similar, but I promise you, they are different.
Watching the Masters uninterrupted on the weekend is as close as God allows us to get to heaven before we actually get there.
This year, I know I'll be able to be in that majestic place, hopefully watching Jordan Spieth continue his dominance and win me a few quid. (Thanks in advance Jordan)
3. I can get out and play
Now, after watching four days of Masters coverage, my golfing ego starts to swell.
The pros make it look so easy that I start thinking I can just dust off the clubs out of the closet and put a 65 on the card.
In Iowa, I would get all excited, maybe a read a couple articles on how to fix my slice, and look outside, only to see rain cold, temps, and still frozen ground from the longest winters in history.
In fact, several courses from my area don't even put flagsticks in the ground until April 15.
In the UK, I'll be able to go out and fulfill my overinflated ego by proving I should've been a pro all along. Next week, I plan on getting out to the course a few times, getting ready to qualify for the Open Championship. (To be fair, I should probably look up their rules on American qualifiers first.)
So there it is. The definitive list on why the UK is a better place to watch the Masters than the US.
Unless you have tickets to Augusta... Then it's better.
But Maybe One Complaint...
After experiencing my first full day of Masters coverage in the UK on Thursday, I was forced to make a decision, which broadcast do I watch, US or UK?
Because it's new and shiny, I decided to give the Sky coverage a try.
I was able to hold onto that for about... an hour.
Don't get me wrong listening to David Livingstone and Sara Stirk was certainly an experience but I was left with a hole in my heart.
A Jim Nance/Verne Lundquist sized hole.
Part of what makes the Masters such an experience for me is hearing the same voices every year. It's pretty much how I know it's time to come out of my winter cave and rejoin society after hibernation.
I'm not claiming the US broadcast is better than the UK's, but before you riot against me in the comment section; give the US broadcast a try if you can find it.
Consider it a treat from all of us in the red, white and blue.
A US native, Taylor enjoys hacking from the rough and scrambling to save bogey on a par 3. Follow Taylor on Twitter @taylorumland