Rickie Fowler Talks Tiger Woods at Masters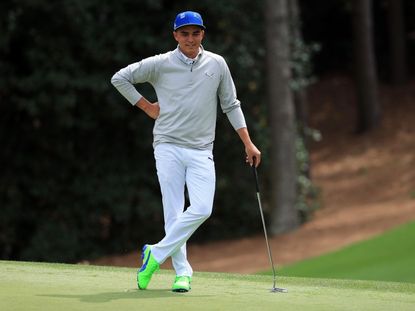 (Image credit: Getty Images)
Rickie Fowler is ready for the 2016 Masters, but he wishes Tiger Woods was too
Believe it or not, it was almost 20 years ago that Tiger Woods turned pro, in 1996.
When Woods won his first, fist-pumped Masters title in 1997 at the age of 21 – in his first major as a professional – Rickie Fowler was just eight years old, watching on TV.
As he has been for many of today's professionals, Woods was an inspiration to Fowler, a fellow Californian, and today the pair both live in Jupiter, Florida and have become firm friends.
"I have been lucky enough to spend a bit of time with Tiger over the past year or so down in Jupiter," Fowler, now 27, tells Golf Monthly. "Once in a while we have gone for dinner in his restaurant.
"It has been cool to see how much he has been able to open up and how much he wants to hang out with guys. He is fun to be around and it has definitely felt odd not to have Tiger out here competing much over the past couple of years."
Recurring back injuries and surgeries have kept Woods out of action since last August and this week he misses the Masters for only the second time since his debut as an amateur in 1995.
In 2005 Woods become just the third player, after Arnold Palmer and Jack Nicklaus, to win the Masters four times.
"He absolutely wants to be out here competing again and it kills him to be at home when we're playing," adds Fowler. "I hope to see Tiger back and healthy and I want to see him competing.
"I said to him: 'I want to be there on a Sunday playing against you'. He said, 'You get there and I'll be there'.
"He is a big reason why we all get to play golf around the world for the money we do, and for attracting the sponsors we have in the game. Obviously there were guys like Jack [Nicklaus] and Arnie [Palmer] before him and guys like Phil [Mickelson], but Tiger took the game to a new level."
As for the 2016 Masters, Fowler – who bagged a hole-in-one in Wednesday's Par 3 Contest at Augusta National - is full of confidence.
"My game is trending," says Fowler, who is playing is his sixth Masters, with a career-best result of tied-5th in 2014.
"I got the win in Abu Dhabi and this has been the fastest start to a season I have had; a lot of top-10s and I have been in contention but the main priority coming into this season was to be ready for this week.
"I am trying to stick to my usual routine as much as possible. Yes, it's the Masters, it's Augusta and the first major of the year but it is still a four-day tournament.
"You still just have to put up a score after 72 holes. You need to stay out of your own way, play your game and stay patient.
"If I can make the least amount of mistakes this week then I am going to win. That is the biggest thing around here."
Robin Barwick travelled to the 2016 Masters with Mercedes-Benz. Mercedes-Benz is global sponsor of the 2016 Masters Tournament
Robin has worked for Golf Monthly for over a decade.