Golf In Ireland Is A Game Without Borders Or Prejudice
Born in Northern Ireland, Bill Elliott, our editor at large explains how golf has always brought people together in Ireland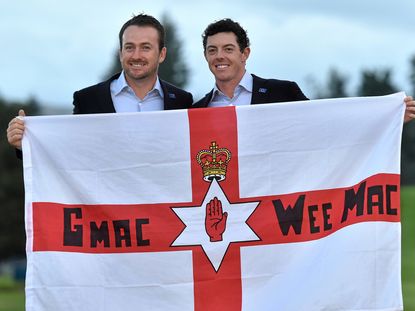 Born in Northern Ireland, Bill Elliott, our editor at large explains how golf has always brought people together in Ireland
Golf In Ireland Is A Game Without Borders Or Prejudice
Eventually there has to be an upside to sharing a house during an Open Championship (opens in new tab) in Northern Ireland with three Englishman, one of whom is borderline OCD tidy, one who still thinks he's in student digs with all that threatens and one who sits somewhere in between. Last night I discovered this upside.
Spending some time in the wee land of my birth has made these blokes actually think about Norn Iron, made them wonder what exactly it is, what it's for and whether the north v south thing is still as febrile as it was a couple of decades ago when the bullets and bombs continued to batter not only lives but the country's reputation.
I say country but, actually, it's not quite clear whether this beautiful slice of Ireland is a country, a state or a province. It depends to whom you're talking, which way you're facing and whether either of you has had a follow-up Guinness. In the end, who cares. The salient fact here is that Northern Ireland has it own self-identity or rather it has a few. There's the British-Irish gang, the Irish-British group and off course the Irish-Irish cohort.
Of course, they are all perfectly entitled to whatever they wish to believe but it all only adds to the confusion for an outsider, especially an English one who has never really pondered on the geo-political set-up of the island of Ireland apart from acknowledging that when linksland was handed out we may have been at the front of the queue.
One day the island may well be one country although, sadly, not in my lifetime but here's the thing...as far as golf is concerned, Ireland always has been one place. The Golf Union of Ireland was the first national association of its kind in the world when nine Ulster clubs came together in 1891 in Belfast to form it. As the game's popularity grew, so other clubs were built and came into the mix. Today there are 430 clubs in the GUI and 170,000 members covering Ireland north and south, east and west.
Expand Open Championship Golf Betting Tips 2019 – Final Round
Open Championship Golf Betting Tips 2019 – Final Round
Who is going to make you some money…
Expand Open Championship Tee Times 2019 – Round 4
Open Championship Tee Times 2019 – Round 4
Shane Lowry and JB Holmes are in the…
Expand Tiger Woods Reveals Brooks Koepka Snub
Tiger Woods Reveals Brooks Koepka Snub
The 15-time Major winner hasn't heard back from…
It's the core reason why Rory McIlroy opted to declare himself for the Irish Olympic team (opens in new tab) and not the GB&NI squad for it was the GUI's development programme that helped McIlroy grow as a player. He owed Ireland and he is now repaying some of this debt. There are critics of his decision, in Ireland there are always critics, but personally, I am sympathetic to his initial dilemma, and supportive of his decision. Either way would have been right but the Irish solution took more guts to make.
So when my English friend asked me last night if the Northern Irish section of the Open gallery would be as supportive of, say, Padraig Harrington as they would of McIlroy should either be in contention come Sunday the answer was easy...of course, they would. As with rugby, golf in Ireland is a game without borders or prejudice and all the better for it.
It doesn't solve the bigger problem of who and what exactly we Ulster folk are but it is good to see and hear. Over recent years Irish golf has not just punched way above its weight but has swung a big hammer at the world rankings as Irishmen won Majors here, there and everywhere. After many years of famine came the feast and it has been terrific to witness this happy revolution.
Among these champions the man who most cohesively represents the enigmatic nature of being Northern Irish is the former US Open champion and local hero Graeme McDowell (opens in new tab). Graeme is most definitely Irish although he admits it has taken him a while to work this out. This is because his father is Protestant, his mother is Catholic and he was brought up a Presbyterian in Portrush.
"After I won the US Open I was British, I was Irish, I was this and I was that. In truth my identity is difficult to pin down but to all intents and purposes I see myself as Irish. I'm very proud of Irish golf as a unifying force and I certainly feel there's no border when it comes to Rory, Padraig Harrington, myself, Paul McGinley, Shane Lowry and all the other fine players we have now, " he said recently.
He is right too. The old divides are not yet gone but while we wait impatiently for that bright day to dawn, McDowell and his pals are doing a terrific job as accidental spokesmen for a new, more enlightened Ireland. I'm just happy I lived long enough to enjoy it.
Bill has been part of the Golf Monthly woodwork for many years. A very respected Golf Journalist he has attended over 40 Open Championships. Bill was the Observer's golf correspondent. He spent 26 years as a sports writer for Express Newspapers and is a former Magazine Sportswriter of the Year. After 40 years on 'Fleet Street' starting with the Daily Express and finishing on The Observer and Guardian in 2010. Now semi-retired but still Editor at Large of Golf Monthly Magazine and regular broadcaster for BBC and Sky. Author of several golf-related books and a former chairman of the Association of Golf Writers. Experienced after dinner speaker.