7 Reasons You Don't Get Better At Golf
In this video, Neil Tappin is joined by PGA professional Alex Elliott to discuss the 7 reasons you don't get better at golf.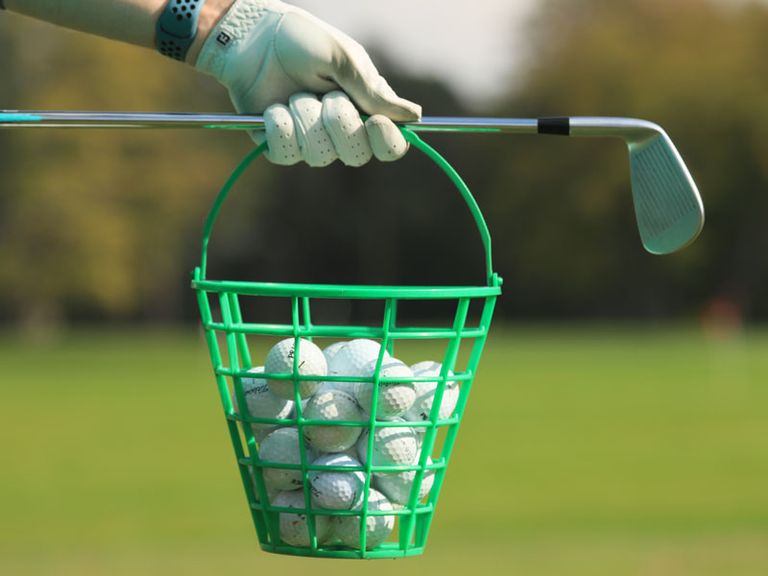 (Image credit: Kevin Murray)
By Sam Tremlett
In this video, Neil Tappin is joined by PGA professional Alex Elliott to discuss the 7 reasons you don't get better at golf.
7 Reasons You Don't Get Better At Golf
Often golfers practice in a way that is less than optimal and often actually does more harm than good. Neil Tappin and PGA professional Alex Elliott discuss those points here, dispelling myths and offering some simple pointers for how to avoid falling into these traps.
WATCH: 7 Reasons You Don't Get Better At Golf
7. Practicing on the course
On the course practice is crucial but is something many people get wrong. Many people treat everything like a competition whereas if you are playing with friends or playing by yourself then it is time to hone your skills.
A tip that Alex gives is to open up the note app on your phone, and write down the four shots you want to hit. Then put a tick if you have a realistic chance of hitting the shot, and another tick if you pull that shot off. This will give real-time feedback for what shots work well, and what doesn't work well.
Why not use this to develop a shot you can rely on under pressure?
WATCH: 9 Things Great Players Do That You Don't
6. Closed practice
Many people on the range hit the same club, at the same target time after time which can be good for repetition. However this has to be blended in with random practice too.
Alex likes to do five-ball sets. The first three balls are closed environment, drilling a swing to a target. Whereas the final two he likes to change target, change task and set himself an objective like on the golf course - i.e. hitting to a target or a flag.
5. Not knowing your game
Miss diagnosing what you are good and bad at on the course is a common trap people fall into which results in players working on the wrong things in practice. Therefore taking a little bit of time to look at your game in detail, and being honest with yourself, will give you a better basis for what to work on in practice.
VIDEO: Why do I pull iron shots?
4. Goal setting
Many players seek to make big leaps in their games which may not be realistic or achievable in the short term.
A better way to create goals is to make them bitesize. For example the best players have good short games with wedges and the putter. So if you set yourself the small goals of getting better at those things, then you inevitably will achieve the bigger goal of getting a lower handicap.
3. Boring practice
You need to find a way of making practice exciting and try and do something that makes you want to practice. Most people when they go to the range practice monotonously which is not conducive to improvement.
A game Alex likes to play is the nine shot drill which encapsulates a draw, fade and straight shot hit with low, medium and high trajectories.
Alternatively, for the mid to high handicapper, end a range session by picturing yourself playing holes at your club, preferably a par-4 and a par-5 so you have a variety of shots to play. Visualising the shots you want to play and attempting to play them on the range could help your practice.
2. Practice games
Playing games during practice is something a lot of people don't do. A good short game one to play is the up-and-down challenge in which every 'hole' you play, the par is 2.
The best thing to do is, during a practice round, put yourself in the typical scenarios you find yourself in and test yourself by playing the game above.
TIPS: How to play the hybrid chip shot
1. Practicing what you're bad at
We all have parts of our games that we do not enjoy working on but doing so is important if we want to improve.
For example at the range we hit driver and the irons often, but rarely go and practice short-game shots like bunker shots.
Alex's two tips for working on bunker play are setup and the feeling through the shot.
In setup, feel like the tailbone is a lot lower because this will lower the club and the hands and create a shallower club arc to the ball.
The second is to imagine a smiley face on your club and when you are playing the shot try and get it facing back at you.
If it is not bunker play you need to work on, find the other parts of your game that need attention and do so in practice.
Early Black Friday Deals
Callaway Rogue X 7PC Iron Set $789.99 $599.99 at Worldwide Golf Shops
Coming in 5-PW + AW and in either regular or stiff, the Rogue X irons are a great option for a higher handicapper looking to increase distance with irons. They offer great forgiveness too.
Mizuno JPX 919 Hot Metal Irons $749.99 $549.99 at Worldwide Golf Shops
Get that great Mizuno feel along with added distance and forgiveness with the JPX 919 Hot Metals. At under $550, this is a great deal. You'll get six irons 5-PW in stiff or regular steel shafts. They're also 0.5″ longer than standard.
Cobra King F8 Golf Hybrid & Iron Combo Set $999 $642.86 at Walmart
Perfect for a higher handicapper, beginner or improving golfer, this King F8 set from Cobra features a 5 hybrid and irons from 6-GW with regular flex graphite shafts. The hybrid features Baffler Rail technology and the irons are forgiving and long-hitting.
Cobra King F9 Speedback Graphite Irons £690 £479 at Jam Golf
If you're a higher handicapper needing an upgrade in the iron department, these F9 Speedback irons will be a welcome addition. They come with Fujikura Atmos 6 graphite shafts in 6-SW.
Cobra XL Speed Irons PLUS free J Lindeberg umbrella £499 £329 at Scottsdale Golf
Save yourself £170 on this Cobra XL Speed set from 5-SW with Dynamic Gold steel shafts. The clubs are forgiving and long-hitting to help out higher handicappers and beginner golfers. You'll also get a free J Lindeberg umbrella worth £49.99.
Vega VU-04 Hybrid £249.99 £119.99 at Scottsdale Golf
Not aware of Vega? It's a premium Japanese brand that is famous for its beautiful forged irons. This VU-04 hybrid from the company comes in 16 degrees of loft in stiff flex and is £130 below the RRP.
Honma Future XX Golf Balls £53 £29.99 at American Golf
12 premium golf balls for less then £30? That sounds like a pretty good deal to us, especially given these Future XX's have a 6-layer construction and advanced aerodynamics to deliver more performance
TaylorMade Pix Golf Balls £49.99 £39.99 at American Golf
Rickie Fowler worked with TaylorMade to create this golf ball which has something called ClearPath Alignment – 12 pixellated, triangle-shaped graphics that are strategically placed to provide immediate feedback as to how the ball is rolling.
For all the latest golf news, check the Golf Monthly website and follow our social media channels @golfmonthlymagazine on Facebook and @golfmonthly on Twitter and Instagram