How To Spin The Golf Ball
How to spin the golf ball - everything you need to know from Top 50 Coach John Jacobs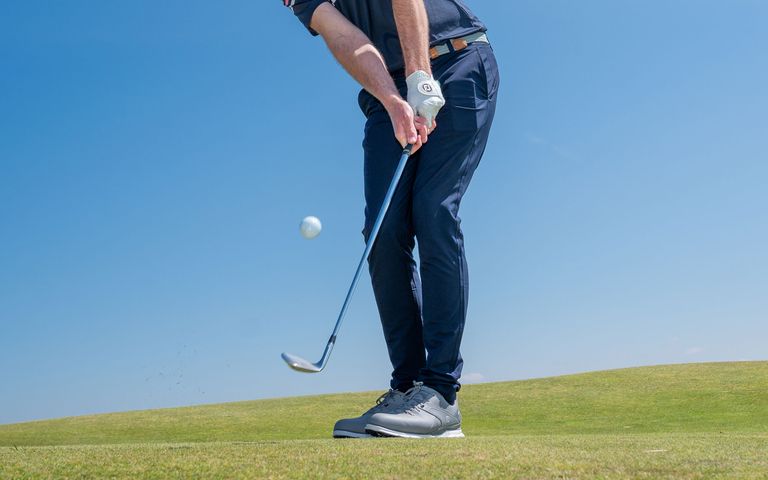 (Image credit: Kenny Smith)
Golf Monthly Newsletter
Golf tips and expert instruction, golf club reviews and the latest golf equipment.
Thank you for signing up to Golf Monthly. You will receive a verification email shortly.
There was a problem. Please refresh the page and try again.
The Tour pros make it look easy, don't they? Being able to play aggressive shots into and around the greens, and stop it close to the pin, is a skill we'd all like to have.The question is: how do you spin the golf ball?
Of course, the best golf wedges will help, as will the best premium golf balls - and you can't expect to get too much reaction if your grooves are worn or filled with dirt. Then, it's all about technique - or, as the pros will often tell you - "it's all about the strike".
For the avoidance of doubt, we're talking here about creating spin when you chip around the green - the shot that grabs on its second bounce and rolls out satisfyingly to the hole. To do it, you need to make proper contact - here's how.
Ball Back, Lots Of Loft
Set the ball further back in your stance at address and lean the shaft forward, as you need to hit it on the way down early in your swing's arc. This will help you compress the ball and deliver a clean downward strike that uses the bottom grooves to pinch the ball and produce the maximum spin you can for the speed you're generating. You need a lot of loft in terms of the club you use, but the angle of attack is a little downward and taking the dynamic loft off as you swing. Getting the perfect ball position here will help you deliver a fairly low flight that's loaded with spin.
---
E-Learning Tutorial - Shoot Lower Scores!
Are you interested in making lasting improvements to your golf game? Shoot Lower Scores (opens in new tab) is an online course from Golf Monthly designed to help you find power in your swing and hole more putts as well as how to avoid falling foul of the more challenging rules of golf. Whether you want to brush up your knowledge or learn something new; this tutorial (opens in new tab) is perfect.
---
'Cover' The Ball
As you swing back, the clubface should be a little closed. Then, you're trying to prevent the right hand from getting under the ball and letting the clubhead pass the hand. Try to keep everything quite shallow and 'cover' the ball with your sternum at impact, almost as though you're trying to smother the ball, for want of a better word. That little bit of shaft lean at address and more weight on your front foot will help.
Assess The Conditions
Of course, even before playing the shot, you always need to assess the conditions. Sometimes spin will be very difficult to achieve, so be realistic. You need friction, so dirty grooves or any moisture between clubface and ball (as above) will make spin all but impossible.
Wind, slope and ground conditions have a big bearing, too - uphill into the wind is great, but downhill on to a rock hard green will probably require a different shot so be realistic with your expectations and your planning. The spinny shot looks great and actually allows you to be quite aggressive with your speed which can help you commit to the shot, but it won't always be a wise option.
Location: Cumberwell Park
John has been Head Professional at Cumberwell Park in Wiltshire since it opened in 1994. He gets as much pleasure teaching beginners as he does county players, although being Wiltshire's Head Coach, Boys Coach and Girls Coach means he's always in demand. He also works with England Golf, and was England Coach Of The Year in 2020.
He's had the pleasure of working with many top players over the years, and has fond memories coaching the likes of Tommy Fleetwood, Matthew Fitzpatrick and Tom Lewis before they made the leap into professional golf. John specialises in swing analysis and short game development.