The Miracle of Medinah
Paul Lawrie tells us about being a part of the Miracle of Medinah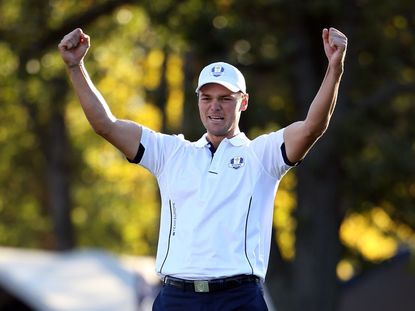 (Image credit: Getty Images)
Paul Lawrie tells us he'll never be able to top winning The Open Championship at Carnoustie in 1999, but being a part of the Miracle of Medinah comes a very close second
The Miracle of Medinah
One of the most incredible final days in Ryder Cup and golf history, the 2012 Miracle of Medinah produced incredible drama. Facing a 10-6 deficit, Europe won 8 and a half points from 12 singles matches on Sunday to win the Cup by 14 and a half points to 13 and a half.
Emotional captain Jose Maria Olazabal dedicated the win to the late great Seve Ballesteros who died in May of 2011.
Paul Lawrie played a big part on that final day winning his singles match against Brandt Snedeker by 5 & 3. Below he looks back on that incredible day.
Paul Lawrie remembers the 2012 Miracle of Medinah
For me, nothing I achieve in my career will ever match victory in The Open Championship at Carnoustie in 1999. That goes without saying. But the Miracle of Medinah at the 2012 Ryder Cup comes a close second. It was an amazing experience. Being part of a European team that overhauled a four-point deficit to win by one is something that will live with me forever.
It was a comeback that actually began the evening before. We were all buzzing when we came in off the course after watching Ian Poulter birdie the last five holes to win his four-ball match alongside Rory McIlroy. The atmosphere in the team room was transformed, even if we were actually further behind than we had been 24 hours earlier. Courtesy of Ian's heroics, we knew we had a lifeline.
The meeting that evening was the shortest of the week. All we talked about was the order of play for the last-day singles. It was so important to get the line-up right. I was sitting there pretty excited. With help from assistant captain Darren Clarke I had found the key to the putting problems that had plagued my first two matches. My backswing had become a little too long, so I was instinctively decelerating the putter head through impact. But by shortening my stroke I was suddenly making everything on the practice green.
Article Continues Below
Expand Le Golf National: All You Need To Know
Le Golf National: All You Need To Know
Le Golf National near Paris, France hosts the…
Expand Top 10 Ryder Cup Records
Take a look at these 10 incredible records…
Expand Ryder Cup Teams 2021 – Whistling Straits
Ryder Cup Teams 2021 – Whistling Straits
The Ryder Cup teams are complete - here…
Expand 10 Best Ryder Cup Players
The event has seen some of the greatest…
Anyway, before I went into the team room I told Darren I would like to play early in the singles line-up. I knew we needed to get quick points on the board and I felt like I was playing well enough to help. On the surface, of course, that was a big call. But I had the feeling all golfers get sometimes. I was 'ready' to play well. I didn't say this to anyone, but I knew that whoever I was up against the next day was going down.
Darren reported my feelings to our captain, Jose Maria Olazabal. I don't know how that conversation went. But if I had been Jose I'd have been wondering why a guy who had lost two matches was feeling so confident. He took me at my word, though, and he put me out there at number five, which put me under a bit of pressure. As Jose had made clear, it was vital we win the first five matches. That would give the guys at the back a fighting chance to win the cup.
As it turned out, I played as well as I thought I might. I actually had the best figures of the day on either side. When I shook hands with Brandt Snedeker on the 15th green I was six-under-par.
The keys to that win were my putting and getting off to a fast start. I made a great par putt on the 3rd green and reacted with a bit of a fist-pump, which I don't normally do. But it was such a massive putt to make. One hole later, I chipped in for a birdie to go 1up. It was a lovely shot off a slightly downhill lie. The ball landed in just the right spot, checked and rolled in like a putt. And when I made an eagle three at the par-5 5th I was really off and running.
All of the above gave me a huge shot of confidence but it also put Brandt under a lot of pressure. That is key in match play. All of a sudden he was 2dn to a guy who hadn't missed a shot and was making putts. For him, that was always going to be a tough game to win.
I get asked a lot about the effect spectators can have in Ryder Cup matches. I've played in two, both away from home, so I have never had a crowd cheering me on. The American boys claim that the European fans make it difficult for them when we are at home. I don't know about that. But I can say for sure that American fans can be a tough audience.
As ever, most of the people are great. But those shouting some of the stuff I have heard are not really golf fans. Still, they pay their money and can, within limits, say whatever they want. It certainly isn't worth complaining about. That's a battle we can never win. Besides, I have to admit I quite enjoy that aspect of the matches. The home crowds on both sides of the Atlantic should be partisan and want their side to win. If you can't handle that, you shouldn't be there.
As you can imagine, the climax to the matches was unforgettable. When Martin Kaymer holed the putt that meant we would at least retain the trophy, I was standing with my wife, Marian, maybe 80 yards away on the 18th fairway. Poulter was there, so was Justin Rose and Jose our captain. When the ball went into the hole – and it seemed to take forever to get there – I could see nothing but relief on our skipper's face.
A few minutes later, Francesco Molinari halved his match with Tiger Woods and we had won the cup. It was time to celebrate. And believe me, we did.
Don't forget to follow Golf Monthly on Facebook, Twitter and Instagram to stay up to date with all the Ryder Cup news.
David joined Golf Monthly in 2015 as a content editor for the magazine and regularly contributes to the website. He has worked in magazine publishing and editing since 2003. He is a keen golfer and up until recently was a member of Blackmoor Golf Club in Hampshire. He has covered various big events and tournaments for GM, the highlight of which was witnessing Tiger Woods win his 15th Major at Augusta in 2019. Email: david.taylor@futurenet.com