TV Ratings Prove Tiger Woods Is Golf's Biggest Draw
The 14-time major winner's appearance at the Valspar Championship drew huge numbers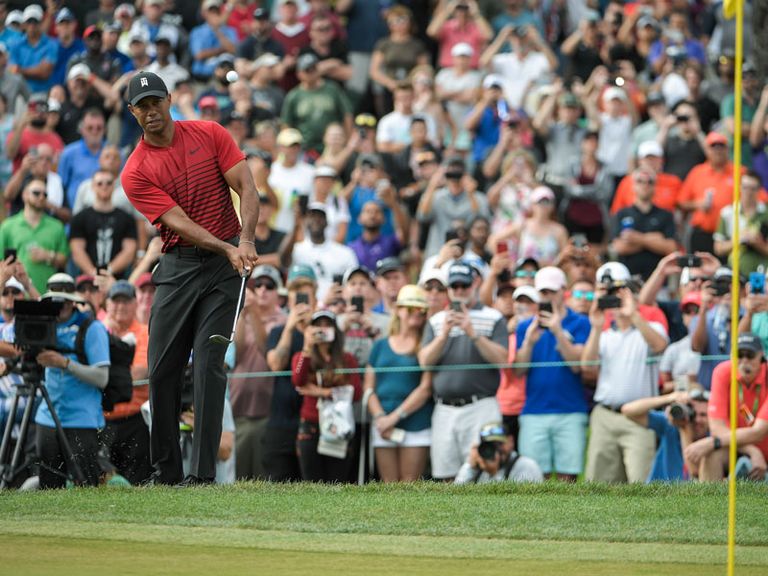 The 14-time major winner's appearance at the Valspar Championship drew huge numbers
TV Ratings Prove Tiger Woods Is Golf's Biggest Draw
The TV ratings from this weekend's Valspar Championship are in, and they are MASSIVE.
Woods' return has been highly anticipated and his good play at Innisbrook drew the viewers in.
Related: Casey beats Woods by one to win Valspar Championship
NBC's final round coverage was rated at 5.11 - the highest non-major PGA Tour broadcast since the 2013 Players Championship.
It became the most streamed PGA Tour event EVER for the Golf Channel/NBC Sports network and the 4th most stream golf event for NBC Sports behind the 2016 and 2017 Open and 2016 Ryder Cup.
The final round coverage on NBC was up 28% on the last time Woods had the chance to win on a Sunday at the 2015 Wyndham.
There were 5.5 million live minutes streamed of Saturday's round 3 coverage of the Valspar Championship on Golf Channel and NBC Sports Digital. Those numbers are up an incredible 621% year on year.
NBC Sports' third round coverage earned a 3.26 rating which was up 181% on last year.
It was the highest rated broadcast of the Valspar Championship EVER and also the highest rated PGA Tour third round in 12 years.
Related: Tiger Woods What's in the bag?
The Golf Channel's third round coverage was rated 1.07, the highest since the 2013 Deutsche Bank Championship.
Woods shot a four-under-par 67 on Saturday to finish just one back of the lead heading into the final round.
He finished one back of Paul Casey after a 70 on Sunday.
PGA Tour Live's coverage actually crashed on Friday when Tiger briefly took the lead:
Friday's second round coverage was also the highest in the event's history.
Thursday's opening round was the highest-rated broadcast on the Golf Channel since the 2015 Waste Management Phoenix Open, barring the Majors and Players Championship.
One user commented on Twitter that Woods should receive a portion of the ad revenue:
Prior to the start of the tournament, the Valspar Championship told USA Today that they expected to sell 7-10,000 extra tickets per day because of Woods' presence.
Related: Rickie Fowler to wear custom Arnold Palmer hi-tops this week
As well as that, they added in an eighth entry gate, 6,000 extra parking spaces and 35 more shuttle buses to carry fans to the course.
The media centre was doubled in size, 90 extra porta loos were brought in and a new spectator bridge was installed on the 12th hole.
The Tiger Woods effect.
Make sure you follow Golf Monthly on Facebook, Twitter and Instagram