Social Media Reacts To Tiger Woods' Tampon Prank On Justin Thomas
Paige Spiranac was among the first on social media to react to Tiger Woods' tampon prank on Justin Thomas at Riviera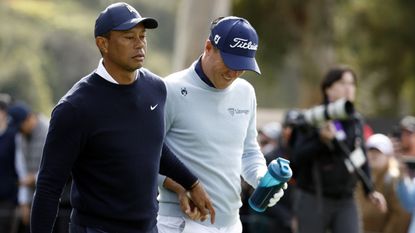 (Image credit: Getty Images)
Tiger Woods certainly enjoyed his PGA Tour return, but a prank he played on Justin Thomas has drawn a somewhat mixed reaction on social media to say the least.
Woods played in the company of his two great friends Rory McIlroy and Justin Thomas – with plenty of banter and jibing at each other throughout the round.
One controversial moment though came on the ninth hole when Woods hit his drive further than Thomas, and as a prank slipped a tampon into Thomas' hand as they walked off the tee box.
Now, just why Woods returned to PGA Tour and thought of including such a product in his golf bag is another matter, but it was an obvious jibe at Thomas not being able to hit it as far as the 47-year-old.
Tiger Woods had a gift for Justin Thomas after driving it past him on number nine. (via @GettyImages) pic.twitter.com/HXZEQSAhEUFebruary 17, 2023
See more
Woods averaged 16 yards further off the tee than Thomas, and even hit it further than McIlroy on four holes with drives of 338, 331, 323 and 317 yards all surprisingly long for the 15-time Major champion having spent so long away from competitive action.
That prank on the ninth was followed by Woods and Thomas laughing and joking as they left the tee, and it brought in plenty of social media reaction from those that found it funny and others not so much.
Social media regular Paige Spiranac found it funny, and would like to see Tiger do something similar to Phil Mickelson in a PGA Tour vs LIV Golf Ryder Cup.
She also added: "If anyone tries to cancel Tiger over this we riot. It's funny."
Which drew a response from Eddie Pepperell of: "Maybe Justin asked for it. After all, men can have periods."
I need a LIV vs PGA tour Ryder cup type event just so Tiger can give Phil a tampon after out driving himFebruary 17, 2023
See more
If anyone tries to cancel Tiger over this we riot. It's funny https://t.co/rRXdu9iQizFebruary 17, 2023
See more
DP World Tour player Mike Lorenzo-Vera also found the incident funny, while some questioned why Woods even thought of carrying a tampon in his golf bag just in case, while others thought the joke was wide of the mark.
Truly cannot get over the idea of Tiger Woods preparing for his first non-major start since 2020 at a tournament he's hosting and being like "oops almost forgot to pack a tampon to hand to JT when I hit it past him" https://t.co/JIbHYBT3IYFebruary 17, 2023
See more
At a time where Women's golf is pushing on to higher and higher levels, I don't think the "gift" that Tiger gave to JT helps golf's image. Is it supposed to be funny because women supposedly can't hit a ball? These players might have to say about that: pic.twitter.com/4vlNrYkwh2February 17, 2023
See more
I have a hard time believing this is real 💀 but also where in the world did Tiger get that old Tampax tampon. They don't look like that anymore. 😂 https://t.co/XW2A0eedM8February 17, 2023
See more
Paul Higham is a sports journalist with over 20 years of experience in covering most major sporting events for both Sky Sports and BBC Sport. He is currently freelance and covers the golf majors on the BBC Sport website. Highlights over the years include covering that epic Monday finish in the Ryder Cup at Celtic Manor and watching Rory McIlroy produce one of the most dominant Major wins at the 2011 US Open at Congressional. He also writes betting previews and still feels strangely proud of backing Danny Willett when he won the Masters in 2016 - Willett also praised his putting stroke during a media event before the Open at Hoylake. Favourite interviews he's conducted have been with McIlroy, Paul McGinley, Thomas Bjorn, Rickie Fowler and the enigma that is Victor Dubuisson. A big fan of watching any golf from any tour, sadly he spends more time writing about golf than playing these days with two young children, and as a big fair weather golfer claims playing in shorts is worth at least five shots. Being from Liverpool he loves the likes of Hoylake, Birkdale and the stretch of tracks along England's Golf Coast, but would say his favourite courses played are Kingsbarns and Portrush.