'A Great Round' - Tiger Woods Reflects On Superb Return To PGA Tour Action
Tiger Woods was delighted with first round back on the PGA Tour and set out his treatment plan in order to play well on Friday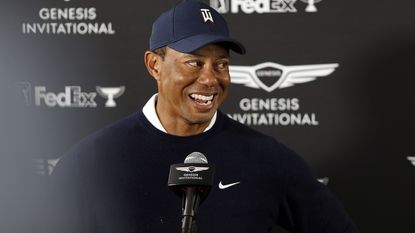 (Image credit: Getty Images)
Tiger Woods said there would be a lot of ice going on his damaged ankle after "a great round" in his return to PGA Tour action at the Genesis Invitational.
Woods said he benefited from an "unbelievable pairing" of playing alongside Justin Thomas and Rory McIlroy as he closed with three straight birdies to finish his first round with a two-under-par 69.
The 15-time Major champion was at times surprised by how the adrenaline of his big return saw him hit the ball beyond McIlroy and Thomas off the tee at times, while at others he was "trying to figure out what the hell I'm doing out here because I haven't played."
"I didn't want to be the idiot host to miss it right in front of everybody after I just went birdie-birdie," Woods said of his closing birdie. "It was a great round."
"I was able to simulate nerves at home because I've come off layoffs before and I was able to simulate that stuff, but there's nothing like come game time just the feeling of the butterflies and trying to calm all that stuff down.
"The adrenaline, the ball goes further. Even though it's cold out here, it was going even further than we expected. I had to dial all that back in.
"It was nice that I had this unbelievable pairing, two great guys, two great friends. The people were obviously very supportive, they were just cheering all of us on, which is great. Just made this whole - this tournament better. I happened to actually hit some good shots finally and made a couple putts. Even though I had a little mishap at 10, I was able to fight back and get it going. It was a nice finish."
As Woods pegged it up on the PGA Tour in a non-Major for the first time in 844 days, he was surprised by just how loud the crowd at Riviera were and admitted he was too focused to really take it all in.
"It was a lot louder. I haven't played in a tournament in a long time. I didn't really look up as much. I probably should have, but I didn't," Woods added.
"I was trying to calm myself down all day, trying to figure out what the hell I'm doing out here because I haven't played. I had to try and figure out what the chess match is going to be. Misses, angles, wind, these are all things that have come second nature to a lot of these guys.
"I haven't really done this in a while. So I was so focused on what I was trying to do, talking to Joey, trying to figure it all out. I probably should have appreciated the fans more than I did, but there was so much going on in my head trying to get the ball in the correct spots and the correct feels just because I haven't done this in a while."
Playing golf for Woods is the easy part, the tough part is now getting his severely damaged leg and ankle treated and to recover enough to be able to walk around Riviera again in Friday's second round – which will take a lot of treatment around the clock.
"Yes. I'm a little bit sore right now. We were laughing, joking in the scoring tent here, Rory's going to go down and hit some drivers, I said I'll be right there right behind.
"I need to go and we can do some treatment and get this thing ready for tomorrow. There's a lot of ice going on here. As soon as I get back to the hotel, it's just icing and treatment and icing and treatment, just hit repeat throughout the whole night. Get ready, warmed up tomorrow, get this big sweat going on, big lift in the morning and stay warm and get off to a good start on 10.
"My ankle's a lot smaller than it has been. I've had so many surgeries that the ankle just keep changing, the leg keeps changing. Yes, the shoes keep changing, the socks keep changing.
"Everything's a moving target. How much I'm on my feet, how much I'm not, how active I am, how not active, the muscles that are on, they're off. It's a moving target all the time.
"The communication between myself, my staff, my training team, it's an ebb and flow daily trying to figure out the right tape job, the right angles, the padding that we need, that all changes from day to day.
"Look at where we were last year, it has completely changed and it will continue to change. Unfortunately, that's my issue is that this leg will never be what it once was so we have to adapt to it and my team's been incredible."
Paul Higham is a sports journalist with over 20 years of experience in covering most major sporting events for both Sky Sports and BBC Sport. He is currently freelance and covers the golf majors on the BBC Sport website. Highlights over the years include covering that epic Monday finish in the Ryder Cup at Celtic Manor and watching Rory McIlroy produce one of the most dominant Major wins at the 2011 US Open at Congressional. He also writes betting previews and still feels strangely proud of backing Danny Willett when he won the Masters in 2016 - Willett also praised his putting stroke during a media event before the Open at Hoylake. Favourite interviews he's conducted have been with McIlroy, Paul McGinley, Thomas Bjorn, Rickie Fowler and the enigma that is Victor Dubuisson. A big fan of watching any golf from any tour, sadly he spends more time writing about golf than playing these days with two young children, and as a big fair weather golfer claims playing in shorts is worth at least five shots. Being from Liverpool he loves the likes of Hoylake, Birkdale and the stretch of tracks along England's Golf Coast, but would say his favourite courses played are Kingsbarns and Portrush.