Paige Spiranac Makes Hole In One With First Shot Of New PXG Irons
The American made an ace with her first shot using PXG's new 0311 Gen2 irons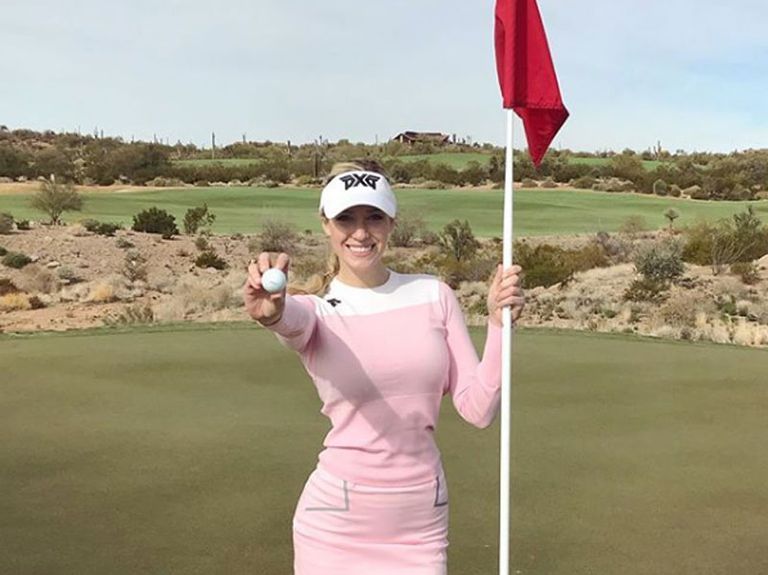 The American made a hole in one with her first shot using PXG's new 0311 Gen2 irons
Paige Spiranac Makes Hole In One With First Shot Of New PXG Irons
Social media sensation Paige Spiranac is a PXG ambassador and got sent her new irons last month.
The new 0311 Gen2 irons are the company's new flagship clubs and Spiranac got off to the perfect start with them.
Related: Are PXG golf clubs worth the money?
And by perfect, we mean that she made an ace with her first shot using them... incredible!
The American was playing in a shot gun start and explained that she aced the 2nd hole of the day.
Her first hole of the day was a par-5 on which she didn't use an iron.
Spiranac was in the news recently after appearing in Sports Illustrated Swimwear issue.
She revealed a nightmare story of her first start as a Tour Pro on the Ladies European Tour in an interview with Sports Illustrated.
The 24-year-old used the experience to promote cyberbullying.
The original 0311 irons were launched in 2015, in the early days of Bob Parsons' Parsons Xtreme Golf company.
Parsons, a billionaire, started up the company after revealing that he spent $350,000 per year on equipment and still wasn't satisfied.
He created PXG in the hope of making the best golf clubs possible, and enlisted the help of two of Ping's golf club designers and engineers.
Since their start up in 2015, they've signed a whole host of Tour Players, known as PXG Troops, including Pat Perez, Billy Horschel and Lydia Ko - as well as Spiranac.
Related: Tiger Woods What's in the bag?
The new PXG 0311 Gen2 irons are available in four different models - T, P, XF, and SGI - to suit a wide range of players.
They hit shelves next month and will cost around £400 per club - meaning a standard 4-PW set will cost near the £2800 mark.
Related: Are PXG golf clubs worth the money?
The headline addition on the new irons is the use of COR2, which is a proprietary polymer core material that is said to be 20% faster than the original filler material.
Spiranac has 1.4m followers on Instagram:
PXG say that equals more ballspeed, improved accuracy and consistency along with the same feel PXG irons are known for.
"It's a tall task creating a club that's better than the best, but that's our commitment," said PXG founder and CEO Bob Parsons.
New golf rules 2019 - all you need to know
"PXG will never release a new club that's not notably better than what we currently offer. And we believe, PXG GEN2 Irons set a new standard for the world's finest."
Make sure you follow Golf Monthly on Facebook, Twitter and Instagram