Is The Ryder Cup Back On For The European LIV Stars?
With this week's bombshell news there now seems a possibility that Europe's LIV exiles could be part of the Ryder Cup team in Italy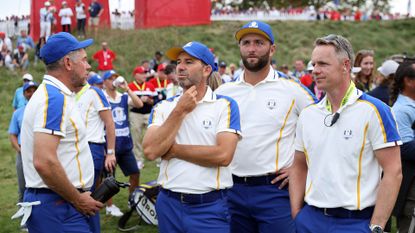 (Image credit: Getty Images)
Get the Golf Monthly Newsletter
Thank you for signing up to Golf Monthly. You will receive a verification email shortly.
There was a problem. Please refresh the page and try again.
A few weeks ago we seemed to have finally made peace with the fact that the European heroes from the past couple of decades would no longer be part of proceedings at Marco Simone in Italy.
Part of this was fairly flattering to the likes of Lee Westwood and Ian Poulter but they've been part of the competition's furniture for so long that many have struggled to let go of the prospect of a European team without the pair of them.
A sounder reality check is that Westwood is now 50 and has a best finish of 20th (in a field of 48) in seven starts this year. For Poulter, now 47, it's been a similar tale of mediocrity with The Postman failing to deliver all season other than a 12th-place finish at Mayakoba in February.
Elsewhere Paul Casey, Graeme McDowell and the short-lived captain for these matches, Henrik Stenson, have failed to register much of note. Thomas Pieters joined LIV in February and is yet to post a top-15 finish in six starts and, should that form continue, it would be a long shot from Donald to choose him should things be relaxed.
But where things become interesting, for Europe at least, is the whereabouts in late September of Sergio Garcia.
The competition's record points scorer is no longer a member of the DP World Tour which, by the letter of the law, means that he can't be part of Luke Donald's side. Something which Rory McIlroy, who has reportedly fallen out with the Spaniard over the past year's disintegration of the game at the highest level, pointed out in his press conference in Canada this week.
According to McIlroy, if you're not a member, then you're not coming in.
"I don't think it changes. The ruling in that arbitration court was upheld that the European Tour can uphold the rules and regulations and sanction people for leaving the Tour, for harming the Tour. And again, I think it's a moot point, because all those guys have resigned their membership. If you're not a member of the European Tour you can't play the Ryder Cup. So to me it's a moot point."
In a statement to the players from the DP World Tour chief executive Keith Pelley it reads: "Similar assumptions have been made that European players who have resigned from the Tour will now be able to be part of this year's Ryder Cup. Once again, it is not that straightforward.
"There are only two criteria for being a member of the European Ryder Cup team, namely: (1) you are European and (2) you are a member of the DP World Tour. To meet the second criterion, they would have to ask for reinstatement and there would have to be exceptional circumstance to allow it. I stress again, it would be difficult and highly unlikely that that would happen."
So not impossible. After the past 12 months the 'highly unlikely' possibility of a turnaround here would fade into relative inconsequence given what else is going on.
Come September the golfing kaleidoscope is going to look very different. Brooks Koepka will be part of the US team and he might well be joined by other LIV stars, like Dustin Johnson who went 5-0-0 in 2021. Aside from their skills they'll arrive with little personal baggage in terms of personalities and Zach Johnson's side will be further bolstered as they go about winning on European soil for the first time in 30 years.
In these most ludicrous of golfing times, and in light of what has happened this week, it would be faintly ridiculous for one captain to be able to have a full deck to choose from while Europe, the underdogs, would be limited.
The rules and regulations might say a lot of things but you might easily argue that they can all be thrown out the window when it now comes to the Ryder Cup. This is day two of this new era and already the noises coming out of everyone's mouths are beginning to sound very different.
It might not be a merger as such but Garcia's new bosses now sit under the PGA Tour umbrella and, while it's a PGA-run event, he will almost certainly, you would have to think, be available for selection.
Unlike Koepka and Johnson the Spaniard is a different beast and his behaviour has been, at best, erratic over the past year. He was part of the first LIV event at Centurion and he's repeatedly played the victim, something that he excels at.
But there have been patches of form and his record, and impact during a Ryder Cup week, would make it a no-brainer to include him. We might not see him paired with McIlroy in the opening exchanges on Friday morning but we know who he'll play with and one thing that Donald is lacking in after the demolition at Whistling Straits are partnerships.
Matt Fitzpatrick spoke earlier in the year about the possibility of Garcia being part of the team in Rome.
"I think there definitely are a few personal relationships that have been dented by this [the LIV vs PGA Tour civil war]. I'm not bothered, I just want to win, and I'm sure those boys do too. Sergio would be the one that would stand out for me, particularly," Fitzpatrick told Sky Sports. "I don't know the details of [his relationship with McIlroy]. I'm happy to share a room with him, if that's going to be the case, I can corner him off for everyone else."
Then there's Jon Rahm, who will fall in straight alongside his compatriot, and he, like his American opposition, just wants the best of Europe to feature.
"We had a great partnership at Whistling Straights. A Spanish duo in the Ryder Cup I think to me is embedded into the roots of the Ryder Cup. Look with Seve and Ollie were able to do throughout their partnership, right. So it's a little sad to me that politics have gotten in the way of such a beautiful event," Rahm said.
"It's the best Europeans against the best American, period. And whatever is going on, who is playing LIV and who is not playing LIV to me shouldn't matter. It's whoever is best suited to represent the European side. And I have a hard time to believe that the best player Europe has ever had, the most successful player Europe has had on the Ryder Cup isn't fit to be on the team."
For years Donald and Garcia have been bosom buddies and it would have seemed unthinkable that one wouldn't play for the other. With six captain's pick the unthinkable is now all of a sudden, more likely, that Donald won't use one of them for his old mate.
Get the Golf Monthly Newsletter
Tips on how to play better, latest equipment reviews, interviews with the biggest names and more.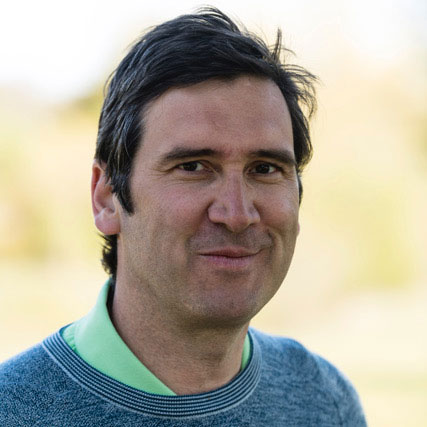 Mark has worked in golf for over 20 years having started off his journalistic life at the Press Association and BBC Sport before moving to Sky Sports where he became their golf editor on skysports.com. He then worked at National Club Golfer and Lady Golfer where he was the deputy editor and he has interviewed many of the leading names in the game, both male and female, ghosted columns for the likes of Robert Rock, Charley Hull and Dame Laura Davies, as well as playing the vast majority of our Top 100 GB&I courses. He loves links golf with a particular love of Royal Dornoch and Kingsbarns. He is now a freelance, also working for the PGA and Robert Rock. Loves tour golf, both men and women and he remains the long-standing owner of an horrific short game. He plays at Moortown with a handicap of 6.