'I'm Not Tiger Woods' - Pieters Happy To Trade Legacy For 'Financially Amazing' LIV Move
Thomas Pieters describes PGA Tour life as 'lonely' and defends LIV Golf move for the happiness of his family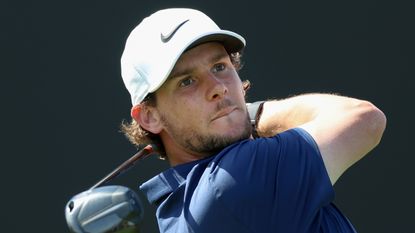 (Image credit: Getty Images)
Thomas Pieters insists he was happy to trade a legacy in golf to take the LIV Golf money on offer, with the happiness it provides for his family more important to him than golf.
Pieters still feels any criticism he gets for accepting the cash from the Saudi-backed enterprise is unfair, and somewhat hypocritical given just how many businesses and companies are backed by money from that region.
In a revealing appearance on Barstool Sports' Fore Play podcast, the Belgian also opens up on his experience playing on the PGA Tour, which he says was a lonely existence and not one he will miss.
But the biggest insight from Pieters was his reasoning for making the move – with the 31-year-old seemingly happy to give up on his PGA Tour career and the prospect of leaving a golfing legacy in favour of making his life more comfortable.
"I've done 10 years of being on the road and trying to achieve my dreams," Pieters told the Fore Play podcast. "I'm not Rory McIlroy, I'm not Tiger Woods, I'm not going to be in the history books or have a massive legacy, and that's OK.
"I've made an unbelievable living out of golf, which is amazing for me and my mrs and my kids. I don't worry about that at all, actually. It's just sport. It's just golf. Happiness is so much more than just playing golf."
Pieters got homesick on the PGA Tour
Although signing for LIV Golf currently ends Pieters' chances of a Ryder Cup return and limits his chances of getting into the Majors – he's comfortable with his decision due to the amazing financial rewards and the loneliness he felt on the PGA Tour.
"As a kid you obviously dream about playing on the PGA Tour, winning golf tournaments," he added. "I played a year on the PGA Tour. I did not like it. I got very homesick, very lonely, so for me that was kind of like tick the box, I tried it over there, wasn't my thing and then LIV came around right at the right time.
"Everybody who was playing on it last year that I talked to said it was very exciting, new and that was something that really spoke to me.
"You can't lie about it financially, it's amazing, and it was something as a family, father of two daughters, as well with my girlfriend, it's awesome to have such good schedule, as well."
Pieters is trying to stay out of the political arguments about the funding for LIV Golf coming from the Saudi Arabia PIF, saying that criticism is a touch hypocritical.
"Obviously there's a lot of talk, but at the end of the day, it's a personal opinion, and it's just golf, it's not life and death. I made the decision, and I move on.
"I know my money comes from an American-based company. I think the PIF is in about 150 boards if I'm not wrong, so anything you touch on a daily basis is funded by Saudi money, so I think it's a bit hypocritical, some of the things that are being said.
"Obviously the things that have happened, they're horrible. I'm here to play golf. It's not really something I want to go into. I knew that question was going to be asked, but I don't really have an answer for that.
"I feel like golfers have gotten too opinionated about everything, and I'm just here to play golf. I'm not dumb, maybe I'll come across as dumb, but I just want to be happy, that's all."
I've made a big decision for myself and my family. Now, it's time to keep chasing the little white ball around. And go @RangeGoatsGC https://t.co/pUrQgYgcEaFebruary 22, 2023
See more
The then-world number 34 was the headline signing for the new LIV Golf League this season, getting a reported $10m signing fee as he joined Bubba Watson's RangeGoats team.
And he said that life as part of a golfing team is already better and more sociable than playing on the PGA Tour.
"Last week (RangeGoat teammates Harold Varner III and Talor Gooch), we went out to dinner a couple nights, for me that's normal," he said.
"It's funny because Harold said, 'man we never did this on the PGA Tour,' and I find that a little bit sad."
Paul Higham is a sports journalist with over 20 years of experience in covering most major sporting events for both Sky Sports and BBC Sport. He is currently freelance and covers the golf majors on the BBC Sport website. Highlights over the years include covering that epic Monday finish in the Ryder Cup at Celtic Manor and watching Rory McIlroy produce one of the most dominant Major wins at the 2011 US Open at Congressional. He also writes betting previews and still feels strangely proud of backing Danny Willett when he won the Masters in 2016 - Willett also praised his putting stroke during a media event before the Open at Hoylake. Favourite interviews he's conducted have been with McIlroy, Paul McGinley, Thomas Bjorn, Rickie Fowler and the enigma that is Victor Dubuisson. A big fan of watching any golf from any tour, sadly he spends more time writing about golf than playing these days with two young children, and as a big fair weather golfer claims playing in shorts is worth at least five shots. Being from Liverpool he loves the likes of Hoylake, Birkdale and the stretch of tracks along England's Golf Coast, but would say his favourite courses played are Kingsbarns and Portrush.