Five-Time Open Champion Peter Thomson Passes Away
The five-time Open Champion was one of golf's finest players throughout the 1950s and 1960s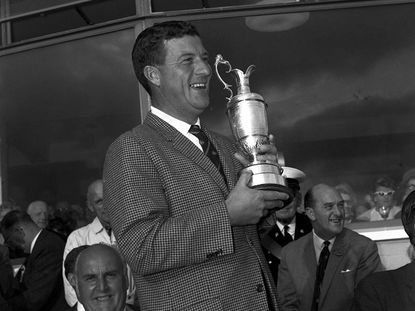 The Australian, Peter Thomson, was one of golf's finest players throughout the 1950s and 1960s, lifting the Claret Jug on five occasions
Five-Time Open Champion Peter Thomson Passes Away
One of golf's all-time greats has passed away. The Australian, Peter Thomson, was one of golf's finest players throughout the 1950s and 1960s, lifting the Claret Jug on five occasions over a glorious 12-year spell, and perhaps coming closer than anyone to equaling or bettering Harry Vardon's record of six titles.
He won 84 professional titles during his career, with the majority of those coming on either his home patch or the British circuit, which he made his home for many years. But he also won all around the world, and all but cleaned up one year on the Champions Tour in America, winning an incredible nine times in 1985.
When his playing career came to a close, he turned his attention to course design and worked on around 100 courses worldwide, including some of Australia's most highly regarded modern creations. He was inducted into the World Golf Hall of Fame in 1988 and the Sport Australia Hall of Fame in 1985.
Thomson had suffered from Parkinson's Disease for over four years and passed away at his home in Melbourne on Wednesday June 20, 2018 at the age of 88.
"Peter was a true gentleman and will be forever remembered throughout the world of golf as one of the great champions of our wonderful sport," Martin Slumbers, Chief Executive of The R&A said this morning.
"He was a distinguished Honorary Member of The Royal and Ancient Golf Club of St Andrews and will be sorely missed by all of us at The R&A. Our thoughts are with his family at this very sad time.
"Peter gave me a number of very interesting and valuable thoughts on the game, how it has developed and where it is going which demonstrated his genuine interest in and love of golf."
Three years ago, I was fortunate enough to interview and play with Thomson at St George's Hill in Surrey, and here is what I wrote for the magazine in 2015 following that meeting…
One of the perks of my job is that you never quite know when another exciting, and sometimes unique, opportunity is suddenly going to present itself to you. When my editor asked if I might be available to attend a golf day in July at St George's Hill hosted by golf course design company, Thomson, Perrett and Lobb, I was already leaning towards a 'yes' response on account of the venue alone, when he sold it to me just a little bit more: "You might get the chance to play with Peter Thomson too."
That made up my mind, and also got me pondering whether or not I had ever played golf with an Open Champion before. Now, I've not played many full rounds with top pros, but I have attended a number of days where you get to play three holes with a company's brand ambassador, and after wracking my brains, it transpired that the answer was, yes - I had played a few holes once with Paul Lawrie on a Callaway day at Bearwood Lakes, and a few with Padraig Harrington ahead of his title defence when going for three in a row at Turnberry in 2009.
What I had most definitely not done was play golf with one of just five men in history to have won five or more Opens – James Braid, JH Taylor and Harry Vardon were long gone before I was even thought of, let alone into golf, while Tom Watson, perhaps not surprisingly, had not yet put himself forward for a friendly knock.
The more I thought about it, the more eagerly I was looking forward to the day and the chance to probe Peter about his playing career, The Open and the course design business that had occupied much of his time since his playing career came to an end.
We had, somewhat bizarrely, met once before, though he wouldn't remember it. Leaving the car park at Carnoustie during the 2007 Open in heavy rain, one of the stewards flagged me down, and asked if I would mind giving this gentleman a lift down to the course where he was attending a dinner. I obliged, instantly recognising 'this gentleman' and making small talk on the half-mile drive.
Now I had the opportunity for something a little more than small talk with the octogenarian Thomson, and as I did a little research ahead of the day, it dawned on me more and more just how good this free-swinging Australian really was, and how little many of us in the modern era really know about his achievements beyond those five Open Championships.
For a start, it could so easily have been Thomson that matched, or even broke, Harry Vardon's six-Open record long before Watson so nearly defied both his age and our belief six years ago at Turnberry. For one glorious seven-year spell from 1952 to 1958. Thomson finished top two in The Open, winning four and becoming the only man in the 20th century to win three in a row between 1954 and 1956. He was just 26 years old when he claimed his third Open.
In 1952, he finished one stroke behind Bobby Locke, scuppered by a third-round 77; the following year, everyone had to play second fiddle to Ben Hogan's remarkable triple Major success; and in 1957 Bobby Locke outplayed him again by three at St Andrews. In all, there were another ten top tens in The Open, with 3rd in 1969 behind Tony Jacklin his closest brush after his final win in 1965 at Royal Birkdale.
He fared less well in the other Majors, with 4th in the 1956 US Open and 5th in the 1957 Masters his only other Major top tens. But it would be unfair to read too much into that, for he only played in both a handful of times, and never teed it up in the USPGA. It was a different era, when money was tighter and global travel far more complicated, and Thomson had chosen to make the British circuit his main home.
Not that he didn't travel, for his 88 professional wins worldwide included successes in America, Australia, New Zealand, Canada, India, Hong Kong and throughout Europe, though the 1956 Texas International Open was his solitary PGA Tour victory.
Mind you, he made up for it on America's senior circuit, which he played for eight or nine years from 1982. Having won twice in 1984, he then triumphed an astonishing nine times in 22 starts in the 1985 season, to comfortably top the Money List and perhaps give his American contemporaries just a little taste of what they might have experienced more regularly had their paths crossed more often in his prime, rather than beating largely separate trails either side of the Atlantic.
He is also the only victorious International captain in the Presidents Cup, leading a strong team to a comprehensive win on his home patch at Royal Melbourne in 1998. Not that he would ever blow his own trumpet over either that or that stellar US senior tour campaign, choosing rather to play it all down as I would discover when we chatted post-round.
Whether that's just his nature or character, or a lingering legacy of others unkindly playing down his Open successes on account of the scarcity of top-name Americans competing during that era, I don't know. What I do now know is that here is a man who is refreshingly unafraid to give short answers if a short answer is all that is required, and who is more than capable of still providing pithy and telling soundbites, even at 86 years of age…
How did you get into the game and how quickly did you become good?
I was a young teenager playing sport, and golf was one of the sports I played. I wanted to be a cricketer, but that didn't come to pass, and I'm happy with the golf.
Were Australia on top at cricket back then?
We were, right after the second World War.
How easy was it for a young Australian back in the 1950s to up sticks and play professional golf in Britain?
It should be known that there was what was called a tour, but really it was just a succession of tournaments one after the other. But the prizes were so small that it was difficult to really make a living. Most of the pros I played against when I first came to Britain in 1951 were club pros. Even Henry Cotton said to me, 'Do you expect to make a living out of playing?' And I said, 'Yes.' He said, 'Well, good luck to you but I don't think you'll make it.' So there you are.
You proved him wrong…
Well, professional sport has come alive in all sorts of ways that weren't there originally. But it's relatively new.
Where did you play most of your golf during the peak of your career?
Oh, in Britain. I played in America quite a lot, but mostly I played in Britain.
Which was your favourite Open win and do you think you could you have easily won a few more?
I'll give you the answer I gave during The Open in St Andrews: you've got to love your wins like you love your children – all of them equally.
With all those runner-up finishes you were close several more times too…
Yes, I was disappointed a few times, but don't forget the raw figures are that I won five but lost 25!
People have said, perhaps unkindly, that you won in an era when many of the top Americans didn't travel. Does that, or did that, annoy you?
No. If anybody chooses not to play or not to travel, that's their business. I just mind mine. It doesn't bother me.
Once you'd won five were you trying very hard to beat Harry Vardon's record?
No, not any harder than I'd been doing up until then. I expected to win one more at least, but I didn't. Perhaps I didn't try hard enough, or I wasn't good enough or whatever. But I imagined it would come and it didn't.
You never played a US Open after 1961 and never played a USPGA at all. Why was that?
First of all, I wasn't eligible for the PGA. That was only for players of America and South America. It was a peculiarity, so Roberto de Vicenzo was eligible for example, but Australians weren't. So that wasn't very nice, but that's what happened. As for the US Open, I forget truthfully why I didn't, but there were tournaments in other areas and I was loathe to leave the British circuit.
So the Majors weren't seen as so high-profile then?
I'd never heard of Majors up to that point!
When did the term take hold then?
It was one of the journos in the 1950s or '60s – it was a new invention. But it's been with us so long, we're stuck with it now.
How did you end up being disqualified in the 1959 Masters?
I signed for a scorecard with the correct total of 73, but the marker I played with had put down 3, 4 instead of 4, 3, and that was the reason for the DQ. After I'd finished playing I could see that the total score was correct, but they called me back and said I'd signed for a wrong score. So that was frustrating.
How high does nine senior tour wins in one season sit on your list of career achievements?
Oh, senior golf is not the real thing. I think some players on the circuit are good at what they do at their age, and others not. It's a marvellous idea that you can go on and on and on forever.
How did the Americans take to you cleaning up that year?
Oh, you'd have to ask them that! I was pleased with myself anyway.
Did you enjoy your senior career?
Yes, it was a social tour and I made a lot of friends.
What about being the only winning International Presidents Cup captain. Are you proud of that achievement?
Yes, but the captain didn't do much - it was all done by the team itself. The team was a good one – they had good spirit and a lot of talent. And we played at Royal Melbourne, which was a strange course for the Americans.
How did you get into golf course design?
Well, it's a natural progression for players. But I've had an interest in golf course design since I first learned about it, so it's natural for me to go on designing where designing is required.
Does it give you as much satisfaction as playing?
Yes. It's creative, and if it's done properly and it endures, it's very satisfying
And you've worked on 100 courses around the world?
More than that, but some didn't get built or only half-built.
What do you regard as your finest work?
There are some marvellous courses out of Melbourne down on the coastline there. The Open Course at Moonah Links is one that comes to mind, and the Ocean Course at National Golf Club. The land is so good for golf that it's amazing. True links.
What would be a trademark Peter Thomson design feature?
Oh, I don't know – hopefully something that brings pleasure to everybody who plays on the course rather than anything specific.
Those five Open wins…
Four of Thomson's Open wins came over a golden five-year spell from 1954 to 1958, with the fifth coming in 1965…
1954 – Royal Birkdale
Having finished 6th, 2nd and 2nd in his first three Opens, victory was surely only a matter of time for the young Australian. Thomson progressed steadily through the field after rounds of 72, 71 and 69 to tie Dai Rees and Syd Scott for the lead. A sand save on 16 would then prove crucial, as Thomson went on to win by one with a closing 71.
1955 – St Andrews
1955 was a year of Open firsts – the first time the Road Hole was played as a par 4 not a par 5, and the first time the champion walked away with a four-figure cheque. Thomson was that champion, bouncing back from a potentially costly double at the 14th in the final round with a birdie on 15 for a two-shot victory.
1956 – Royal Liverpool
Thomson made it three in a row by assuming control from the second round, as poor weather made scoring tricky at Hoylake. He extended his lead to three with a third-round 72, and maintained that margin in the final round despite a closing 74. No players were under par at the end of a testing week on The Wirral.
1958 – Royal Lytham & St Annes
Thomson's fourth Claret Jug came courtesy of a 36-hole Saturday play-off after he and Wales' Dave Thomas both finished the week at six-under par, with Thomson missing a 12-footer on the 72nd hole for the win. Mistakes and missed putts by the Welshman on the 8th, 10th and 11th holes of the second play-off round helped Thomson re-establish a winning four-shot margin.
1965 – Royal Birkdale
Thomson's fifth and final victory came at the same course as his first. After a slow start, middle rounds of 68 and 72 saw him lead once more heading into the final round. After seeing his three-shot lead midway through the final round all but wiped out, Thomson closed with two birdies to clinch it by two from Brian Huggett and Christy O'Connor.
Jeremy Ellwood has worked in the golf industry since 1993 and for Golf Monthly since 2002 when he started out as equipment editor. He is now a freelance journalist writing mainly for Golf Monthly across the whole spectrum from courses and Rules to equipment and instruction. He also edits The Golf Club Secretary Newsletter, a highly regarded trade publication for golf club secretaries and managers, and has authored or co-authored three books and written for a number of national papers including The Telegraph and The Independent. He is a senior panelist for Golf Monthly's Top 100 UK & Ireland Course Rankings and has played all of the Top 100 plus 91 of the Next 100, making him well-qualified when it comes to assessing and comparing our premier golf courses. He has now played well over 950 golf courses worldwide in 35 countries, right across the spectrum from the humblest of nine-holers in the Scottish Highlands to the very grandest of international golf resorts, but put him on a links course anywhere and he will be blissfully content.
Jezz can be contacted via Twitter - @JezzEllwoodGolf
Jeremy is currently playing...
Driver: Ping G425 LST 10.5˚ (draw setting), Mitsubishi Tensei AV Orange 55 S shaft
3 wood: Ping G425 Max 15˚ (set to flat +1), Mitsubishi Tensei AV Orange 65 S shaft
Hybrid: Ping G425 17˚, Mitsubishi Tensei CK Pro Orange 80 S shaft
Irons 3-PW: Ping i525, True Temper Dynamic Gold 105 R300 shafts
Wedges: Ping Glide 4.0 50˚ and 54˚, 12˚ bounce, True Temper Dynamic Gold 105 R300 shafts
Putter: Ping Fetch 2021 model, 33in shaft (set flat 2)
Ball: Varies but mostly now TaylorMade Tour Response