Will The New Srixon ZX Mk II Metalwoods Be A Worthy Rival To The Big Brands?
With talk of increases in power, distance and control, the Srixon ZX Mk II range promises to perform for golfers of all abilities. Here's what you need to know...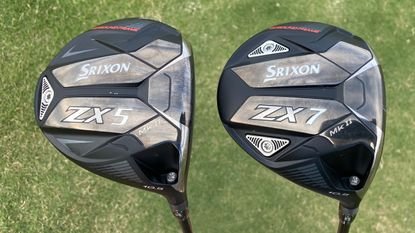 (Image credit: Martin Hopley)
Srixon's hardware has really impressed us in recent times and things look to be getting even better in 2023, standing toe-to-toe with the major players in the metalwood categories like TaylorMade, Callaway, Ping and Titleist. The previous ZX5 and ZX7 drivers were designed to help generate more speed and distance, courtesy of the brand's unique Rebound Frame Technology. It worked by layering alternating zones of flexibility at impact for more distance – and it's fair to say they were a big hit, and provided one at impact too. But what has changed for the Mk II range in 2023?
What is the new technology?
The all-new ZX Mk II woods are said to provide even more power at impact, which is largely down to a stronger Rebound Frame design. Rebound Frame's two flex zones work together to generate enhanced ball and distance: Zone 1, the driver face, deforms inwardly at impact; Zone 2, a ring of flexibility offset from the face, deforms outwardly. When these two zones snap back to shape just after impact, the compounded energy transfer is more powerful and efficient than standard designs. The brand says that overall, Rebound Frame adds a 10 percent larger High COR area to the face.
Meanwhile, both the ZX Mk II and ZX5 Mk II feature a variable thickness face pattern that is 0.25mm thinner at its centre and 0.4mm thicker at the perimeter than the last generation, refinements that add even more COR across the face for added ball speed and distance.
What are the models and who are they aimed at?
Srixon ZX7 Mk II Driver
The ZX7 Mk II driver delivers total control and allows golfers to easily produce the launch conditions needed via interchangeable weights in the heel and toe as well as an adjustable hosel. This driver is aimed at the better player looking to work the ball and keep spin down but any player looking to encourage a certain shot shape would benefit from the adjustability on offer.
Image 1 of 4
Srixon ZX7 Mk II Driver
Srixon ZX5 Mk II Driver
The ZX5 Mk II driver has a larger footprint, flattened shape, and a rear weight placed low and deep for drives that launch high and straight. It offers additional forgiveness versus the ZX7 Mk II driver which means higher handicappers would gravitate towards this model versus the ZX7 Mk II.
Srixon ZX5 LS Mk II Driver
There's also a new addition to the range in the form of the ZX5 LS Mk II driver, which features a forward-placed, adjustable 8g weight that keeps spin low for players seeking to maximize distance above all else while maintaining good stability off center.
Image 1 of 4
Srixon ZX5 Mk II driver
Srixon ZX Mk II Fairways
The fixed hosel ZX Mk II fairway has been designed to be as powerful off the fairway as the tee thanks to the rebound frame found in the drivers, alongside a sole that features a floating weight which helps optimise launch and speed, especially on slightly thin struck shots. Interestingly, the 3 wood and stronger lofted 3+ wood feature a carbon crown to optimise weight positioning,
Image 1 of 2
Srixon ZX Mk II fairways
Srixon ZX Mk II hybrids
The non-adjustable hybrids within the range look sleek and compact with a squared off toe, and designed to give you confidence to hit these clubs out a multitude of lies. The new shaping also positions more mass deeper in the clubhead, raising launch for higher, longer shots perfect for landing into a green or off the tee on a demanding tee shot. A new face radius – spanning from the leading edge to the crown – provides more consistent spin on shots struck high or low for more dependable distance.
Image 1 of 3
Srixon ZX Mk II hybrids
What Srixon say
VIDEO: Srixon's Product Manager Joe Miller explains what golfers can expect from the new ZX Mk II drivers
Who's using them on tour?
Hideki Matsuyama and Shane Lowry were both seen with the product in play at the Fortinet Championship on the PGA Tour in October, 2022. Both of who, alongside Srixon staff player Brooks Koepka are expected to be using the ZX Mk II range throughout the 2023 season.
Our first impressions