Stewart Golf F1-S Remote electric trolley unveiled
This electric trolley is a compact folding, remote controlled luxurious model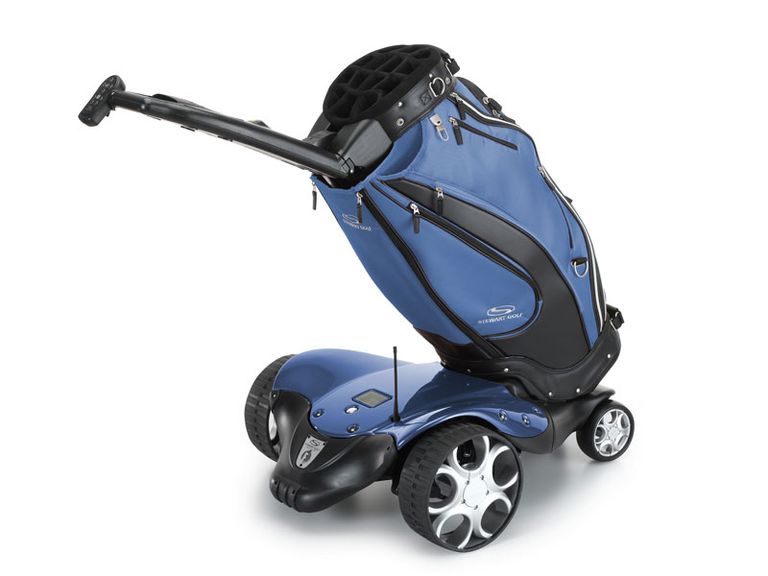 By Joel Tadman
The Stewart Golf F1-S Remote electric trolley is a compact folding, remote controlled luxurious model for those with limited storage space in their car boot
British trolley manufacturer Stewart Golf has revealed a new version of their innovative F1 Lithium model; the world's most compact folding remote controlled trolley.
The Stewart Golf F1-S Remote electric trolley is a new version of the F1 Lithium previously launched in 2008 and is aimed squarely at those golfers who desire the freedom of a well balanced, remote control machine on the golf course, but have limited storage space in their car or at home.
The F1-S is designed to fit inside the boot of a smaller sports cars such as the Porsche 911, Audi R8, Lamborghini Murcielago, Audi R8 and many more. This is thanks to the three part folding chassis that integrates with the purpose designed golf bag to form one homogeneous machine.
There are four coloured bases to choose from and two bag sizes in multiple colours, making 16 combinations in total with custom options also available.
Stewart Golf engineers have increased the capacity of the lithium battery by 21per cent despite using the same Lithium- Ion battery case. Power delivery has also been made more efficient by developing the integrated Battery Management System (BMS).
A number of other technical improvements include new dual British-built 36V motors, improved conformal coating for the PCB and a new vent system to allow low levels of moisture to automatically escape from the electronics system. Stylish, high grip V3 wheels are fitted as standard.
Other cutting-edge features include an integrated golf bag including handle, four programmable cruise control speeds, Emergency stop and glide stop, LCD screen with battery monitor and a Magnetic scorecard holder with pencil clip.
The Stewart Golf F1-S Remote retails for £1749, comes with a two-year guarantee and is available from March 1st at stewartgolf.co.uk or by special order from American Golf and its network or stockists.