Mizuno: custom fitting with perfect precision
Fergus Bisset went through Mizuno's excellent custom fitting process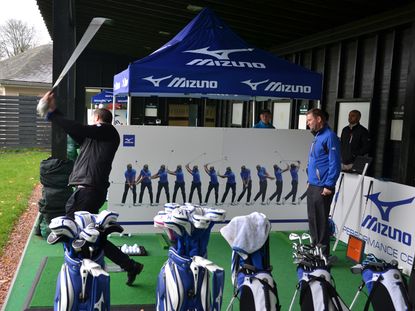 (Image credit: Roddy Bisset)
Get the Golf Monthly Newsletter
Thank you for signing up to Golf Monthly. You will receive a verification email shortly.
There was a problem. Please refresh the page and try again.
Fergus Bisset visited Mizuno's new Performance Fitting centre at Gleneagles then went on to Cumbernauld to watch a set of clubs being put together.
I've always loved Mizuno irons. I picked up my first set (TP-19 blades acquired second hand from Jim Farmer in St Andrews) in the late 90s and used them for five or six years before moving on to MP-32s in 2005. I've had that set re-shafted once, bent back into shape a couple of times and re-gripped at least five times.
I play a lot of golf and would estimate those MP-32s have completed something like 1,500 rounds – they're a bit tired, but I was reluctant to get rid of them. But, when playing in the Tomatin pro-am last month, I foolishly attempted a shot from the beach at Nairn and took a massive lump out of the bottom of the 6-iron. As similar injuries have occurred in the past to both the 5-iron and the 8-iron, I decided it was time to act.
At The Open earlier this year, I was given a sneak preview of an imminent release from Mizuno – the MP-5 "channel back" irons. At first glance I was smitten. 'These could certainly be a worthy replacement for my beloved MP32s,' I thought… they were just so shiny!
Mizuno MP-5 iron review:
The MP-5s were released, together with the MP-25s, in September and when I read about them (and looked at the pictures) on this website, my desire to own a set was rekindled. The incident with the stone and the 6-iron was a trigger for a spot of research. As luck would have it, I discovered that Mizuno has just opened a Performance Fitting Centre at the Gleneagles Golf Academy – perhaps my visit to the beach was fate? Quite possibly, but frankly I couldn't care whether a higher force was at work and I booked myself in for a fitting. I went down for it yesterday.
First thing to say is: What a place to be fitted for a set of clubs! Arriving at the venue for the 2014 Ryder Cup, I felt like a professional as I strolled into the Academy for my 10am appointment. Then after meeting Mizuno master fitter Roland Fleming, I imagined I was something a bit special as I struck a few warm up shots out towards the Perthshire hills – A lovely "Walter Mitty" moment.
The Mizuno fitting process sums up everything the company is about – it's extremely precise, detailed and highly effective, but it's packaged as something that's wonderfully simple:
First step was to measure the distance from my knuckle to the floor with a clenched fist – this gives an indication of the correct club length – it turns out I should be using clubs that are half an inch longer than standard. My MP-32s were standard – so that's just 10 years using clubs of the wrong length then.
Next up was what I felt to be the most impressive piece of kit used in the fitting – the Swing DNA system. It's a device attached to the shaft of a club that gathers data when you hit the ball. I made just three swings and the device spoke to Roland's tablet to tell him my average swing speed, swing tempo, how much I flex the shaft and the extent of clubhead release. The software then processes that data and selects three (from 30) shafts that are best suited to your requirements: An extremely effective way of narrowing the options.
Next, Roland selected the correct 6-iron head – ever so slightly lighter for me as I was opting for a half-inch longer shaft – that's the sort of detail that Mizuno takes into account.
He then fitted the head onto the first of the three shafts and I, again, hit just three shots with it. At this stage a TrackMan monitor is used to capture data on the spin rate, launch angle, attack angle, smash factor – all those good things – and again, Roland was able to analyse these figures on his tablet.
I then tried the other two recommended shafts – three shots with each of them (although you could of course hit as many as you want and I was just being a bit lazy) and the numbers were there on the tablet for comparison. Based on a combination of: what I'd felt and seen in hitting the shots, the numbers returned by the analysis and Roland's expert opinion, there was an obvious winner – the Dynamic Gold X100. It was one of the shafts I would have expected to be matched up with, so I was very happy.
We then needed to check the lie angle, so I hit a couple of shots off a strike board with tape on the sole of the iron – I came in at 2 degrees upright. Also, roughly what I would have expected.
We then talked wedges and I opted to go for the S5 in the snazzy (and very popular) blue finish. As the pitching wedge in the MP-5 set has 46 degrees of loft, Roland recommended I went for 50, 54 and 58 degrees in the wedges. I agreed. All that was left then was to choose the right grip: all on Roland's tablet – oh the wonders of technology.
Mizuno S5 wedge review:
So, in about half an hour, I had hit only about 20 balls and had been fitted for a new set of MP-5 irons, Dynamic Gold X-100, half inch longer, 2 degrees upright, M-31 Mizuno grips with 1 layer of tape. Thanks to Roland's knowledge and the efficiency of the system, I left feeling we had absolutely nailed it.
It should be noted that you needn't go to Gleneagles for a Mizuno custom fitting - although I'd thoroughly recommend it as an experience. There are 500 MPFS (Mizuno Performance Fitting System) carts at golf clubs and facilities across the UK so there's bound to be someone close to you who can provide the service. Check out Mizuno custom fitting for more details.
Mizuno quotes a lead time of 5-7 days from fitting to delivery, although, in reality it could be a couple of days less than that - did I mention efficiency. So you don't have to wait long to get your hands on your new toys. I didn't even have to wait that long. Golf journalists were once described as the most underpaid yet over privileged people on earth and I often think that's a fair description. Yesterday was a good example of my over privilege, as I was invited to Mizuno's factory in Cumbernauld to watch my clubs being assembled.
Mizuno is a company that takes a great deal of pride in producing quality goods and I think it's important to get that message across. The people I met at the Mizuno factory demonstrated an obvious resolve to work as carefully and efficiently as possible and the result is an extremely impressive and effective operation. In my former life, working in procurement, I visited a number of factories and production lines but I've never seen one that runs as smoothly as the one I saw yesterday in Cumbernauld.
Production manager Adele McNee showed me around the facility and I must confess I felt a little like Charlie in the Chocolate factory as I looked at rows of gleaming shafts and neatly wrapped clubheads. Adele talked about how the 35 members of staff are constantly searching for ways to improve efficiency. "Kaizen" is the mantra; it's a Japanese concept of continuous improvement. In 2007 the factory was producing 8 clubs per member of staff per hour and a target was set to achieve 10 clubs per hour. They're currently averaging 13.
This progress comes through Kaizen. It's sort of like Dave Brailsford's "Aggregation of Marginal gains." A small improvement in a single process may not look much, but many small improvements make a big difference to the end result. So machinery has been adapted and developed and staff trained to work on every element of the production line.
As I was shown each process in turn, the staff member working on that particular element didn't just stand to the side and wait; they went to another section of the production line and worked on something else. It was rather inspiring to watch a group of people who take such obvious pride in what they're doing.
To see the team, and production line, in operation is quite remarkable. The speed with which shafts are cut to size, ground and sanded is incredible, grips go on in seconds, the heads are fitted and the adhesive dries within 20 minutes thanks to Mizuno's adhesive machines that were developed in-house and are a bit of a secret. As is the glue itself!
Those heads deserve a special mention. They're forged in a factory in Japan that works in tandem with Mizuno. The forging process begins with a bar of steel that is heated to a high temperature, it is then bent and shaped, ensuring the grain flows in one direction, hence the "Grain Flow Forged Irons." Metal, much like wood, has a grain and the best end result is achieved if this grain flows in the same direction. Once it has been bent and shaped the metal goes into the primary forging mould to make the basic shape. It's then heated again and goes into a second forging before grinding and finishing. It's a long and precise process.
And that precision continues through the assembly in Cumbernauld. Everything is checked and double-checked, lasers are used to ensure all alignments are perfect and swing weights are decided through careful analysis of spreadsheets. To see it really drove home just how much dedicated effort goes into the production of these clubs. I will be treating them with the respect they deserve. No more helicopters!
It took only 1 hour and 15 minutes from receiving the order and specifications to the point where my clubs were placed in a box, ready to go and I now have them at home where I am stroking and gazing at them in the style of Gollum with the Ring of Power. They look so good I almost can't bring myself to hit them, well maybe not until tomorrow at least.
Get the Golf Monthly Newsletter
Tips on how to play better, latest equipment reviews, interviews with the biggest names and more.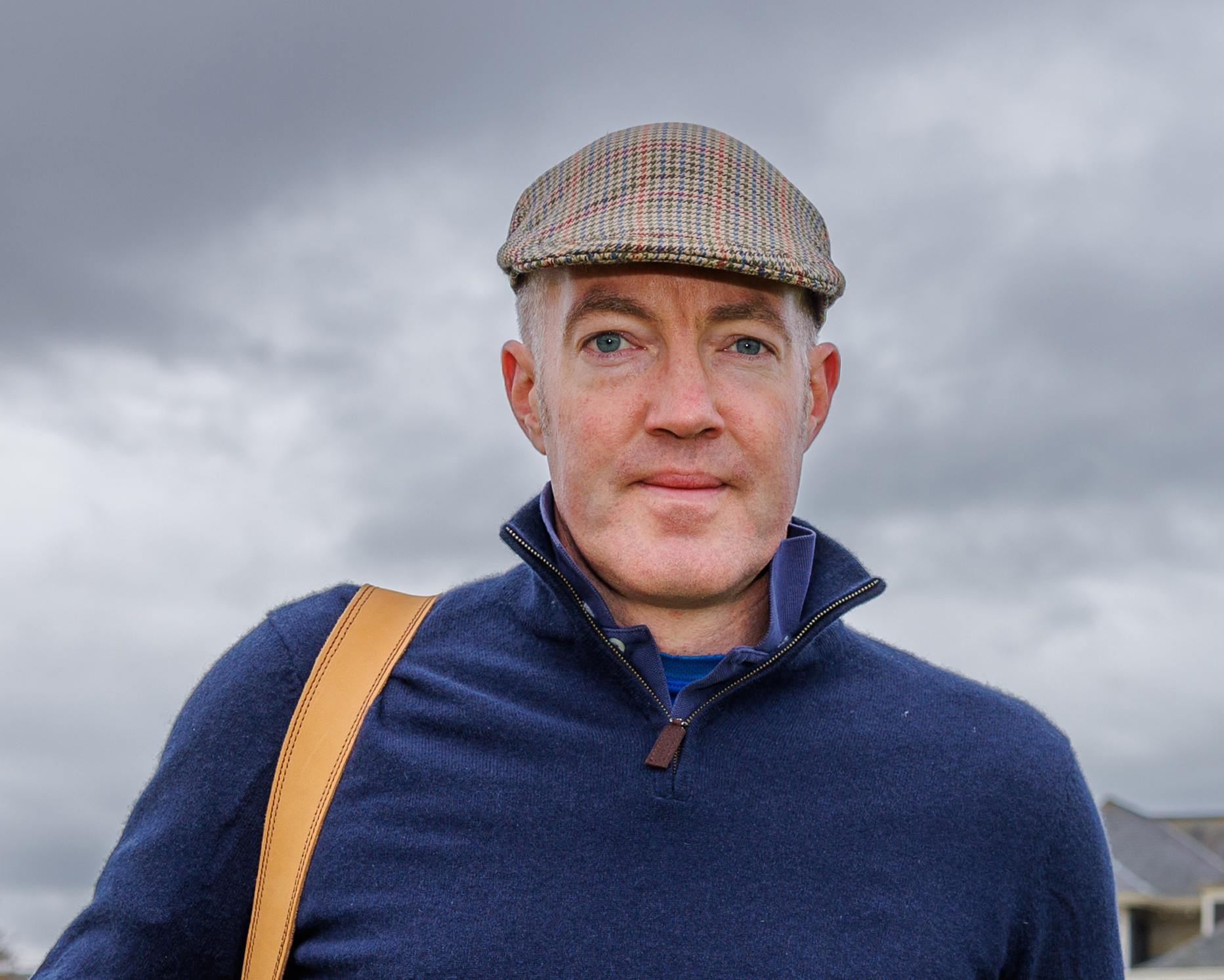 Fergus is Golf Monthly's resident expert on the history of the game and has written extensively on that subject. He is a golf obsessive and 1-handicapper. Growing up in the North East of Scotland, golf runs through his veins and his passion for the sport was bolstered during his time at St Andrews university studying history. He went on to earn a post graduate diploma from the London School of Journalism. Fergus has worked for Golf Monthly since 2004 and has written two books on the game; "Great Golf Debates" together with Jezz Ellwood of Golf Monthly and the history section of "The Ultimate Golf Book" together with Neil Tappin , also of Golf Monthly.
Fergus once shanked a ball from just over Granny Clark's Wynd on the 18th of the Old Course that struck the St Andrews Golf Club and rebounded into the Valley of Sin, from where he saved par. Who says there's no golfing god?