St Andrews: Pub golf and other pursuits
There are many places to visit to double your enjoyment of St Andrews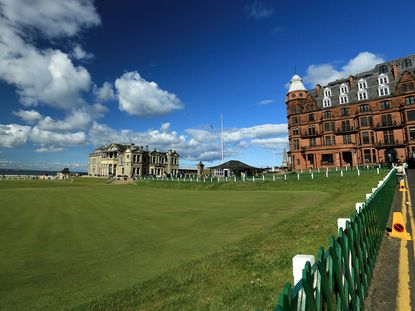 Golf Monthly's Fergus Bisset and Jeremy Ellwood went on a tour of some of St Andrews' places of interest and entertainment.
If you're looking to be kept entertained outside of the golf at St Andrews, you're in for a treat.
There are a number of places of interest, from the British Golf Museum to the Cathedral.
However, if you want to experience some of the local pubs before or after hitting the tourist spots, you'll need to know where to go. You may even want to engage in a round of pub golf.
Pub golf involves assigning pars to a selection of drinks throughout visits to numerous pubs. Par, in this format, refers to the number of sips that must be taken to consume the drink. One pub amounts to one hole. For a more detailed look at pub golf, check out our definitive guide.
Here are some suggestions for where to complete your round...
Hole 1 - The Jigger Inn
Any self-respecting pub golf match in St Andrews will start in the Jigger Inn. Formerly the stationmaster's lodge, this iconic white building dates from the 1850s and is adjacent to the 17th fairway of the Old Course. It is packed with character and golfing memorabilia.
It's a relaxed and comfortable spot to make a quiet start to your game. Find a snug corner, look at the old photos on the walls and confidently polish off a pint of Jigger Ale.
Hole 2 - The Dunvegan
Another 'must-visit', the Dunvegan is a favourite hangout of golfers and caddies alike. There are two options here: On a summer evening, sit outside and watch the golfing world travel around the corner of North Street onto Golf Place, or find a spot inside and check out the pictures of all the players and celebs who've enjoyed a beer or two in the pub over the years. Still in a state of total sobriety, a lager here will go down very nicely indeed.
Hole 3 - Ma Bells
This has been a favourite St Andrews haunt for many years. Under the Hotel du Vin, halfway up The Scores, it's changed guises a number of times in recent memory, but it's always been a lively spot frequented by a great blend of students and visitors. There's live music on Saturdays, but you'll probably be too focused on the task in hand to notice. You'll still have the thirst for beer at this stage and that's good, as Ma Bells has an excellent selection of local ales.
Look back on the history of the tournament
Hole 4 - Greyfriars Hotel
Follow the alleyway just beside Ma Bellsand you'll come back to North Street and, before you blink, the Greyfriars Hotel. With French doors looking out onto the road which can be opened in summer, this is another good spot for people watching. Depending on your pub golfing ability, you may wish to consider a change to shorts or (heaven forbid) half pints at this stage. Those of stronger constitution might opt for a pint of cask ale.
Hole 5 - Vic
Wander now (carefully) across the road and down Greyfriars Gardens. Within 30 seconds you'll see the Vic on the corner of Bell Street and Market Street. This is quite a funky spot so it's one where you might want to try a nice gin and tonic, or equivalent refreshing beverage. It's also a decent place for a spot of grub if you're beginning to flag.
Hole 6 - The Central
At the other end of bustling Market Street, The Central is a brilliant old-school pub with huge central bar and comfortable seating areas around the walls. This is also another pub that's great to sit outside on summer evenings as the world rushes by. This is definitely one where a cask ale is the best choice. You might be feeling a touch full by now, but keep pushing on.
Hole 7 - The Criterion
The Criterion is a great wee boozer on South Street, the ideal place to summon your strength for the final push. Cosy and friendly, there's often live music and there's a fine selection of drinks on offer. This might be a good chance to take a break from the beer and sample one of the 100-plus malt whiskies the Criterion has available. Make it a double for extra kudos.
Hole 8 - The Rule
Staying on South Street, The Rule has always been one of the liveliest pubs in town and, particularly when there's a tournament on, there's a good chance you might spot a celebrity in here. It's pretty spacious and has a garden out back. This hostelry can get quite busy later on. Difficult to look past the craft beers here, but they also do a good cocktail and, as it's the 8th hole, that might just seem like a good idea!
Hole 9 - The Cellar Bar
The only way to finish the round is at The Cellar, beneath Aikman's Bar-Bistro on Bell Street. It has a late licence and is open until 1am. It's also famous for live music, real ale and European beers. If you make it this far, it's the perfect spot to round off a brilliant game of pub golf.
These are our favourites for the 2015 Open
Places of interest
The Castle
A ruin on a rocky promontory overlooking Castle Sands, there has been a castle on the same site since the 12th Century. It was destroyed and rebuilt more than once during the Wars of Independence and was put under siege during the Reformation. Check out the underground passages, the siege mine and the countermine, plus the infamous Bottle Dungeon.
The Catherdral
The sheer scale of this ruined cathedral provides visual evidence of how magnificent and significant it must have been in the Middle Ages. Stroll around the ruins of Scotland's largest church, visit the graves of Old and Young Tom Morris, climb St Rules Tower for incredible views of the town and explore the museum with its Pictish, Medieval and post-Reformation exhibits.
The Pier
A remnant of St Andrews' fishing history, a stroll down the pier delivers superb views back towards the cathedral and castle. It's an excellent place to reflect and forget your golfing woes. On Sundays you might see the students taking the traditional pier walk in full academic dress.
The Quad
Of the many beautiful university buildings at St Andrews, St Salvator's Quadrangle is particularly spectacular. St Salvator's Chapel on the North Street side of the Quad dates from the 15th Century and is an impressive example of late Gothic architecture.
The British Golf Museum
With over 17,000 objects in its collection, this superb museum tells the history of our sport, from its origins up to the present day. This is an absolute must-see for any golfer visiting St Andrews.
West Sands
This is one of Scotland's great beaches – famous as the setting for those memorable early scenes in the film, Chariots of Fire. Stretching out from the town for almost two miles alongside the golf courses, it's popular with walkers, runners, swimmers and kitebuggy riders. From further out, there are superb views back into town and there's the chance of seeing seals and seabirds.
The Streets
Simply strolling the bustling streets of St Andrews is one of the Auld Grey Toon's great attractions. With shops selling golfing memorabilia (check out The Happy Hacker in Burgers Close off South Street), fine art and just about anything else you can think of, it's easy to spend a few hours, and quid, wandering on South Street, Market Street, North Street and the roads that interconnect them.
There are cafés on every corner, there's Janettas famous ice cream shop, Fisher and Donaldson for cakes that are to die for (try the fudge doughnut), and restaurants catering for every taste – check out Blackhorn on Church Street for some seriously good burgers. St Andrews is a small place but everywhere you look there's something to interest or entertain.
Whether it's a blue plaque detailing some history of the town, a glimpse of a Seve Ballesteros-inspired weather vane, a tempting new café, a welcoming pub or just a knockout view, this is a magical place. Every ancient nook and cranny reveals something previously unseen.
Will Medlock graduated from UEA with a degree in Film and Television before completing a Masters in Sports Journalism at St Mary's in London. Will has had work published by The Independent and the Rugby Paper.