Callaway Mack Daddy Forged Wedge Revealed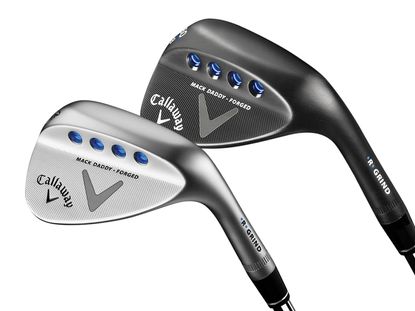 The new Callaway Mack Daddy Forged wedge has been unveiled, coming from the design table of experienced club maker Roger Cleveland, who had plenty of input from Callaway's tour professionals, as you will soon notice
The new Callaway Mack Daddy Forged wedge has been unveiled, coming from the design table of experienced club maker Roger Cleveland, who had plenty of input from Callaway's tour professionals, as soon becomes apparent.
Better player features of the new Callaway Mack Daddy Forged wedge include less offset and a less forgiving straighter leading edge that help increase precision, plus a crescent-shaped grind that makes half-shots and shots off tight lies easier to execute.
Within the Callaway range, it will sit alongside the Callaway Mack Daddy 3 Milled wedge, which is suited to all abilities, and the Callaway Mack Daddy PM wedge, which has a higher toe that makes its easier to hit shots out of deep rough and with an open face.
New Head Shape
The Callaway Mack Daddy Forged wedge has a new shape with less offset, a squarer toe and a straighter leading edge to give an appearance (below left) that is traditionally preferred by better players.
New R Sole Grind
Callaway has also introduced a new R sole grind for this wedge. It has a defined crescent shape and mid bounce that helps make a broad range of greenside shots easier to play, from square-faced low chip-and-runs to open-faced flops and everything in between.
New Centre Of Gravity Positions
The new Callaway Mack Daddy Forged wedge also features progressive centre of gravity (CG) positions that see the CG gradually move upwards as the lofts increase, promoting a lower and, crucially, easier-to-control flight in the higher lofts without sacrificing spin, making it easier to attack flags.
Related: 10 Of The Best Wedges 2016
New Groove Design
A new 16-groove configuration also features, with an added groove at the bottom close to the leading edge helping promote extra spin on shorter shots, such as pitches and chips. Progressive Groove Optimisation also sees three different groove patterns used across the lofts, which go from 50-60°. The higher lofts have wider, shallower grooves to grab softer, partial strikes, while a narrower, deeper configuration increases spin for full shots in the lower lofts.
Soft Feel and Two Finishes
The wedge is forged from a soft 1025c steel and comes in a choice of two finishes; Nickel Chrome with copper strike for a refined look, and Brushed Slate for a raw look.
Callaway Mack Daddy Forged Wedge Details
Available from January 20th, the Callaway Mack Daddy Forged wedge will cost £139 per club.
It will come in 50°, 52°, 54°, 56°, 58° and 60° options and come equipped with True Temper's Dynamic Gold Tour Issue S200 Blue label shaft, which is the most popular wedge shaft on the PGA Tour.
A matching blue Lamkin UTx grip, which is designed to promote outstanding traction and feedback, will complete the Callaway Mack Daddy Forged wedge package.
Jake O'Reilly specilaises in equipment coverage, and joined the Golf Monthly team in 2013. Before this he graduated from the University of Huddersfield with a Sports Journalism and Media degree, and worked at a number of British golf magazines. Follow Jake on Twitter
@jake0reilly