Bushnell Hybrid Rangefinder Launched
Bushnell's new Hybrid Rangefinder combines both laser and GPS yardages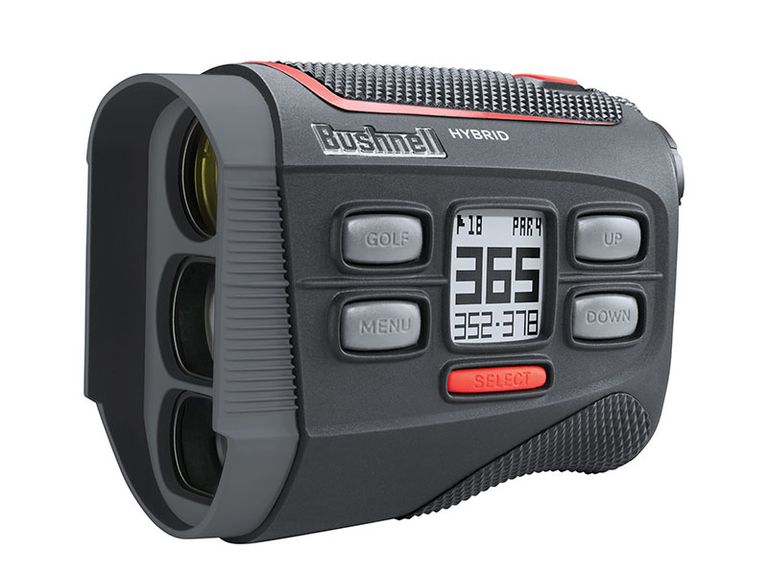 (Image credit: Amazon)
Bushnell's new Hybrid Rangefinder combines both laser and GPS yardages
Bushnell Hybrid Rangefinder Launched
Bushnell Golf has launched its new Hybrid rangefinder that combines the latest laser and GPS technologies in one device.
The new Bushnell Hybrid utilises precise laser and GPS yardages together, to allow golfers to get complete distance measurements like never before.
Exact distances to the pin are provided through the Hybrid's laser function, whilst a GPS display on the side of the product delivers front, middle and back yardages to help when golfers have blind shots or need quicker, more general information.
Related: Best laser rangefinders 2018
"The Hybrid provides golfers with more information than ever before. The two technologies 'talk' so that the golfer sees the front and back distances of the green in relation to the pin that is targeted with unmatched accuracy by the laser," said John DeCastro, Bushnell Golf Product Lane Director.
"The introduction of the Hybrid demonstrates Bushnell Golf's commitment to providing the best, most accurate information so those who golf with Bushnell can play their best."
Related: Bushnell Phantom GPS revealed
The new Hybrid rangefinder is fitted with Dual Power Technology.
That means that the laser is powered by a CR2 battery, whilst a USB rechargeable lithium ion battery powers the GPS capability.
Dual Power Technology allows the golfer to use the laser technology, even if the GPS is not charged, and vice versa.
As with Bushnell's other laser products, the Hybrid boasts PinSeeker with Jolt Technology, providing short, vibrating bursts to isolate the target and lock onto the flag.
Related: Bushnell partners with five Tour caddies
The vibrating bursts provided by Jolt Technology ensure golfers have the exact distance to the flag and provide ultimate confidence when making their club selection.
Hybrid Key Performance Features
1st ever integrated Laser/GPS display
Dual Battery source (CR2 for Laser, USB for GPS)
Hybrid Laser Features
PinSeeker w/ JOLT Technology
Accurate to 1 yard
5X Magnification
Ranges 400 yards to a Flag
Fast Focus System
Stable-Grip Technology
Tournament Legal
The Hybrid will be available at Bushnell Golf retailers nationwide from late April. The RRP for the Hybrid will be £399.
Make sure you follow Golf Monthly on Facebook, Twitter and Instagram