100th winner of Boss watch for hole-in-one
Milford golfer, Alan Clark, is 100th winner of Boss watch after recording a hole-in-one at New Forest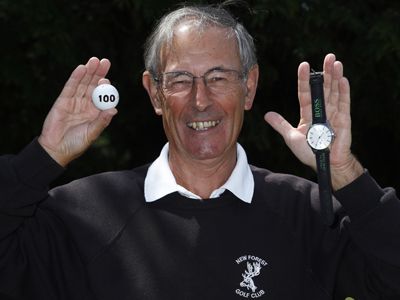 By Tom Clarke
Milford on Sea golfer Alan Clark, 71, has received a limited-edition BOSS watch after scoring a hole-in-one during a recent competition at his club and becoming the 100th recipient of the reward.
Clark scored his ace on the 140-yard, par-three 11th, at his club, New Forest - which celebrates its 125th anniversary this year - and the 18-handicapper was rewarded with membership of the exclusive BOSS Watches H1 Club and a specially-commissioned, commemorative timepiece.
Clark, said: "I had just messed up the previous hole, a par-five, where I took a nine - so with a one on the 11th I'd played the two holes to my handicap.
"Normally you'd do it six and four but the nine and one had the same effect," he laughed.
The luxury German brand, BOSS Watches, has pledged to reward club golfers with an exclusive watch for every hole-in-one recorded during a club competition between April 15 and October 31 this year. And, with nearly 4,000 holes-in-one recorded annually, BOSS Watches could feasibly be giving away £1m-worth in 2013.
The scheme is open to any golfer whose club uses HowDidiDo - a free-to-use, web-based social network for golfers - and anybody playing in official club competitions will be eligible. Currently, more than 1,800 clubs use the website. ce."
In addition to the limited-edition watch, Clark is also awarded membership of the exclusive BOSS Watches H1 Club which offers its members access to exclusive benefits and merchandise.
No extra registration is required to participate in the BOSS Watches promotion as all official club competitions are recorded on the HowDidiDo system, so holes-in-one will be noted and automatically ratified by the golfer's club.
Tom Clarke joined Golf Monthly as a sub editor in 2009 and was promoted to content editor in 2012 and then senior content editor in 2014. Tom currently looks after all the digital products that Golf Monthly produce including website and social media. Tom plays off 17 and lists Augusta National, Old Head and Le Touessrok as the favourite courses he has played. Tom is an avid viewer of all golf content with a particularly in depth knowledge of the pro tour.