2016 Nike RZN golf balls revealed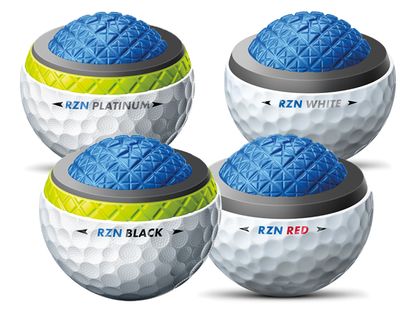 The 2016 Nike RZN golf balls include the Tour and Speed lines, which have new cores, mantle layers and covers
The 2016 Nike RZN golf balls have been unveiled, and include the new Tour and Speed lines.
The previous better-player Nike RZN Black and RZN Platinum models from 2015 have been improved to make the RZN Tour Black (below) and RZN Tour Platinum.
Similarly, the Nike RZN Red and and RZN White have evolved into the Nike RZN Speed Red and RZN Speed White.
Each the four additions for 2016 will feature new cores and covers for better performance.
Most noticeably this sees the balls made softer, with overall package coming in at five to six compression points less than previous editions.
This is partly achieved thanks to a softer RZN interior, and partly due to a more durable and softer urethane that will increase feel and feedback when you are chipping and putting.
Over 13,550 unique impressions on the cover's surface also help create a 344-dimple pattern that is more aerodynamic for longer carries and better stability in cross winds.
The 2016 Nike RZN golf balls are also different under the cover, with a core that is around 10 per cent bigger. This core also has deeper channels on the Speedlock pattern that stop the balls' layers slipping so they can compress more powerfully at impact, for more distance on mishit shots where you strike the ball with a glancing blow.
As previously mentioned, there are two lines. The RZN Tour Black and RZN Tour Platinum (above) models are four-layer balls that will suit faster swinging players.
In contrast, the RZN Speed Red (below) and RZN Speed White models cater for those after extra distance.
Prices for the 2016 Nike RZN golf balls
The Nike RZN Tour Black and Platinum models will retail at £39.99 per dozen.
The Nike RZN Speed Red and White (below) will cost £29.99 per dozen.
Jake O'Reilly specilaises in equipment coverage, and joined the Golf Monthly team in 2013. Before this he graduated from the University of Huddersfield with a Sports Journalism and Media degree, and worked at a number of British golf magazines. Follow Jake on Twitter
@jake0reilly