'There Was A Very Real Fear The First Solheim Cup Would Be Hopelessly One-Sided'
Lewine Mair takes a look at the Solheim Cup's evolution and iconic clashes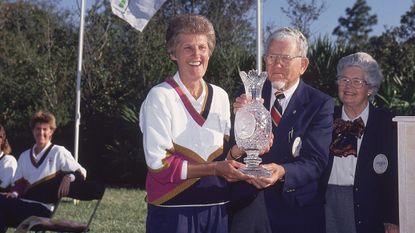 (Image credit: Getty Images)
Such were the concerns ahead of the inaugural Solheim Cup in 1990 at Lake Nona that no arrangements were made for public spectators. A few club members were out and about, but the main body, such as it was, consisted of the players' families and the media, virtually all of whom were guests of Ping, the sponsor.
One explanation for the 'behind closed doors' approach was that the paperwork had been completed only a couple of months earlier. Also, there was a very real fear that the match would be hopelessly one-sided. The late John Laupheimer, who retired as the LPGA's commissioner in 1988, was not alone among his fellow Americans in thinking that it was way too soon for such a contest.
The Americans' assessment was fair enough. After all, the LPGA Tour had started in 1950, while it was not until 1978 that the Ladies European Tour (LET) came into being. So it was inevitable that the CVs of the two teams made for very different reading when it came to the 1990 Solheim Cup.
The Americans boasted an Aladdin's cave of top titles; the Europeans' successes were mostly achieved on an LET circuit where the prize money was but a fraction. But the fact that Dame Laura Davies had won the US Open in 1987 and Lotta Neumann in 1988 could not be ignored.
When the Americans came out on top at Lake Nona, it was not quite so one-sided as Laupheimer and others had predicted. The score was 11.5-4.5 in a week when Davies and Alison Nicholas made a grand entrance with a win over Pat Bradley and Nancy Lopez.
There's something magnificent about the 100,000+ cheering, chanting, flag-waving fans who have packed the stands across the last few Solheim Cups. Yet the magic of that 1990 match was something that can never be replicated. You could position yourself just a few feet from the players, close enough to hear the memorable exchange between Rosie Jones and Davies as they set off from the 1st on day three.
Jones, as talented a mischief-maker as golfer, would have been well aware that Davies was inclined to fall out with her driver from time to time. She was not about to ignore the fact that Davies had just used her 3-wood.
"Is there a screw missing from your driver or something?" she asked, after Davies had belted her ball away. Davies, one of Suzann Pettersen's vice-captains in the forthcoming match at Finca Cortesin, answered in kind. "I won't," she said, "be needing my driver to beat you." Her forecast was spot on. She won 3&2.
Pride Comes Before A Fall
If the Europeans, at least, felt that first match augured well for the future, what happened two years later at Dalmahoy defied belief. I remember a friendly member of the visiting team arriving at Dalmahoy and talking, excitedly, of how she had come over with her parents and how the three of them were combining the match with a holiday in the Highlands.
That she should mention a holiday in the same breath as the Solheim Cup raised a few eyebrows among the home side, as did a comment from Beth Daniel, the 1990 LPGA Tour money list winner.
"You could," she said at her eve-of-tournament press conference, "put any one of the American players in the European team and make it better." Her comments were as manna from heaven for the British tabloids.
The Americans may have been advised against reading these papers, but they could not stop themselves. Needless to say, the locals read them too and, as a result, they were doubly desperate to see the home team succeed. The score? Europe 11.5, USA 6.5.
"We fell flat on our faces," admitted America's Dottie Pepper, a veritable firebrand who knows what it is to have done battle with her own side as well as the opposition. The worst thing on that front happened when she was commentating on the 2007 match.
At a time when she thought she was off air, she referred to the US team's Laura Diaz and Sherri Steinhauer as "choking, freaking dogs" after the pair ended up with just a half point having been two up with three to play.
It goes without saying that some of the Solheim Cup matches have stood out more than others, with my particular favourite the 2013 edition in Colorado.
When, on the eve of the singles, the delightfully naive Charley Hull – only 17 years old at the time – was asked which American she would most like to play, her initial answer was that she would like to take on the lot of them. Then she narrowed it down to Paula Creamer, "because it would be quite something if you could say you had beaten her".
Hull had her wish. She played fearlessly, reeling off five birdies to Creamer's two to beat the 2010 US Open champion 5&4. Creamer was still in shock when, as the two shook hands, Hull asked if she could have her autograph for a friend back home.
The cheek of it! In the minutes that followed, a disbelieving Creamer could be seen regaling her colleagues with this improbable piece of information.
Yet some years later, when I met Creamer in Singapore and asked what she remembered of the incident, she burst out laughing. "It didn't," she said, "take long for me to realise that I might have done something like that when I was Charley's age."
Don't Poke The Bear
Going into the match at Finca Cortesin, the Americans lead by ten Solheim Cups to seven. Safe to say it could have been 9-8 but for what happened at St Leon-Rot in Germany in 2015 - one of a number of Solheim Cup controversies.
This was a match which prompted irritation even before it had started. Where, for example, was the 1st tee? What looked like a helpful signpost as you crossed the bridge to the handsome St Leon-Rot courses read as follows: "Speyer 19km; Waldorf 8km; St Leon 4.2km; Kirrlach 8.1km." It might have served the odd cyclist well enough, but it was scant use to those looking for the 1st hole.
And it was here that Pettersen lost her patience on the 17th hole in the four-balls. She and Hull were level with Alison Lee and Brittany Lincicome when Lee snatched up her ball on the green without waiting for a "that's good" or its equivalent.
Since the referee had neither heard nor seen anything to suggest the putt had been given, and with Pettersen confirming nothing had been said, Europe was awarded the hole to mount the 18th tee with a one-hole lead. They turned it into a win and an overall European lead of 10-6 going into the singles.
The American version of events was that they thought they had been given the putt, with Lee thinking she had "heard something". Juli Inkster, the US captain, let it be known her take was that "poor Alison", as she called Lee, had been the victim of a terrible injustice.
That this powerful soul soon had her troops feeling the same had its effect on the Europeans. In no time at all, their steely determination had given way to out-and-out embarrassment. The Americans claimed 8.5 points during the singles to claim victory.
From Sinner To Saint
Time passed and when, in 2019, Catriona Matthew took on the captaincy, she knew her decision to pick Pettersen wouldn't meet with all-round approval. Quite apart from events at St Leon-Rot, Pettersen had given birth to her first child in 2018 and played just a few rounds in the ensuing months.
People thought that wasn't enough, but when Matthew took a long look at Pettersen and the others on the fringe of making her side, she didn't have to think twice about which one the Americans would least want to play. It proved the best of decisions, with Pettersen holing a beastly six-footer to seal overall victory at Gleneagles and be seen as saint rather than sinner once more.
Two years later and Pettersen was one of Matthew's vice-captains for the match at the Inverness Club, which yielded a second successive victory for the Europeans. Now Pettersen is captain and 100 per cent the right person to provide the best possible match for America's feisty leader, Stacy Lewis.
The two may compare touching tales of their respective offspring ahead of the match days, but no-one should be fooled into thinking their exchanges will be in quite the same friendly vein in the event of any St Leon-Rot-style altercation.
Perhaps more so than at any time since 1990, the teams' CVs are well matched. Leona Maguire, Celine Boutier and Linn Grant have won on the LPGA Tour this year, while Hull's season includes 5 LPGA runner-up positions. And Lilia Vu and Allisen Corpuz are just two Americans to have shown stunning form of late.
Mind you, it's impossible to say which side will perform better at Finca Cortesin, an absurdly pretty and prestigious venue but one with a course that asks tough questions.
Nicolas Colsaerts, who won the 2012 version of the World Match Play here, believes the course will work particularly well for the women in terms of atmosphere: "It's not on the same spacious scale as Gleneagles, but there are lots of valleys and that's where you'll get clusters of spectators making all the noise you want to hear in a Solheim or Ryder Cup."
If there is one player I can see charging up those slopes, rather as she charged up the KPMG LPGA Championship leaderboard with a closing 64 for a share of 3rd place, it is 33-year-old Carlota Ciganda.
The Spaniard's emotions are seldom to the fore, but that day she could not conceal her joy, explaining afterwards, "I love when I am up there and I love what I feel. This is what I live for."
To have such a golfer playing in front of her own people at Finca Cortesin could well be one of Pettersen's trump cards.
Get the Golf Monthly Newsletter
Tips on how to play better, latest equipment reviews, interviews with the biggest names and more.
Lewine Mair was the first woman to be signed on as a sports' correspondent for a national daily paper. She was with the Daily Telegraph for 18 years, six of them covering sport in general and the remaining 12 as the paper's golf correspondent. She has also written for The Times and, today, is a regular contributor to the American digital magazine, Global Golf Post.