Who Would Dame Laura Davies Pick As Her Solheim Cup Dream Team?
Ahead of this year's Solheim Cup, we asked 12-time player and 2023 vice captain Dame Laura Davies to select her all-time side to beat the Americans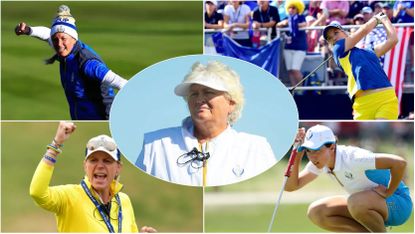 (Image credit: Getty Images)
Get the Golf Monthly Newsletter
Thank you for signing up to Golf Monthly. You will receive a verification email shortly.
There was a problem. Please refresh the page and try again.
Dame Laura Davies was at the Solheim Cup right from the very start and no-one has played more times (12) or scored more points (25).
Who better, then, to pick an invincible European dream team for the ages.
Laura Davies European Solheim Cup Dream Team
Laura Davies
If I'm allowed to pick myself, I'd want one of the spots. I loved playing in the Solheim Cup and I liked the atmosphere of my mates being in the team as you had even more fun. Quite a few of my teammate suggestions are really good friends. If you're having fun, you normally win! My favourite Solheim Cup memory was when we won at Dalmahoy.
There were only ten in the team, all youngish players up against an incredible US side. It felt like an incredible triumph when Catrin Nilsmark holed her putt on the 16th to win the Cup. It was a miracle. A perfect example of how good friends can get the job done against all the odds. That's my personal favourite memory.
Catriona Matthew
'Beany' was a great Solheim Cup player and an even greater captain. Her joy when we won the Cup at Gleneagles in 2019 is something I'll cherish forever. She's quite a quiet person, pretty reserved, but you saw the real Beany that day when Suzann Pettersen holed that winning putt – just the sheer joy on her face and tears of happiness.
Her husband, Graeme, was also in tears and normally you wouldn't ever see Graeme Matthew cry, so that's my overriding memory. It was the result of their hard work. They put two years and more into that Solheim Cup and the result meant everything to her. It was so well deserved.
Annika Sorenstam
Annika was always our best player. She won so many tournaments. She was really good in the Solheim Cup. None of the Americans particularly enjoyed having to play against her. I could pick dozens of shots or moments she had in the Solheim Cup, but I've got one favourite funny memory. Marie-Laure de Lorenzi was playing against Dottie Pepper in the singles at Muirfield Village in 1998. On the 18th green, Dottie holed a putt and went wild – a bit like the situation with Jose Maria Olazabal in the 1999 Ryder Cup. Marie-Laure still had a putt, which she ultimately missed, but it took a while for her to be able to hit it with all the celebrations going on.
In the team room, we had this blow-up balloon thing that you could punch, and it would sit straight back up again. Just for fun, we wrote 'Dottie' on it. Don't get me wrong, she's a great mate, Dottie, but she was the fiery one of their team. Annika was so angry at that display on the 18th green that she came into the team room after the morning session, stabbed the balloon and burst it. I've never seen her lose her temper like that. There was no malice, but it was a very funny moment. So that's my favourite memory of Annika.
Carin Koch
Carin has one of the best Solheim Cup records, especially in the singles. She was always very reliable. She holed the winning putt on the 17th green for us at Loch Lomond in 2000 – a tremendous putt.
Anyone who gets to hole the winning putt, well, that's a huge moment for them. I was pleased for her when she did because she deserved that moment of glory.
Trish Johnson
I couldn't leave out Trish Johnson. She played in eight Solheim Cups and was always very reliable. Although, like me, she never had the opportunity to hole a winning putt for us, she was just solid.
She never cared who she played against. When she was a bit older, she was always willing to play with the rookies. She'd also happily play with Annika and absorb the mass crowds. She was there for the team. She got unlucky in the singles draws. Most times she seemed to draw one of their very best players.
Alison Nicholas
I'd love to go back 30 years and play four-ball and foursomes again with Ali. My best memory was at our very first Solheim Cup at Lake Nona. We were on the tee early because we were so nervous. We were the very first match to tee off against Pat Bradley and Nancy Lopez. For us to be stood there on that tee with those players in our first ever Solheim Cup match was so nerve-wracking.
My memory is just the sense of humour Ali had. To be fair, she had to hit the first tee shot because I refused to do it. I pulled rank on her! We were both terrified. Believe it or not, we won 2&1 and that was probably the only time we led because they flogged us that week.
Suzann Pettersen
Suzann Pettersen is in my team for every obvious reason you could imagine and more, topped off by that winning putt at Gleneagles. It was the greatest moment in Solheim Cup history and she retired within half an hour of holing it. That's the best way to retire in sport ever.
I'm sure a few others have done it over the years, but that was Suzann's moment and I don't think anyone will ever forget it. I think that even if she had missed that putt she was going to retire after the event, but because she's Suzann she was never going to miss it. She had the technique, she had the bottle and she holed it. It was the best way to go out.
Charley Hull
Being a vice-captain for Charley Hull over the last few years has been great fun. I love the care-free way she plays. Plus she's English, so I'm a little bit biased. I know we didn't win the Solheim Cup in Germany in 2015, but the way she played that week was incredible. Some of her golf was just outstanding.
Having said that, probably her best Solheim Cup moment ever was when she played in her first Cup in Colorado in 2013, won her singles match against Paula Creamer and then asked Paula for an autograph on her ball for one of her friends. It was probably not the best time to do it, but Paula was gracious enough to sign it. That's a great insight into Charley. She's kind of oblivious to everything, but just the best player and a lovely girl.
Georgia Hall
I've got on really well with Georgia Hall over the last two Solheim Cups as a vice-captain. You go out with the groups and I've been out with Georgia for every game she's played in. I've just enjoyed watching her play.
Her calmness under pressure is why she's so good, really. Her game is obviously very good as well. It's just been great fun to watch her and to get to know her. She has that standout focus and concentration.
I think, like some of the other younger players, she just gets on with it. They've practised enough and they know what they can do.
Mel Reid
Mel Reid is in my team because she always had the biggest heart and was always fighting. Even if she wasn't playing well going into a Solheim Cup, you knew she'd turn her game around because she loved it so much.
I'll always remember Mel for Ireland in 2011 when we played a couple of four-ball matches together. We won one of our matches quite nicely. It was just great fun to be out there with her.
She absolutely loves representing Europe. I know Mel really well. She's a terrific player and loves the Solheim Cup.
Carlota Ciganda
Carlota Ciganda is one of my favourite players – the life and soul of the team room and an absolutely fantastic golfer. My favourite Solheim memory of her is her performance in Colorado. I've never seen anyone drive the ball more crookedly – except for me! Yet her shot-making and the way she got out of trouble and went on to win that singles match were quite incredible – some of the best golf I've ever seen.
I wasn't playing. I was doing the TV commentary and remember that match. She hit a massive hook on one hole and I can remember turning to a colleague and saying, "Surely she's going to just shake hands on this hole halfway down the fairway?" Then from nowhere, she manages to hit it onto the edge of the green and two-putt for a half. It was almost like watching Seve play.
Helen Alfredsson
The final member of the team is the toughest to pick, because there are so many other great players I could include.
It would be easy for me to make up three 'dream teams' with the talent in Europe. Anna Nordqvist has always been a fantastic player for us and is a big omission from my list. But I have to go back to my era and pick 'Alfie' because she used to wind the Americans up and that was always good fun. It was never premeditated. She was just loud!
You knew exactly how she felt and some players don't really like that. She was a great competitor and player.
DAME LAURA DAVIES' EUROPEAN SOLHEIM CUP DREAM TEAM:
Dame Laura Davies
Catriona Matthew
Annika Sorenstam
Carin Koch
Trish Johnson
Alison Nicholas
Suzann Pettersen
Charley Hull
Georgia Hall
Mel Reid
Carlota Ciganda
Helen Alfredsson
Get the Golf Monthly Newsletter
Tips on how to play better, latest equipment reviews, interviews with the biggest names and more.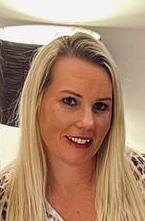 Carly Frost is one of the golf industry's best-known female writers, having worked for golf magazines for over 20 years. As a consistent three-handicapper who plays competitive club golf at Parkstone and the Isle of Purbeck courses in Dorset every week, Carly is well-versed in what lady golfers love. Her passion for golf and skill at writing combine to give her an unbeatable insight into the ladies game.
Carly's role at Golf Monthly is to help deliver thorough and accurate ladies equipment reviews, buying advice and comparisons to help you find exactly what you are looking for. So whether it's the latest driver, set of irons, golf ball, pair of shoes or even an outfit, Carly will help you decide what to buy.
Over the years Carly has been fortunate to play some of the greatest courses in the world. Her view 'from the ladies tee' is invaluable. She ranks Sea Island, Georgia, USA, where she met her husband, world-renowned golf coach Dan Frost, among her favourite golf resorts. Their aptly-named eight-year-old son Hogan is already hitting the ball as far as Mum and will undoubtedly be a name to watch out for in the future.
Carly is a keen competitor and her list of golfing achievements are vast. She is a former winner of the South West of England Ladies Intermediate Championship, a three-time winner of the European Media Masters and she once beat an entire start-sheet of men to the title of Times Corporate World Golf Champion. She has played for both the Dorset and Surrey County Ladies first teams and is known for her excellent track record at matchplay.
Carly holds the ladies course record (68) at her home club Parkstone and her lowest competition round (seven-under-par 65) was carded in the pro-am of the Irish Ladies Open at Killeen Castle, playing alongside Solheim Cup superstar Anna Nordqvist. Although her current handicap index has crept up to 3.7 since Covid she has her sights firmly set on achieving that elusive scratch handicap and hopefully playing for her country when she's 50.
Carly's current What's In The Bag?
Driver: Callaway Epic Max, 10.5°
Fairway wood: TaylorMade SIM2, 15°
Hybrids: Titleist TS2, 19°, 21°, 24°
Irons: Mizuno JPX900, 5-PW
Wedges: Cleveland RTX, 52°, 56° and 58°
Putter: Scotty Cameron Futura X5
Ball: 2021 Callaway Ladies SuperSoft