Rich Beem – True Grit: The 2002 USPGA
Rich Beem's remarkable victory at the 2002 USPGA Championship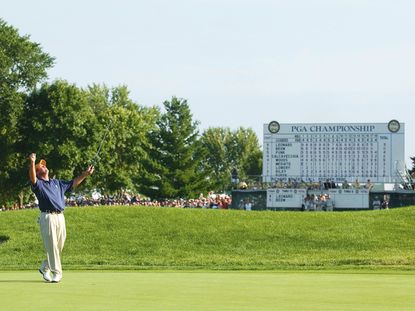 (Image credit: Getty Images)
Get the Golf Monthly Newsletter
Thank you for signing up to Golf Monthly. You will receive a verification email shortly.
There was a problem. Please refresh the page and try again.
Rich Beem endured a number of challenging years in his early career, but he came through and was rewarded for his perseverance with a remarkable victory over Tiger Woods in the 2002 USPGA Championship
Standing on the 15th tee at Hazeltine National in the final round of the 2002 USPGA Championship, Tiger Woods was five shots off Rich Beem's lead. He turned to caddy Steve Williams and said: "OK Stevie, if we birdie in from here we win this tournament." It was typical of Tiger's confidence but his logic was reasonable. He figured that if he could post a number then Beem, two holes behind, would buckle. Who was this guy anyway? He used to sell mobile phones, he'd been working in a pro shop just four years earlier, he'd struggled on the mini-tours and this was only his fourth Major. He'd surely collapse if the World No.1 applied sufficient pressure, wouldn't he?
The thing was, Rich Beem wasn't intimidated by the situation, he wasn't fazed by the threat of Tiger Woods; he'd faced more pressure than that in his life.
Beem graduated from New Mexico State University and turned pro in 1994. He took a job as an assistant professional at Sioux Falls Golf Club in South Dakota. His father, a PGA professional himself, had huge hopes for his son and Rich felt the pressure of those expectations as he failed to make an impact on the Dakota mini-tours. Beem fell out of love with the game and followed a girlfriend (who would later ditch him) to Seattle where he took a job as a mobile phone salesman.
Related: Tiger Woods' swing sequence
Rich lasted less than a year in that position before golf drew him back in. He barely touched a club for eight months, but watching old rival Paul Stankowski win the 1996 BellSouth Classic on the PGA Tour inspired him to give the sport another try.
He went back to the mini-tours and enjoyed a little success, so in late 1998 he decided to have a crack at PGA Tour Q-School. He made it through the first stage in 14th place, scraped through the second stage by the skin of his teeth and then gained his card in the third stage with a final round of 66. He had played 14 rounds of stress-filled golf simply to earn the chance to play on the PGA Tour – had Tiger ever felt pressure like that?
A colourful approach
In his first season on the circuit, Beem came from nowhere to win the Kemper Open – it was a blessing and a curse. The victory secured his card for two seasons but it made him complacent. He was already known for taking a fairly colourful approach to his off-course lifestyle, but the extra fame (and cash) provided by the win allowed him to hit it rather hard. A low point came when he was caught driving over the limit at 2:00am while in the UK for The Open Championship.
He missed eight cuts during the rest of 1999 and 16 cuts in 29 events in 2000. By the end of 2001 he was in danger of losing his card and he needed a top-ten finish at the Michelob Championship to keep it. He fought his way into a position where he had a chance. Battling tremendous nerves, he held on in the final round to secure gainful employment for 2002. And what if he hadn't? Who knows, back to selling phones or golf balls, perhaps? As Lee Trevino once famously said: "Real pressure is playing a match for $5 when you only have $2 in your pocket."
Buoyed by the resilience he displayed in late 2001, Beem enjoyed some good results in the first part of 2002 – a fourth and a second place being the best. In The International tournament, played to a Modified Stableford format, Beem looked set to record his second PGA Tour victory when he was eight points ahead through 16 holes of the final round.
But Steve Lowery holed his second to the 15th for an eagle to reduce Rich's advantage to three points. Beem heard the roar and struck back by holing a long putt for an eagle of his own on the 17th. That would surely be that. Not quite. Lowery then proceeded to hole his second for an albatross two on the 17th and cut Beem's lead to just one. As Rich stood beside the 18th green he was visibly agitated as Lowery came up the home hole. There was a distinct possibility a victory he had earned with a closing 63 might be snatched from him by a freak finish. A birdie would give Lowery the win; a par and Beem would take the title. When Lowery's birdie effort narrowly missed, Beem broke down. He could hardly speak to the on-course interviewer afterwards, his face drenched with sweat and tears. He'd come out on top after one of the tensest finishes in PGA Tour history. If any further proof was needed, this was it: Beem could stand up to pressure.
Thanks to this remarkable win, Beem wasn't a complete non-story coming into the USPGA Championship two weeks later. Still, he was just 73rd in the world rankings, having started the year at 284th. The top five at that time were Tiger Woods, Phil Mickelson, Ernie Els, Retief Goosen and Sergio Garcia. These men, with Tiger way out in front, were the favourites at Hazeltine.
Tiger had won The Masters and the US Open earlier in the year; he'd also won the Buick Open the week before the USPGA. He'd won the year's fourth Major twice before and most felt he would win it again.
After two rounds at Hazeltine Tiger was just two shots off the pace following rounds of 71 and 69. The lead was held by five players: former Major Champions Justin Leonard, Mark Calcavecchia and Retief Goosen, experienced campaigner Fred Funk and partially reformed party animal Rich Beem. After opening with a steady 72, Beem posted a superb second round of 66 – a score made possible by some simply incredible putting.
Beem had been one of the better ball strikers on tour but he struggled on the greens. In 2001 he was ranked 137th in putting. But for 2002 he had turned to a different putter – an STX Sync Tour. Used by a number of players, including Seve and Jesper Parnevik, it was centre-shafted with a bulbous weight behind the blade. It wasn't an attractive weapon, but it worked for Beem.
Despite his notable display on Hazeltine's tricky greens, and his tournament victory just two weeks earlier, most of the media viewed Beem's role in the tournament as a temporary side story. He was a character certainly, but a serious contender to win a Major? No, no, it would surely be one of those proven winners in the mix after two rounds who would go on to loft the Wanamaker Trophy.
But, after a very difficult third round in which the winds gusted to 40mph, making many of the already difficult pin positions look nigh on impossible, Beem was still there. His fighting 72 represented one of the rounds of the day, with only a handful of players managing better. One of those, Leonard, played outstandingly to score 69.
A nerveless display
Beem went into the final round of the year's final Major in solo second place, three behind Leonard with Funk in third and Woods in a tie for fourth, five shots off the lead. These were uncharted waters for Beem and many believed the nerves would get to him.
Early on Sunday Beem displayed no signs of buckling, with birdies at the 3rd and 4th holes, then another at the par-5 7th, where he hit a superb 3-wood to the front of the green.
Rich moved into a tie for the lead and Leonard began to suffer from the pressure far more obviously than his playing partner. The Texan double bogeyed the 8th and dropped three further shots to shoot a final round of 77, falling back into a tie for fourth place alongside Funk. As expected, it was Woods who would emerge to push Beem through a thrilling back nine.
Rich struck the first blow with an eagle on the 11th. It gave him a three-shot lead, and he extended it further when Woods dropped strokes at the 13th and 14th holes.
Beem was in command, but Woods wasn't finished. As he'd promised Williams, he birdied the final four holes to ask the question of the inexperienced leader.
Beem's answer was emphatic. As if to say "you won't bully me out of this one, Tiger," Beem played two fine shots to the treacherous par-4 16th then holed a hard-breaking 40-foot putt for a birdie three. It earned him a two-shot cushion with two to play. He parred the par-3 17th and could afford the luxury of making a three-putt bogey on the home hole. He still took the title by a shot.
He tapped in, lofted his arms and danced a celebratory jig. He had coped with the pressure again, faced up to the best player in the world and beaten him down the stretch to secure his place in golfing history. It completed quite a turnaround for a guy who had given up on golf completely just seven years earlier. Here was a man who had endured his struggles and bounced back from adversity to re-find his self-belief. Beem had been toughened by life; he had taken the knocks and rolled with the punches. He'd learned there was no reason to be intimidated by reputation; he had dealt with scarier things than a rampant Tiger. At the 2002 USPGA, Rich Beem displayed true grit and deservedly came out on top.
Get the Golf Monthly Newsletter
Tips on how to play better, latest equipment reviews, interviews with the biggest names and more.
David joined Golf Monthly in 2015 as a content editor for the magazine and regularly contributes to the website. He has worked in magazine publishing and editing since 2003. He is a keen golfer and up until recently was a member of Blackmoor Golf Club in Hampshire. He has covered various big events and tournaments for GM, the highlight of which was witnessing Tiger Woods win his 15th Major at Augusta in 2019. Email: david.taylor@futurenet.com