Looking to the future with Thomas Pieters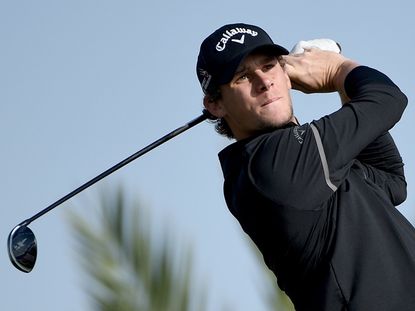 (Image credit: Getty Images)
Paul Mahoney travels to Turkey to meet Thomas Pieters, a confident yet likeable Belgian poised to take the European Tour by storm.
Famous Belgians: Audrey Hepburn, Jean-Claude Van Damme, Adolphe Sax, inventor of the saxophone, painters Rubens and Magritte, punk rock band Plastic Bertrand, Georges Remi, creator of Tintin, and astronomer George Lemaitre, who first put forward the Big Bang theory. Add to that list Nicolas Colsaerts, slayer of Tiger Woods in the 2012 Ryder Cup.
The way Thomas Pieters has hit the European Tour running since turning professional in 2013, it won't be long before the 6ft 5in tall 23-year-old from Antwerp takes his place among his country's celebrities. He won twice in 2015, at the Czech Masters and KLM Dutch Open, which propelled him inside the world's top 100. He is now on the radar of Europe's Ryder Cup captain Darren Clarke, who named him among a crop of rising young stars as potential rookies on the team that will fly to Hazeltine, Minnesota in September.
"Not thinking about it," Pieters says, admitting that, okay, he was now thinking about it. "People have mentioned it a few times. If I win two or three more times, I'll start thinking about it seriously," he adds. "It's an ambition for sure – maybe in 2016 but especially in the future. I want to be a multiple Ryder Cup player." Not shy or short on confidence, is he?
Of course, winning twice early in a career gives a player the belief that he belongs. There are plenty who have been on tour for years and have never won. No self-doubt from Pieters, though. "I knew I could win," he says. "First of all you've got to put yourself in a position to win, which isn't easy. Then you've got to close the deal. That feeling of winning was so exciting. I didn't back off. To be able to say you are a European Tour winner just sounds good. It's a special feeling."
Now what? "There are guys who have been out there for 15 years and have won four times. They get so much respect. I look at myself and I'm 23 and have won twice. There's no way I want to win four times by the age of 30. I want to win at least 20 or 30 times." How's that for honesty? No chance of Pieters employing the footballers' mantra of taking one game at a time. His unwavering self-belief punches you straight on the nose. Pieters reminds you of Ian Poulter – but without the attention-seeking hair and own-branded clothes.
Like many 20-something-year-olds, Pieters' hero from the age of five was Tiger Woods. Remember when Poulter said that, when at his best, it would be "just me and Tiger"? Well, listen to Pieters. "I look at Tiger and he has won what, 80 times?" It's 79. "For me, that's winning four times a year for the next 20 years. I feel that's something I can do. Why not?"
Pieters says all this in such a quiet and unassuming way that the words almost creep into the conversation unnoticed – if it weren't for his extraordinary claims and the fact that his Hercule Poirot accent has a strong American twang picked up during his college days in Illinois. You have to doff your cap to him. Pieters thinks and talks like a champion. He's started well but he's set the bar high for one so young who says he doesn't set goals.
"I don't like to set a bunch of goals," he says. Well, apart from wanting to win four times a year for the next 20 years. "I just try to do the best I can every week. I like what Jason Day does. He doesn't set goals. He just gives it his all every week and if that gets him to No.1 so be it. I think that's clever."
Nothing that Pieters says comes across as arrogant. The way he delivers his ambitions reminds you of Rory McIlroy. It's refreshing. He knows he's good. There's no false modesty. He is a polite, well-mannered, approachable young man. "Rory is doing what Tiger did for the game ten years ago," Pieters says. "He's setting the standard for fitness and strength. I admire him. He's achieved a lot early in his career, too. But it's not like I get on the course and I'm afraid of him." There is a seriousness about Pieters. He clearly has a dream of being among the game's elite, but he has a sense of humour, too. "I don't watch golf on TV every week. I have a life outside golf!" he says. "I watch it to go to sleep!"
Amid all this brash talk, there is vulnerability about him, too. He's not a machine. He says he felt overwhelmed when he joined the travelling circus of the European Tour. "I missed nine cuts in a row. Yeah, I did panic," he admits. "There were a lot of pep talks with my family. It's not like I was giving up but it was 'Damn, what am I going to do now? Am I really good enough?' It's funny how in 18 months you go from just trying to make a cut to tournament winner. It's all in the head. I went back to see my old coach, Mike Small, in Illinois five times. He's not really a coach to me; he's just a positive guy. I still call him. He believes in me."
Pieters had a stellar amateur college career in America. He beat Jordan Spieth and former World Amateur No.1 Patrick Cantlay to win the NCAA Division I Golf Championship in his first year at the University of Illinois. "I know and believe I can do what Jordan has done," Pieters says. "I never looked at myself as one of the best players like Jordan or Patrick. They won way more times than me. But when I won tournaments, it was the big ones. In the back of my mind, I knew I could do it."
Buoyed by his amateur performances, and with the backing of his college coach, Pieters dropped out of college to pursue his dream of playing professional golf. "I skipped the Challenge Tour. That would have been a good learning school," he says. "I played about three events but I hated it because I felt I was too good to be out there. I know that's real cocky to say. I think in some ways that got me through Qualifying School because I just wanted to be out on the main tour, not the Challenge Tour. I think it's all about mindset."
During our conversation at the Turkish Airlines Open, Pieters says he's looking forward to competing in his first Major Championships in 2016. "I'm super excited," he reveals.
So has he abandoned his sports management degree?
"I might still finish it," Pieters says.
"You're never going to finish it," I say.
"You're the first guy who's said that."
"You're never going back."
"No, I'm not going back but I can do it online and that would make my mum very happy. I'm thinking about it."
"It's never going to happen."
"We'll see."
He's never going back.
Tom Clarke joined Golf Monthly as a sub editor in 2009 being promoted to content editor in 2012 and then senior content editor in 2014, before becoming Sports Digital Editor for the Sport Vertical within Future in 2022. Tom currently looks after all the digital products that Golf Monthly produce including Strategy and Content Planning for the website and social media - Tom also assists the Cycling, Football, Rugby and Marine titles at Future. Tom plays off 16 and lists Augusta National (name drop), Old Head and Le Touessrok as the favourite courses he has played. Tom is an avid viewer of all golf content with a particularly in depth knowledge of the pro tour.