Byeong-hun An: A Reluctant Superstar
Byeong-hun An isn't someone who loves the limelight but it's something he can no longer avoid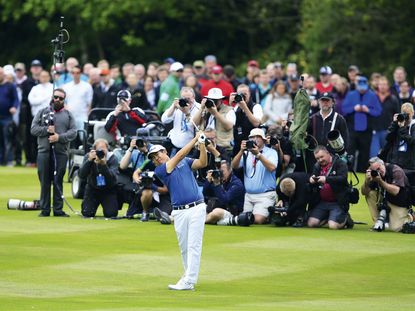 (Image credit: Getty Images)
Golf Monthly Newsletter
Golf tips and expert instruction, golf club reviews and the latest golf equipment.
Thank you for signing up to . You will receive a verification email shortly.
There was a problem. Please refresh the page and try again.
Byeong-hun An isn't someone who loves the limelight. But, as a world top-30 golfer and Asia's top-ranked player, it's something he can no longer avoid. Paul Mahoney finds out more...
Byeong-hun An got a shock when he flew into London in May from his home in Florida to defend his BMW PGA Championship at Wentworth. There was a giant billboard at the entrance to this exclusive Surrey estate with a photograph of him holding the trophy while looking down on the traffic on the A30. There were two others forming the backdrop of the grandstand behind the 18th green. An smiles and gives a little chuckle when asked what it felt like to see 40-foot photographs of himself. "It's nice to see myself and hopefully they give me back a poster so I can put it in my garage or something – but it's a bit big," he says. "It feels weird to see myself everywhere. That's what happens I guess when you win the tournament the previous year."
An shot a final-round 65 last year to run away from a field that included Rory McIlroy, win by six strokes and claim the biggest victory of his career. But success on the big stage had been coming for him ever since he became, aged 17, the youngest US Amateur champion in 2009. That gave him spots in the Majors and a taster of what the future could hold. "I didn't have expectations after I won the US Amateur but I know I got really lucky that week," An says. "In match play, you never know what's going to happen. A win is a win. But playing for three years on the Challenge Tour, Europe's undercard, helped boost my ability. It definitely helped to get me into the top 25 in the world."
An's victory at Wentworth last year opened up the Majors again as a professional. This year, his manager Chubby Chandler believes, will be another step up the ladder. "I would say you would want him to have one chance to win a Major this year," Chandler says. "I'm not saying he is going to win one but just to be in the shake-up with a round to go. And top 15 in the world by the end of the year. It wasn't a fluke he won the BMW PGA Championship last year. He is definitely capable of being a breakout player for Asia."
Europe's 2014 Ryder Cup captain Paul McGinley agrees, but ups the ante. He thinks An can be THE breakout player for Asia. "There is more expectation on him now. He's not coming in under the radar, which makes it more difficult," McGinley says. "But if you want to be a great player, you have to deal with that. Rory McIlroy, Jordan Spieth and Jason Day deal with that every week. You'd expect him to move to the next stage now and consolidate his position. We have seen such great success from the Korean girls but the guys haven't broken through yet."
An was asked in his press conference at Wentworth if he was ready to win a Major and be Asia's superstar. His answer was humble, bashful even, but there is an easy air of confidence about him. He is polite, charming and approachable and he is getting used to attention and meeting reporters. He performs all these duties, remember, in English. When he moved to the United States in 2005, he couldn't speak a word.
"I really don't want to be that superstar in Asia," was his response. "Well, we'll see after I win the first Major. I'm not sure. I just want to go wherever I want, and just do what I've been doing when I was in Asia. I just want to play golf and hopefully the golfers love me, but I don't want to be like a superstar. I just want to be a good golfer.
"There are a lot of good players now in Asia. Not just me. If someone speaks good about me, that makes me happy. I don't feel pressure. I love playing in front of big crowds. It gives me more energy. I see a lot of guys playing great golf right now, Jeunghun Wang, Soomin Lee, Thongchai Jaidee, Kiradech Aphibarnrat. They all are great players. They have the ability to win the Major events. I really think we have the ability or have the chance to win the Majors soon. I hope I can win one, too."
McGinley believes the quality of Asia's players will create the kind of peer pressure that brought an avalanche of Majors for Ireland. "Asia just needs one of them to get over the line and more will follow. Peer pressure is a big thing," he says. "Look at Ireland. Padraig Harrington won a Major then Graeme McDowell, Rory McIlroy and Darren Clarke won in quick succession. Golf needs an Asian superstar. Who's going to step up?"
An realises he needs to stay patient and keep working hard. His manager Chandler says that Ian Poulter told him An hits more balls than anyone on the range at Lake Nona in Orlando, where An and many tour pros live. An references YE Yang's victory over Tiger Woods at the 2009 USPGA Championship as motivation for what can be achieved.
"As the first Asian to win a Major, he gave the rest of us confidence and showed us that we could do it, too," An says. But he is realistic to admit that a meteoric rise like Jordan Spieth's to the upper echelons of the game is unlikely. "I am far away from what he has done. He's won two Majors already. Age doesn't matter. Jordan is more mature than other 22-year-old kids and obviously has the game to win Majors." An does too. Sages such as McGinley and Chandler know it. An, one suspects, is just beginning to realise it.
Perhaps the next step on his graduation to becoming a reluctant Asian superstar is to challenge for a gold medal at the Rio Olympics this summer. "That would be pretty cool," he says. "Some people might hate it because it adds to the schedule but it's only once every four years so I don't see a problem. I like it." He has little choice than to embrace the Olympics – it's part of his family history. At the Seoul Games in 1988, An's mother won a table tennis silver medal for China and his father won bronze for South Korea. But at the family home, none of this great achievement is ever mentioned.
"We have never talked about what they did at the Olympics," An says. "I've never even seen the medals. Don't even know where they are. My parents are not the type to show off. They are really humble so they don't really speak about it." An has inherited his parents' humility. "My dad is the national (table tennis) team coach, so I'll see him there if I make it."
The Zika virus that is turning players off the trip to South America holds no fear for An. "Well, I don't mind," he says. "I'm not going to have a kid for a couple of years. I heard it takes six months or a couple of weeks to get the virus out of the system, so okay. It's the Olympics; I really want to play and I don't care."
An's aim is to have a dual tour card. He realises it's important to keep playing in Asia to support his home tour, so the plan for now is to play on the Asian Tour as well as the European Tour. But the long-term plan is to secure a PGA Tour card. He says he didn't really have any heroes when he was growing up but "liked watching Tiger because he was so different."
An is his own man. "He's very focused," says Chandler. He goes about his business quietly but there is no laying up in his game or his attitude and ambitions. "I go for it a lot in golf," he says. "I hope I'll win some Majors."
David joined Golf Monthly in 2015 as a content editor for the magazine and regularly contributes to the website. He has worked in magazine publishing and editing since 2003. He is a keen golfer and up until recently was a member of Blackmoor Golf Club in Hampshire. He has covered various big events and tournaments for GM, the highlight of which was witnessing Tiger Woods win his 15th Major at Augusta in 2019. Email: david.taylor@futurenet.com