Kiradech Aphibarnrat: Flying the Flag
Paul Mahoney meets Kiradech Aphibarnrat to discuss his pride at representing Thailand on the world stage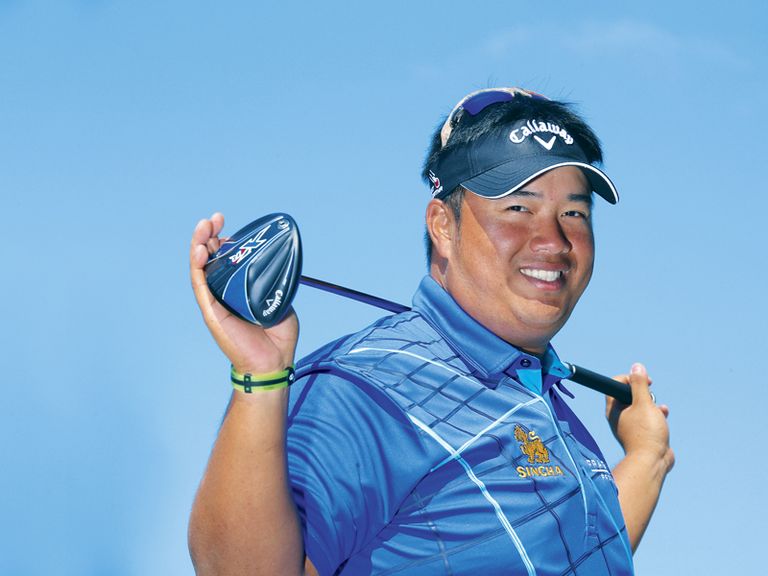 Paul Mahoney meets Kiradech Aphibarnrat to discuss his passage into the sport, his golfing idols and his pride at representing Thailand on the world stage
It's a name that spreads fear into the hearts – but mostly the hands and eyes – of trophy engravers across the golfing world. There is only one player they are rooting for in a play-off between Kiradech Aphibarnrat and Ernie Els. Or Jason Day. Or Adam Scott. You get the point.
Thailand's number-one golfer and world top-40 player knows his name makes him stand out, especially when it appears squashed onto leaderboards. It's one of the reasons why people follow him.
"I think it's because my name is quite tough or it sounds funny," says the 26-year-old from Bangkok. "But I love it when everyone tries to say it. It doesn't matter if they get it wrong, I know they are calling me."
The thing is, Kiradech Aphibarnrat is not even his real name. Rather like the agent of '60s crooner Arnold Dorsey, who thought it would be a good idea to change the singer's name to Engelbert Humperdinck – something presumably dreamt up halfway down the third bottle of Bollinger – Aphibarnrat's parents chose to impose the Thai tradition of changing the name for good luck of their son, formerly Anujit Hirunratanakorn. And no, that's not an anagram of Kiradech Aphibarnrat.
"When I was 16 my mother suggested I change," he says. "First, I did not really believe it but I just did it to make my parents happy. My mother chose my new name. In my head, I still think in my old name. All my friends still call me An (from Anujit). It's my nickname," he says.
Aphibarnrat has been making a name for himself – and it's not just his name or his game that is getting him noticed. He is built like a fridge or a rugby front-row forward. He weighs in at 16st 9lb but is just 5ft 8 and 1/2 inches tall. The half an inch is clearly important. He's a jolly fellow – polite, charming and good company. He learned golf's universal language of English not in a school classroom, but from playing the game around the world and hanging out in clubhouses and on practice grounds.
"I didn't pay enough attention in school," he says. He has graduated to fluent, nevertheless. "I can't read it as well, though," he adds. His gentle demeanour hides the fire in his belly. He's trailblazing for Thailand and Asia. He feels that pressure, too. "I have a lot of fans in Thailand," he says. "They all come to support me when I play at home. They expect to see more wins and Thai players in Major Championships. All of their support pushes me up when I have bad days. I feel a responsibility to represent them."
Aphibarnrat has won three times on the European Tour. His maiden victory came at the 2013 Maybank Malaysian Open, followed by triumphs at the Shenzhen International and the Saltire Energy Paul Lawrie Match Play tournament, which both came in 2015. "Winning a Major would be a brand new start for Thailand," he says.
He reveals the boss of Singha, the Thai brewer, looks after all the Thai players with generous sponsorship deals. "He wants a Thai player to be a world star. We are working hard to try to make it happen. All the money he has spent, he does not want it back. He just wants one day to see a Thai player win a Major like Tiger and Rory." Aphibarnrat wants to be that breakthrough player. "Now I have the opportunity, I try my best," he says. "If I can't do it, we will have a new generation who will continue and I believe one day we can do it."
Golf is still only an emerging sport in Thailand, and still expensive. Aphibarnrat was about six years old when he used to accompany his father to a driving range. He had no interest in hitting balls. "I was into soccer like all the other kids," he says. "I thought golf was a boring old man's sport." But intrigue eventually got the better of him. "One day, with nothing to do, I grabbed a club and tried to hit a ball. Three times. I missed every time. Then I thought: 'Hmm, this sport is interesting'. If you want to kick a football, the ball is moving, and it's easy. But in golf, the ball just sits in front of you and you can't even hit it. I think it's more interesting."
So he asked his father if he could try it. He played with a cut-down 7-iron for six months. He was asked if he wanted to play in junior events, but the kid was happy to just hit balls after he'd finished his homework. Eventually, he was persuaded to enter a competition. "I shot maybe almost 200," Aphibarnrat says. "My dad wanted me to sit and wait to see all the winners get their trophies. I was watching them and I just wanted to get that trophy and all the applause. I worked hard after that. My first win was when I was ten. Then I just kept winning and winning," he says. "I loved that I could play with my dad."
Once he committed to the game, Aphibarnrat found out he had a talent for it. He won the Junior World Under 15s Championship in 2003 and 2004. "By the time I was 15, I had won about 100 events in Thailand and Asia," he says. He went to college to study golf management and was on the gold medal team at the World University Games in 2007. He turned professional in 2008 and claimed his first victory in 2009 – the Singha Pattaya Open on the Mercedes-Benz Tour by 11 shots. His first Asian Tour title was the 2011 SAIL Open, before he graduated to play among his heroes on the European and PGA Tours.
"When I started playing golf at eight years old, 18 years ago, at that time Tiger was on fire," Aphibarnrat says. "All the kids had Tiger as their hero. I still like him now. I just wanted to be like him one day." An unexpected hero, though, is Lee Westwood. They had a picture taken together when Aphibarnrat was 18. "Lee has always inspired me," he says. "I have been watching him since he reached the top ten in the world in 1998. Then he went down to outside the top 200 and came back to be World No.1. The way he fought back, I loved that. He's one of my heroes. I have chatted to him a lot and now I have played with him a couple of times."
Aphibarnrat's physique and gung-ho style often sees him described as Asia's John Daly. So it is no surprise to discover that the American is another of his heroes. "Asia's John Daly – I am happy with that," he says. "He is one of the best players in the world, a Major Champion. Four or five years ago, I played with him in the Thai Golf Championships. We have similar swings and we've got the distance. He kept calling me the Second John. I think it's great. Every time we meet, he is so chilled. I would love to be remembered for doing as well as he has."
His homeland inspiration was Thongchai Jaidee. "When I was a kid, I saw him win lots of events. I never imagined I would walk with him on tour," he says. "In 2001, Thongchai won the Asian Tour Order of Merit. I was sitting at home watching and thought 'one day I will try to do that'. In 2013, I did. Then I played in The Open beside him. It really was a dream come true."
The reality is Aphibarnrat's success has made him a wealthy man, which makes his obsession with cars and wrist watches easier to indulge. "Watches and cars are toys for guys," he says. "Expensive, but I love to own them. People keep telling me I can buy 20 watches but I can only wear one at a time, but when you see one in the box, it is something more. The most I have ever spent on one is $200,000. I buy and sell them. Watches are like handbags for women. Whenever I show my wife a new watch, she wants a new handbag. So we are even!" He doesn't disclose how she got even when he bought a white Ferrari. "There are only two white Ferraris of my A430 model in Thailand," he says. "And maybe about 50 red ones."
Being a Manchester United fan, a red Ferrari might have been more appropriate. But Aphibarnrat is not happy with the current style of play. Not gung-ho enough for him. "I want them to lose so they change manager," he says. "I want Alex Ferguson back. But I know it's never going to happen!"
David joined Golf Monthly in 2015 as a content editor for the magazine and regularly contributes to the website. He has worked in magazine publishing and editing since 2003. He is a keen golfer and up until recently was a member of Blackmoor Golf Club in Hampshire. He has covered various big events and tournaments for GM, the highlight of which was witnessing Tiger Woods win his 15th Major at Augusta in 2019. Email: david.taylor@futurenet.com