Tiger Woods vs Sergio Garcia: golf blog
Nicholas Gamble talks in this golf blog about the supposed rivalry between Tiger Woods and Sergio Garcia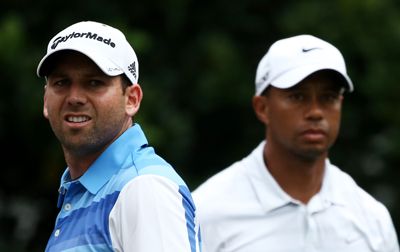 Get the Golf Monthly Newsletter
Thank you for signing up to Golf Monthly. You will receive a verification email shortly.
There was a problem. Please refresh the page and try again.
Golf Blog
Tiger's win at the Players has brought up a lot of the old questions. Is he back to his best? Will he win the US Open? Will he win any majors this year? The answers to all of which are not clear. What is obvious however, is that he and Sergio Garcia do not get on.
Whether or not you thought their handbags in the final round on Sunday took away from some gripping golf, you do have to admit, it is really interesting seeing such an obvious dislike for one other played out so clearly in a game where such things go on, but often under the radar.
This dislike for each other is nothing new though. Ever since Sergio beat Tiger in an exhibition match known as the Battle at Bighorn in 2000, and did a dance reminiscent of someone winning their first major, the two have not got on.
Tiger took exception to a young kid rubbing victory in his face, right in the middle of his most dominant season, and a combination of intensely competitive natures and male bravado has meant that the two have bickered back and forth ever since.
To call what the two have 'a rivalry' however, I think does a disservice to Tiger. It's a label that has been stamped on the relationship, but a rivalry suggests some competition- a back and forth between equally matched adversaries; this is not that.
Don't get me wrong, I like Sergio as much as the next man and he is possessed of a level of talent only seen in a very few players ever.
But, in terms of careers, there is no contest. There is no need to delve into the head to head stats between the two (where Tiger is predictably well ahead) to see that when it comes to getting it done on Sunday, there is no contest.
So it's not a rivalry, it's a spat, an entertaining one definitely, but a spat nonetheless and if we have to pick sides, I am taking Tiger.
Get the Golf Monthly Newsletter
Tips on how to play better, latest equipment reviews, interviews with the biggest names and more.
Nick was a freelance writer for Golf Monthly from 2012 to 2014.