Henrik Stenson: A golfing exhibition
Fergus Bisset had a chance to play 18 with the Swede at Castle Stuart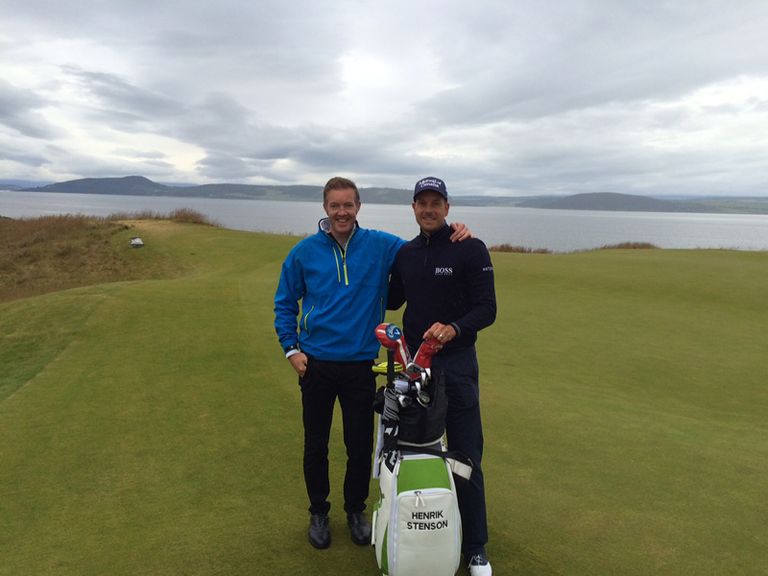 (Image credit: Gareth Lord)
Fergus Bisset had a chance to play with Henrik Stenson in the pro-am for the Aberdeen Asset Management Scottish Open and witnessed some rather special golf.
During a lifetime obsessed with this sport, I've been fortunate enough to see some incredible golf played first hand. I once witnessed a friend play two balls off a 150-yard par 3 tee that ended more than 150 yards apart; A round in a media golf day with a chap who scored a solitary Stableford point over 18, very long, holes also stands out.
I've seen some good stuff too. Partnering Tartan Tour supremo Greig Hutcheon on a filthy day at Newburgh in a North East Alliance as he battled the elements to shoot a six-under-par 66 was rather impressive, I had a comfortable NR that day as did more than 20 others. And, I played nine-holes with Paul Casey in Bahrain a few years back where we forged out into a sandstorm and he bravely continued to hit incredible punched long irons into the teeth until we were forced to call it quits because I'd run out of my, and his, golf balls.
I've watched the very best stripe balls on the range. It's pure viewing pleasure for golf lovers and those who appreciate the experience will agree that the sound of the strike, and the shape of the ball flight, is just a little different. And I've been on the ground to watch superb shots hit in various Opens and Scottish Opens over the years. Greg Norman at Royal Birkdale in 2008 hitting a 10-foot high 5-iron that covered just 120 yards into a roaring wind and stopped dead by the cup was my favourite.
But yesterday I got to see something new – a top player negotiating a full 18 holes. Playing with Henrik Stenson in the pro-am for the Aberdeen Asset Management Scottish Open I witnessed just how well golf can be played.
When David Connor of VisitScotland invited me to play in his team in the pro-am at Castle Stuart I jumped at the chance. Not only is the fabulous layout that clings to the Moray Firth coastline one of my very favourite tracks but I also knew that, with VisitScotland being one of the tournament's most significant supporters, it was possible we would get a good team captain.
Last week David emailed to say we were likely to be paired with Henrik Stenson. The World Number 6, winner of the recent BMW International Open, three-time Ryder Cup player, 2013 Race to Dubai winner and FedEx Cup champion… Suffice to say, I was quite excited.
But I tried to play it cool and turned up on a sunny morning at Castle Stuart yesterday with a view of treating it like another day's work: Such is the life of a golf journalist. We were once described as, "some of the most underpaid yet over privileged people on the planet." I think that's pretty much fair.
My attitude of nonchalance received its first knock as I wandered from the car park towards Castle Stuart's striking Art Deco inspired clubhouse. I passed the practice ground; heaving with players, coaches and caddies and surrounded by a throng of eager spectators…. Spectators… I hadn't really thought about them. And then I saw the draw: we were playing from the 1st tee… OK, 1000s of spectators waiting around the practice ground and the putting green for a shotgun start… Where are they going to start their afternoon's viewing? Perhaps the 1st tee where the top-ranked player in the field is teeing off? … I needed to hit a few balls.
That was easier said than done though, as the range was fairly packed with quite a number of pretty good players – European Tour winners, Major winners, Ryder Cup stars... Did I dare wander on and start duffing and thinning 5-irons in front of them and their fans? I decided to steel myself and found a spot at the far end between Branden Grace and Joost Luiten… no pressure. But a few other amateurs had been brave enough to step onto the range so I gained a little confidence. I hit about 10 decidedly skanky iron shots and a couple of loose drives before deciding enough was enough and heading to meet my team. As I walked off the range a gaggle of youngsters were looking for autographs. They held out pens excitedly until one of them said, "No, it's nobody." That actually made me feel better – I am nobody and, basically, nobody cared what type of shot I hit off the 1st tee.
That was lucky as I hit a high block into the thick rough. Henrik smiled, introduced himself and ripped a driver straight down the middle.
Before describing just how good Henrik's golf was, I should point out what a thoroughly decent chap he is and what excellent company he provided the team over the course of the round. He has to do this sort of thing at every tournament he plays in and, I know it's his job and all, but the demands on the time of the top players is huge and the requests for "selfies," autographs and endless questions from all directions must be hard to face with a smile at times. But Henrik does just that and, I don't think it's because he's simply doing his job, I think it's because he's a good guy and he's considering other people.
Enough on Henrik's people skills, let's get on to what he is really very, very good at indeed – golf.
I've never seen anything like it. OK, it wasn't a competition day and Pete Cowan (Henrik's coach) did point that out to me on the way round as my jaw dropped at yet another smoked long iron, but his game is just so amazingly solid.
He hits it pretty straight but likes to move it with the faintest hint of a draw. The ball goes and obscene distance with every club but that 3-wood of his is just an awesome weapon. I asked him about the Graffaloy Blue shaft in it and the fact it's currently out of production, "Don't worry, I have plenty more in my loft," he joked.
On the front nine he made three birdies and six pars and seemed to be absolutely nailing it. But he wasn't fully happy (I think it was because he slightly mis-struck his tee shot to the par-3 4th which ended on the green but came up 20 feet short.) So Pete Cowan was magically summoned – not sure how that happened, either telepathy or a text from caddy Gareth Lord. A few quiet words from Pete seemed to have the desired effect and Stenson piped consecutive approaches on the 13th and 14th holes that both ended within a foot of the cup.
Henrik Stenson slow motion swing sequence:
Over the course of 18 holes he (perhaps) slightly mishit that one shot on the 4th, nothing veered more than a couple of yards off line and his distance control was impeccable both off the tee and on approach. It was almost unreal actually, semi-robotic stuff. In fact, I can't see how one of those Iron-Byron things could have been much more metronomic.
Basically, it was the best round of golf played tee to green that I've ever witnessed from start to finish. If he'd been properly trying and not giving up some of his energies to the aforementioned people skills, god knows what he might have scored – he was five under with five birdies, 13 pars and quite a few putts that should have dropped.
A word about the quality of this event and the venue. The European Tour together with lead sponsors Aberdeen Asset Management and with huge support from VisitScotland have greatly elevated the Scottish Open in recent years and it continues to develop and grow. The strength of the field is fantastic with a number of top players participating in the pro-am too. Former champ Phil Mickelson was in action, Patrick Reed, Martin Kaymer, Shane Lowry among many others, displaying just how much respect the best guys have for the organisation of this tournament.
The course at Castle Stuart is in marvellous condition and the set-up is ideal as a softer, but still testing, introduction to links golf the week before The Open Championship. The rough has been allowed to grow slightly and is now punishing but still playable, the wispy grasses add another element to the fabulous aesthetics and there can be few, if any, European Tour venues where the course looks so striking. Full credit to course manager Chris Haspell.
It looks set to be a great tournament and I would recommend a small wager on Henrik. As I write this he's yet to start, but he's a worthy favourite and he could be a good shout for next week at Royal Troon. And, did I mention what a nice guy he is…?
There will be more about Fergus' round with Henrik Stenson in a forthcoming issue of Golf Monthly.
Fergus is a golf obsessive and 1-handicapper. Growing up in the North East of Scotland, golf runs through his veins and it was concentrated by his time at St Andrews university studying history. He went on to earn a post graduate diploma from the London School of Journalism. Fergus has worked for Golf Monthly since 2004 and has written two books on the game; "Great Golf Debates" together with Jezz Ellwood of Golf Monthly and "The Ultimate Golf Book" together with Neil Tappin (also of Golf Monthly)... Fergus once shanked a ball from just over Granny Clark's Wynd on the 18th of the Old Course that struck the St Andrews Golf Club and rebounded into the Valley of Sin, from where he saved par. Who says there's no golfing god?