Find Value With These AT&T Byron Nelson DFS Picks and Targets
This week the PGA Tour is in McKinney, Texas, for the AT&T Byron Nelson. Matt MacKay brings you the very best DFS Picks and Targets for the 2023 AT&T Byron Nelson.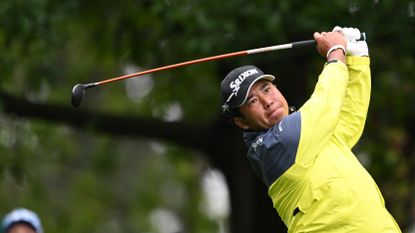 (Image credit: Getty Images)
The PGA Tour returns to Texas for the 2023 AT&T Byron Nelson at TPC Craig Ranch in McKinney, Texas. Located just outside of Dallas, TPC Craig Ranch has been the site for South Korean golfer K.H. Lee's recent dominance, as the 31-year-old is looking to defend his title successfully for the third consecutive year. After winning this event for his first career win in 2021, Lee returned to set the course record in 2022 at -26-under-par, beating Jordan Spieth by one stroke with a blistering -9-under par final round. The three-peat hasn't occurred in over a decade, and it's been nearly 100 years since a player has won their first three events at the same course.
While Jordan Spieth just withdrew due to a wrist injury and World No. 1 golfer Jon Rahm won't be in attendance, Scottie Scheffler returns to headline a deep field at the 2023 AT&T Byron Nelson. Scheffler should have plenty of support from friends and family in the crowd, while other notable golfers such as Tyrrell Hatton, Jason Day, Tom Kim, and Hideki Matsuyama round out the top five outright betting odds. It's a great time to be constructing DFS lineups, as there are a lot of high-value prospects to acquire at a course that offers frequent birdie opportunities.
I've uncovered six of the best prospects to acquire on DraftKings and FanDuel ahead of Thursday's opening round. Continue reading to find out who these golfers are and what each one should be prioritized in your lineups as they get set to tee off at the 2023 AT&T Byron Nelson.
Before we get into our AT&T Byron Nelson DFS Picks and Targets, make sure to take a moment to check out these awesome sports betting offers for this week. You can use one of the HUGE first bet offers to wager with more confidence on your 2023 AT&T Byron Nelson selections this week.
DraftKings $50,000 Maximum Salary
Scottie Scheffler ($11,900)
We're starting off chalky with Scottie Scheffler, but he's going to deliver points in abundance this weekend. The Texas native improved from a T47 finish in here 2021 to a T15 finish last year, plus he's ranked second in total strokes gained, including first in tee-to-green and off-the-tee. The putter has been Scheffler's issue this season, but he hasn't dipped below a T12 finish since the Fall, consistently logging T12 finishes or better. He's expensive for a reason. Prioritize Scheffler in lineups of all shapes and sizes.
Tom Hoge ($8,500)
Tom Hoge performed well at TPC Craig Ranch in 2022, delivering a T17 finish hovering between -4 to -5-under par in every round. The 33-year-old American has been the definition of inconsistent lately, posting consecutive MCs following a T3 at The Players Championship. Hoge packs a punch with some of his metrics, though, ranking first in strokes gained approaching the green and 34th in strokes gained tee-to-green. He's decent with the putter, too, as it's ranked 50th in strokes gained putting. Plus, Hoge is ranked 40th in total driving, which blends accuracy and distance, so he's built to dominate TPC Craig Ranch yet again in 2023. At $8,500, Hoge is a fraction of the cost of Scheffler, so don't hesitate to lock him into DraftKings lineups.
Stephen Jaeger ($8,200)
Stephan Jaeger is a value at the AT&T Byron Nelson despite only logging one T10 finish in 18 events played this season on the PGA Tour. The 33-year-old German went T38 here in 2022, which isn't great, but he's been hovering around T25 finishes in three of his previous four events played, including a T27 at the Wells Fargo Championship. One thing Jaeger does very well is strokes gained around the green, where he ranks eighth, while he is also ranked 27th in strokes gained tee to green. Plus, Jaeger finds greens in regulation at a 70 percent rate, ranked 13th on the PGA Tour. He's a decent scrambler too, which bodes well for his outlook at TPC Craig Ranch, elevating Jaeger as a value play on DraftKings.
FanDuel $60,000 Maximum Salary
Hideki Matsuyama ($11,300)
We haven't seen Hideki Matsuyama on a course since Augusta National when he logged a T16 finish. The Japanese golfer has three T15 finishes or better in each of his last three events played, so with roughly a month off to prepare for the AT&T Byron Nelson, expect Matsuyama to perform well against the field. Last year, Matsuyama drew a T3 finish at -24-under-par, going -10-under par in the final round to surge up the leaderboard. If we get anything close to that performance this week, your lineups will be set up for immense success. Pay up to acquire Matsuyama's high floor and ceiling in FanDuel lineups at TPC Craig Ranch ahead of Thursday's opening round.
Tom Kim ($11,100)
20-year-old South Korean prodigy Tom Kim burst onto the scene in 2022, and he's been among the hottest commodities in DFS for nearly all of the events he's competed in this year. Kim has four T10 finishes, but most of those came during January or earlier in the season, so he's been riding a bit of a slump lately. Kim logged a T17 finish during his PGA Tour debut here last season, starting off with a modest -2-under par but steadily gaining confidence and finishing at -18-under par. He's one of the best golfers with irons, ranking 22nd in total strokes gained, while he is ranked fifth in scrambling, which was a big reason why K.H. Lee has won consecutive events at TPC Craig Ranch. We're paying up to get Kim in lineups, especially with his recent form, but his upside is too enticing to pass up.
Pierceson Coody ($8,800)
Texas native Pierceson Coody has a fantastic name but an even better golf swing. The 23-year-old turned professional in 2022 and competed at the University of Texas during his collegiate career, so he should be familiar with the terrain at TPC Craig Ranch. Factor in the number of birdie opportunities that will present themselves. Suddenly, Coody becomes a high-value prospect to acquire in FanDuel lineups despite producing only one T15 finish in five events this season. It's risky, but the payoff will be significant at $8,800, so let's invest in Coody to replicate his outing at the Arnold Palmer Invitational from a couple of months ago and let it ride.
Matt MacKay is an avid writer, editor, and researcher. He enjoys analyzing the game from a fantasy sports and sports betting perspective. Music is another constant in his daily life. Matt loves spending time with his wife and three pets. He likes to read, listen to podcasts, and is constantly aiming to create the most accurate and engaging content in the sports betting industry.